My first trip to Bali Indonesia, another food and travel adventure.
Bali is quite unique place, it has great beaches, great weather and plenty of natural sites to visit. There's endless amounts of accommodation, from a few dollars a day to 5 star luxury villas or hotels. Plus the Balinese people are so friendly and welcoming. We stayed in Kuta at the Stones Signature Hotel, then travelled through Legian, Seminyak and finished up in Canggu where our heavenly villa was located.
I'll definitely go again real soon, I've been missing out!
Our first stop was the Stones hotel in Kuta, it's across the road from the beach and walking distance to shopping and restaurants. It has a large pool, great restaurant and modern clean rooms. Hooray! Our room had a pod coffee maker, to me that's the first sign of any great hotel, it has to have coffee facilities. I've stayed in expensive 5 star hotels (whispering…..like the overpriced Baysands in Singapore) and to my shock horror, not a sign of coffee in the room, not even a kettle with bags of instant! Now come on guys, that alone is a deal breaker for me. Yes I know, you can pick up the phone and order room service and get a nice luke warm overpriced coffee, but you don't get the brewing smell in your room. Anyway by now you know I need my morning coffee so, moving on.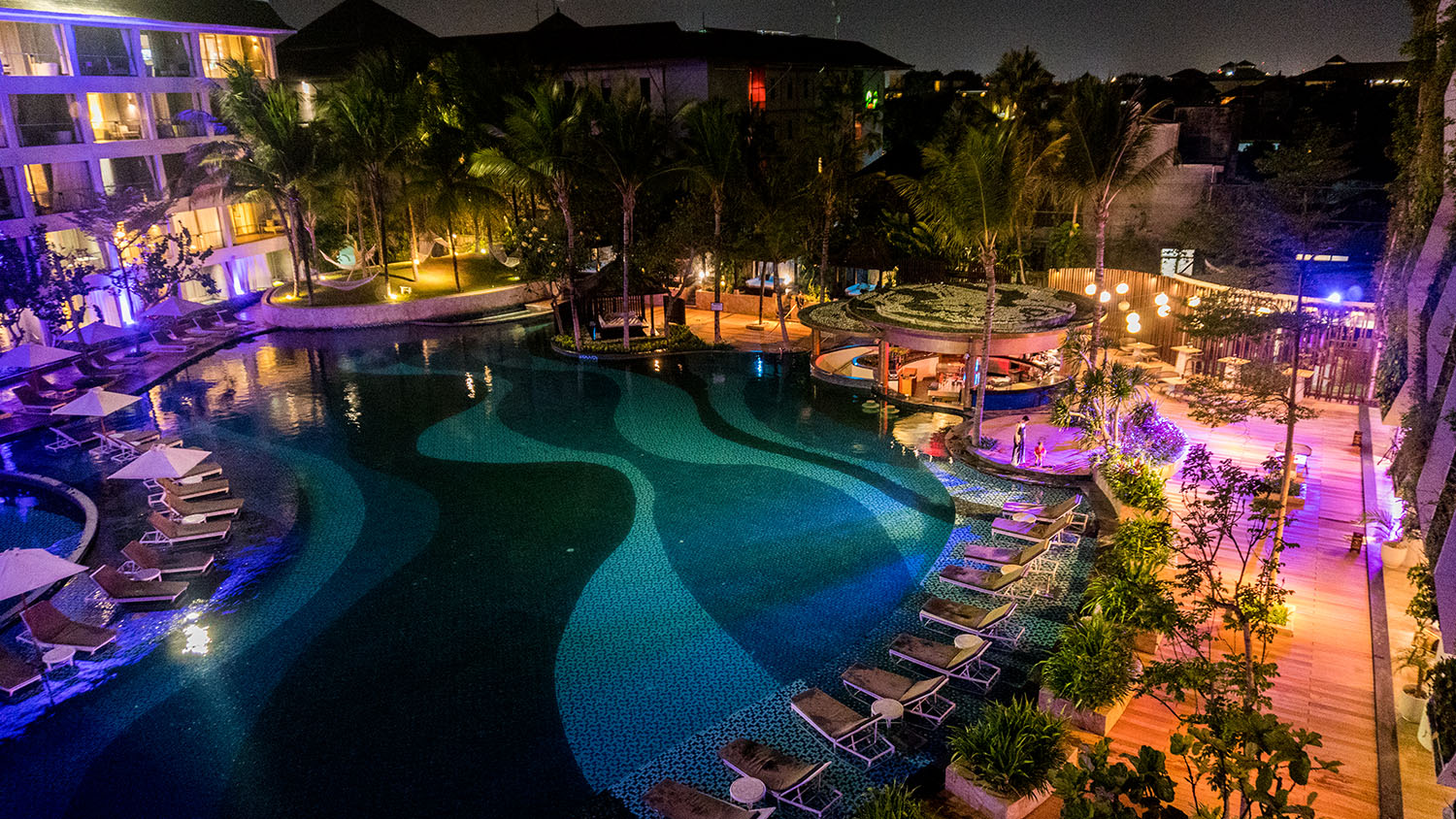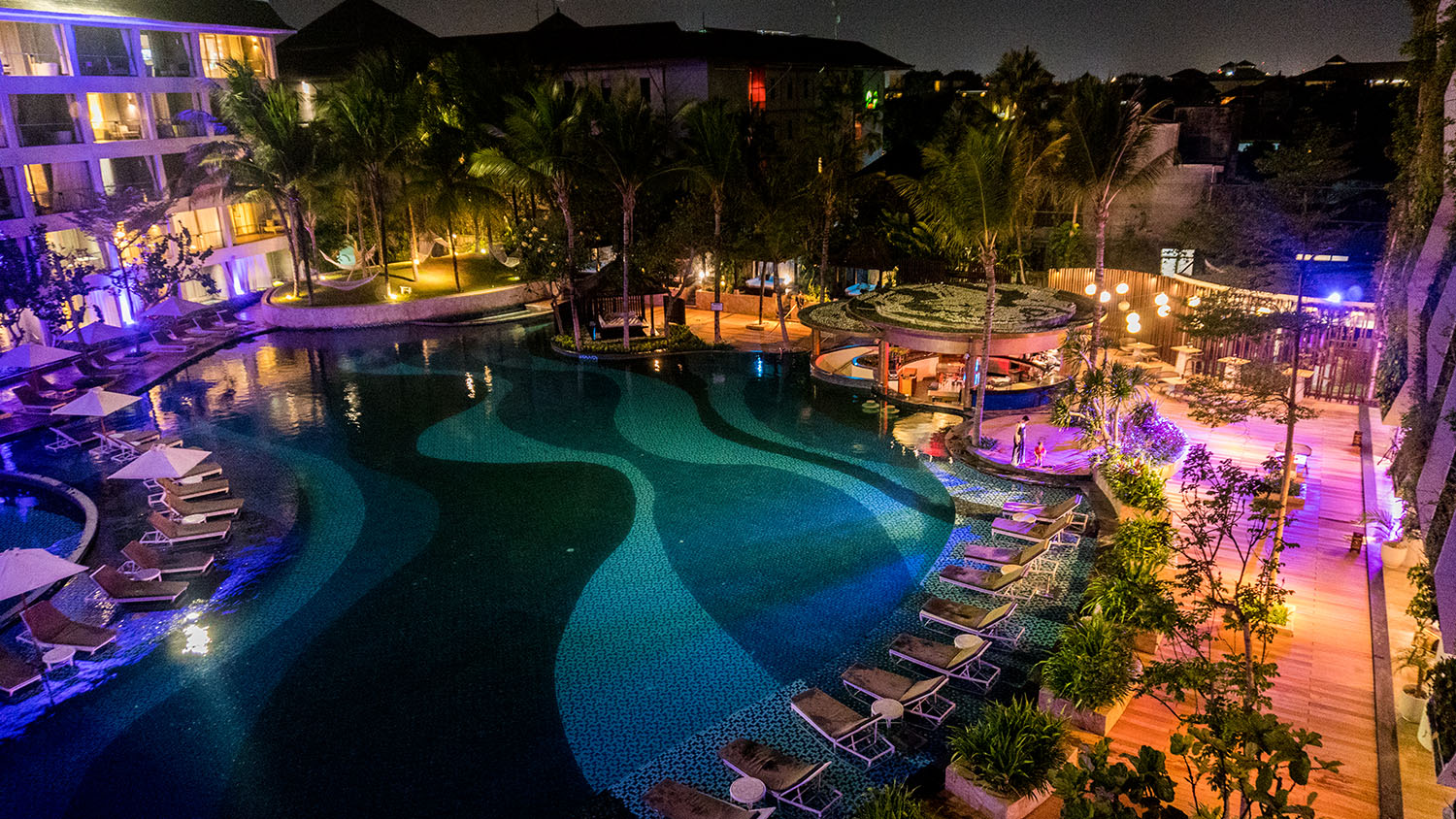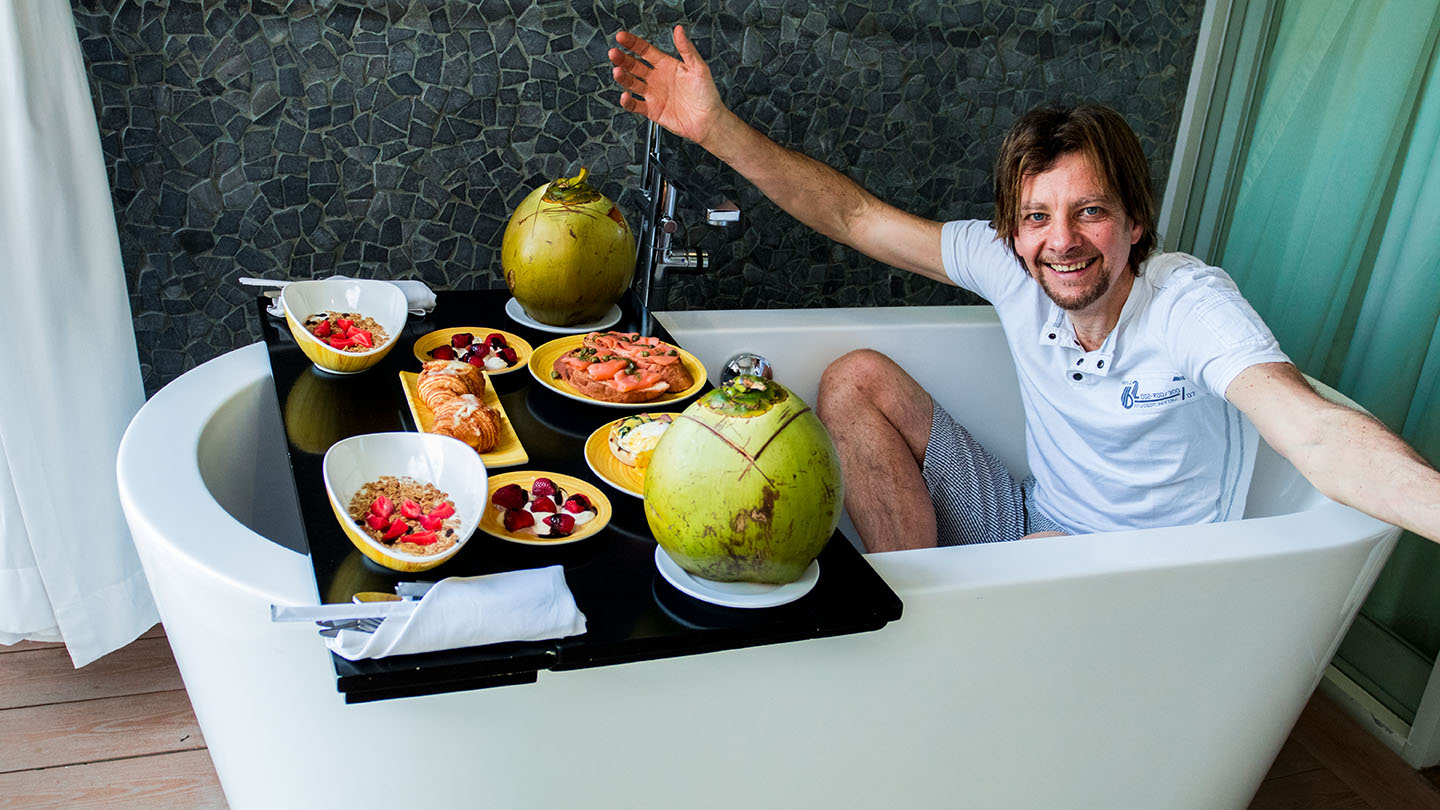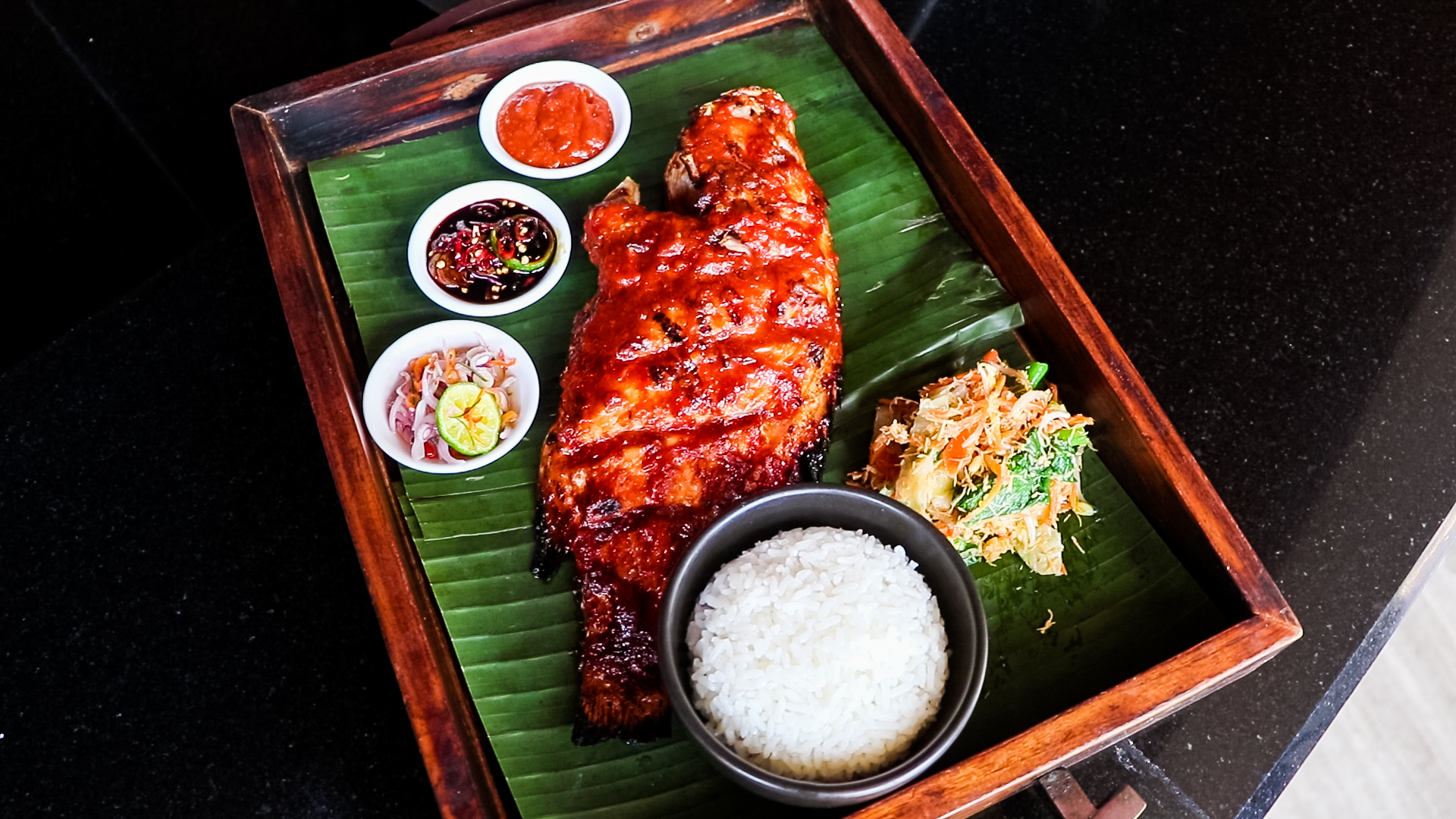 Here's the recipe to the grilled fish:
Ikan Bakar Jimbaran
RED SNAPPER WHOLE 400GR
NASI PUTIH 50GR
SAMBAL MERAH
SHALLOT
GARLIC
BIG RED
CHILI
SOY BEAN OIL
SAYUR URAP
LONG BEANS (green)
BEAN SPROUTS
WHITE CABBAGE
COCONUT GRATED
LOCAL SPINACH
2 TBS SWEET SOY SAUCE
Method:
1. Clean the fish and marinate with lime salt and pepper and grill
2. For the sambal merah deep fry all the ingredients and blend it togheter,until obtain a smooth paste
3. Blanch the white cabbage,long beans sliced ½ cm,local spinach and bean sprouts in boiling water for approx. 2min,and cool down in ice water
4. Stir fry sambal merah with coconut shredded with high temperature until the coconut water dry
5. Toss all the ingredients previously blanched with sambal merah and coconut mix
6. Once the fish is ¾ cooked (internal temperature 63c) brush it with sambal merah and sweet soy sauce mix
7. Serve on a large plate plate with steamed red rice and vegetables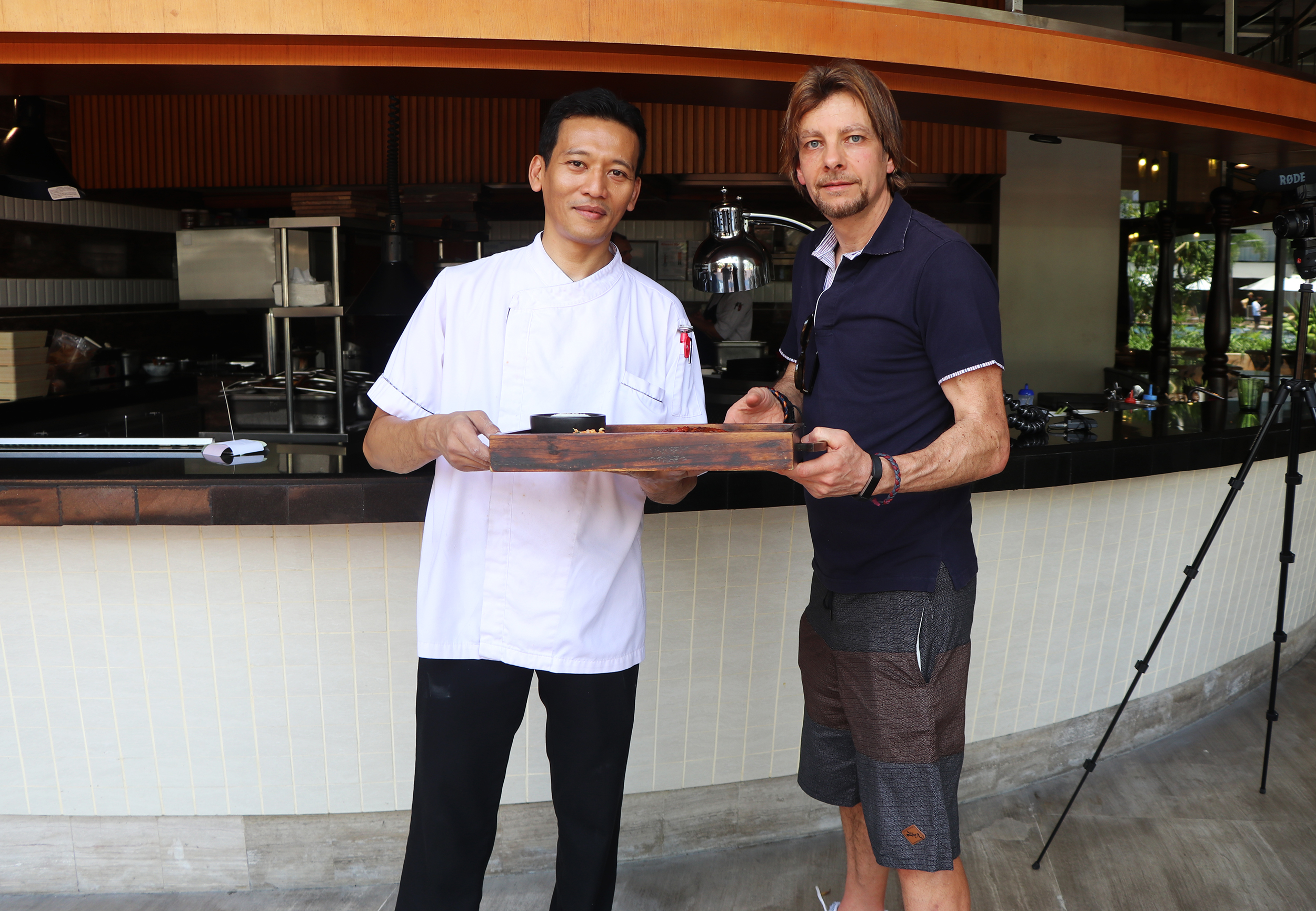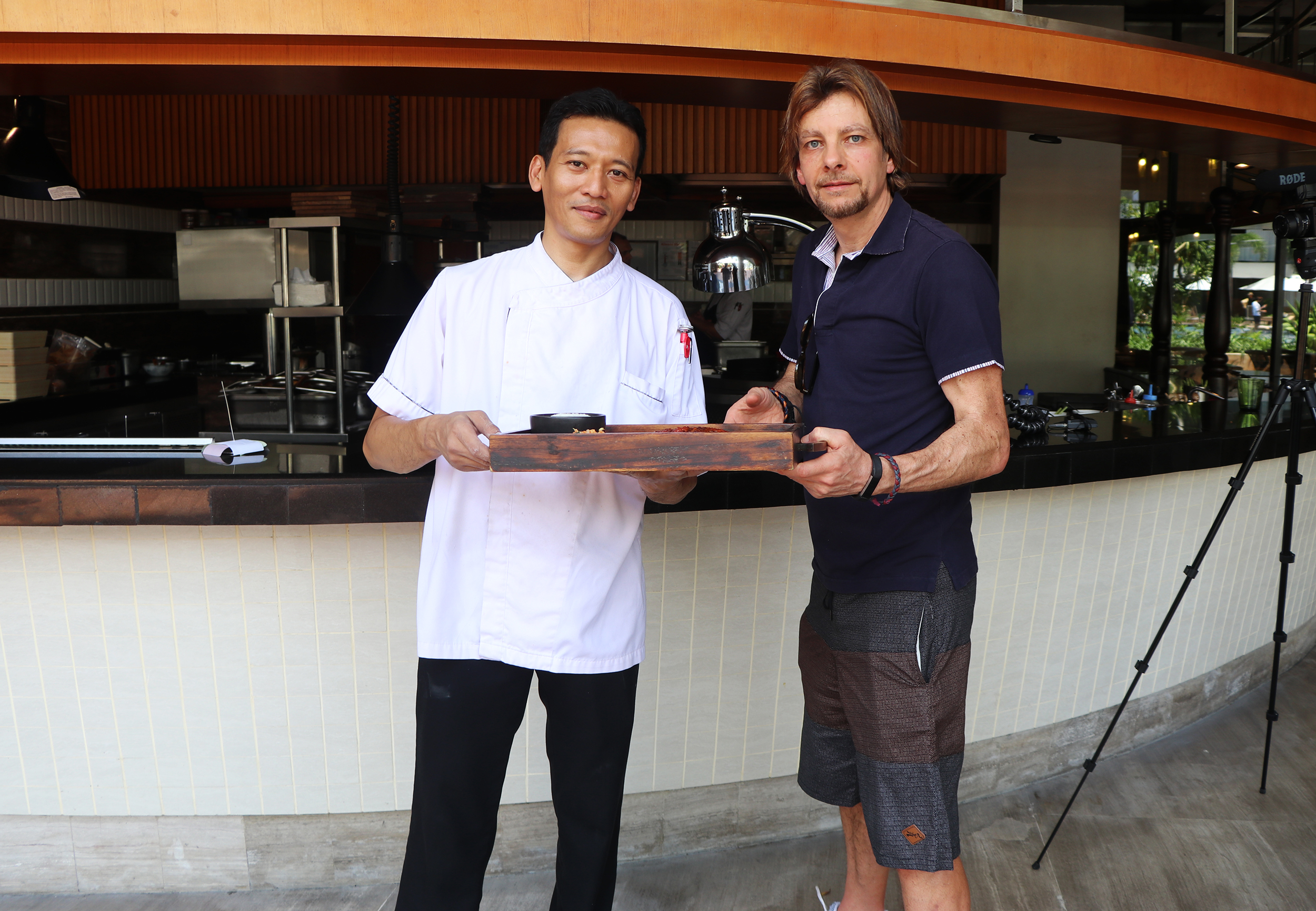 After a little shopping, two pairs of shorts for an investment of $15 AUS dollars, I had to pull my wife away before our shared suitcase would burst a hernia. She was on a mission to buy! If travelling to Bali, I do recommend that you only bring a back pack, and don't bother checking in any luggage. All you need are sandals, shorts, bathers and a t-shirt. If you need more you can always buy it, it's so affordable.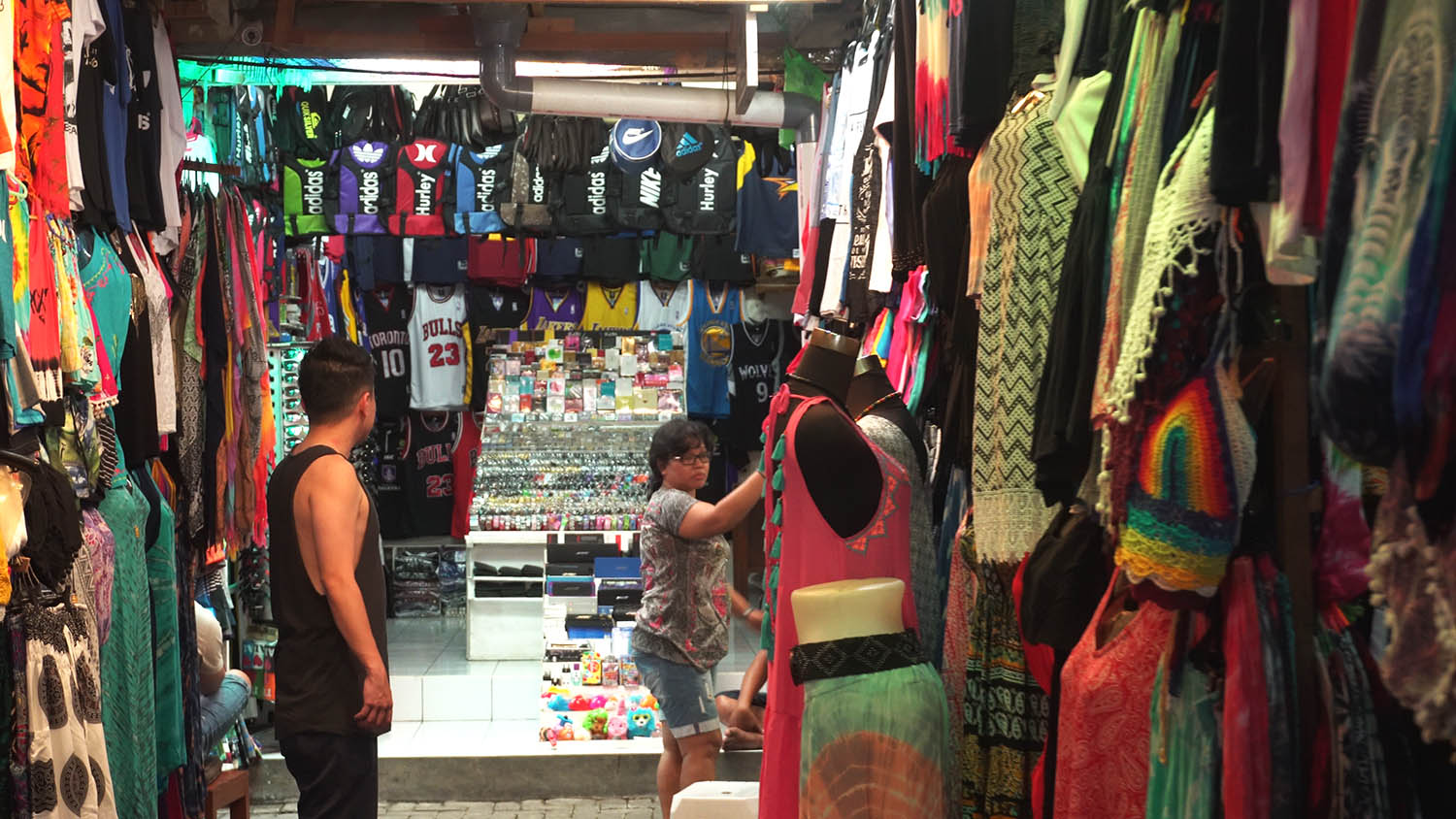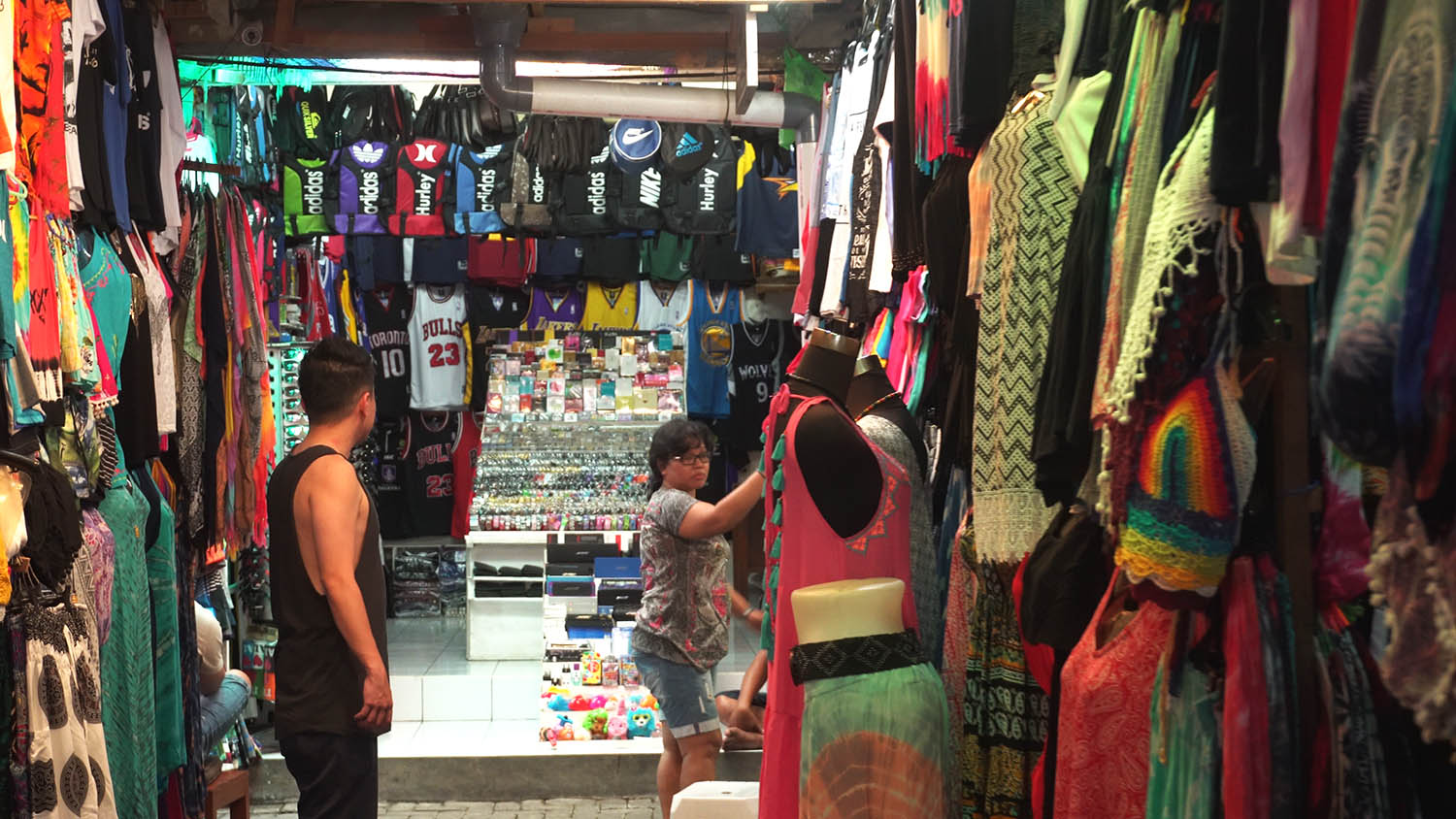 All that shopping suddenly created an appetite, so we ventured to the nearest restaurant to experience authentic Indonesian food. A marguerita pizza!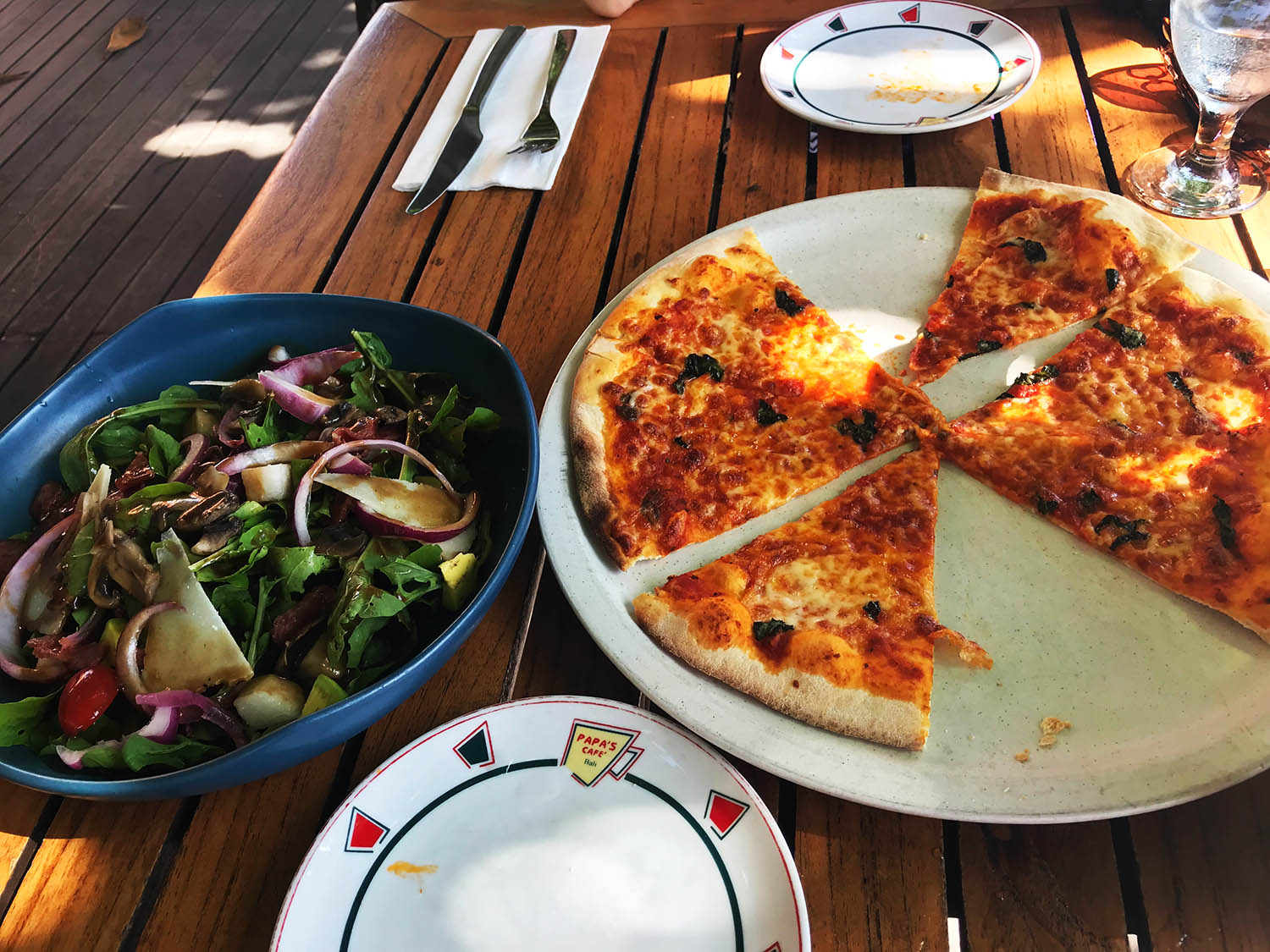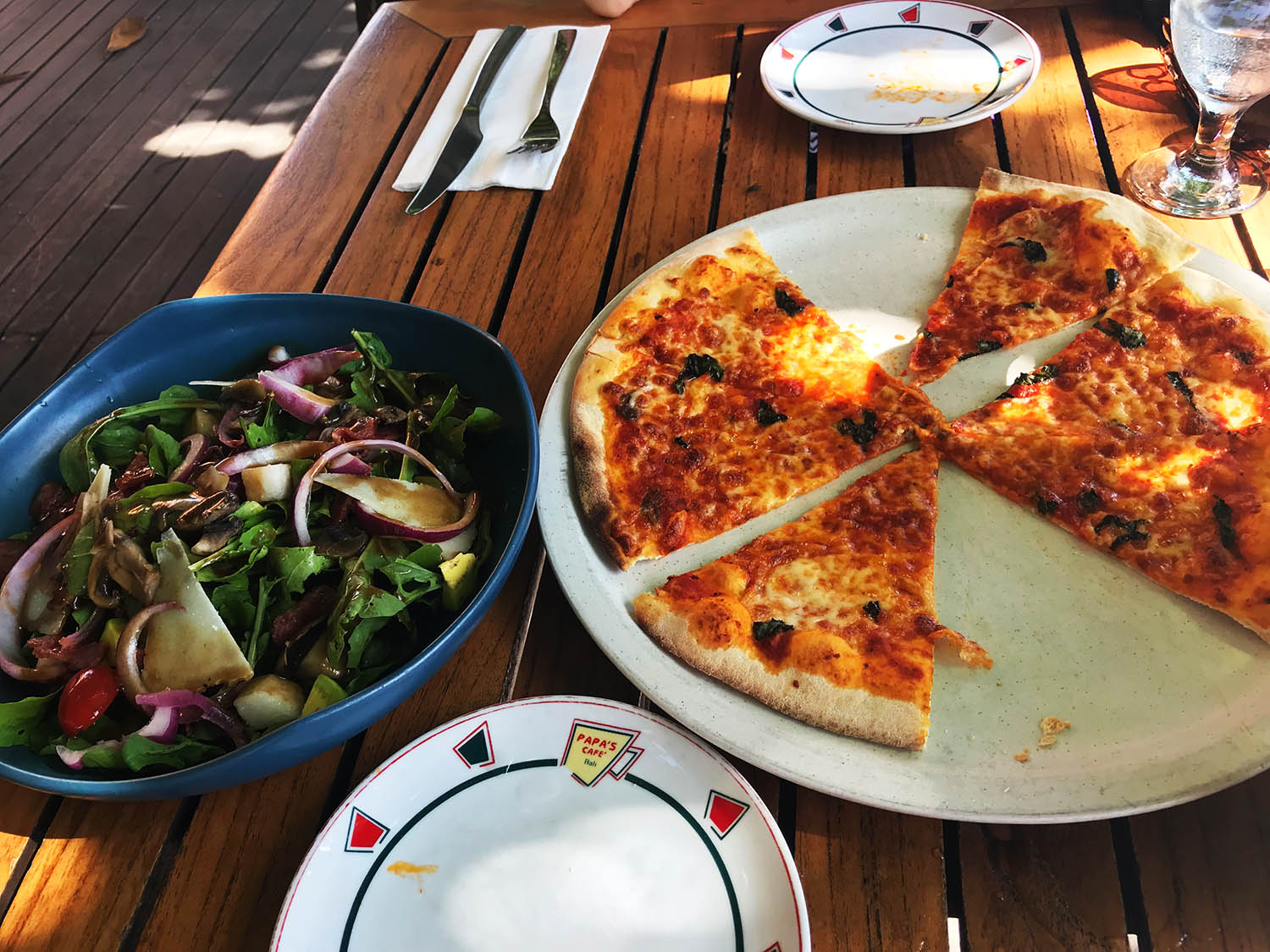 Yes even I'm ashamed of admitting it, I'm there to taste authentic food and I order a pizza. I suppose it's because it was the closest and in all honesty, all the restaurants seem foreign, Thai, Italian, Chinese, burger shops etc. So where do you go for Balinese food? The pizza was very thin crusted  and went well with the local Bintang beer. No fresh basil though!
Our next destination was this amazing luxury private villa called Villa Zelie.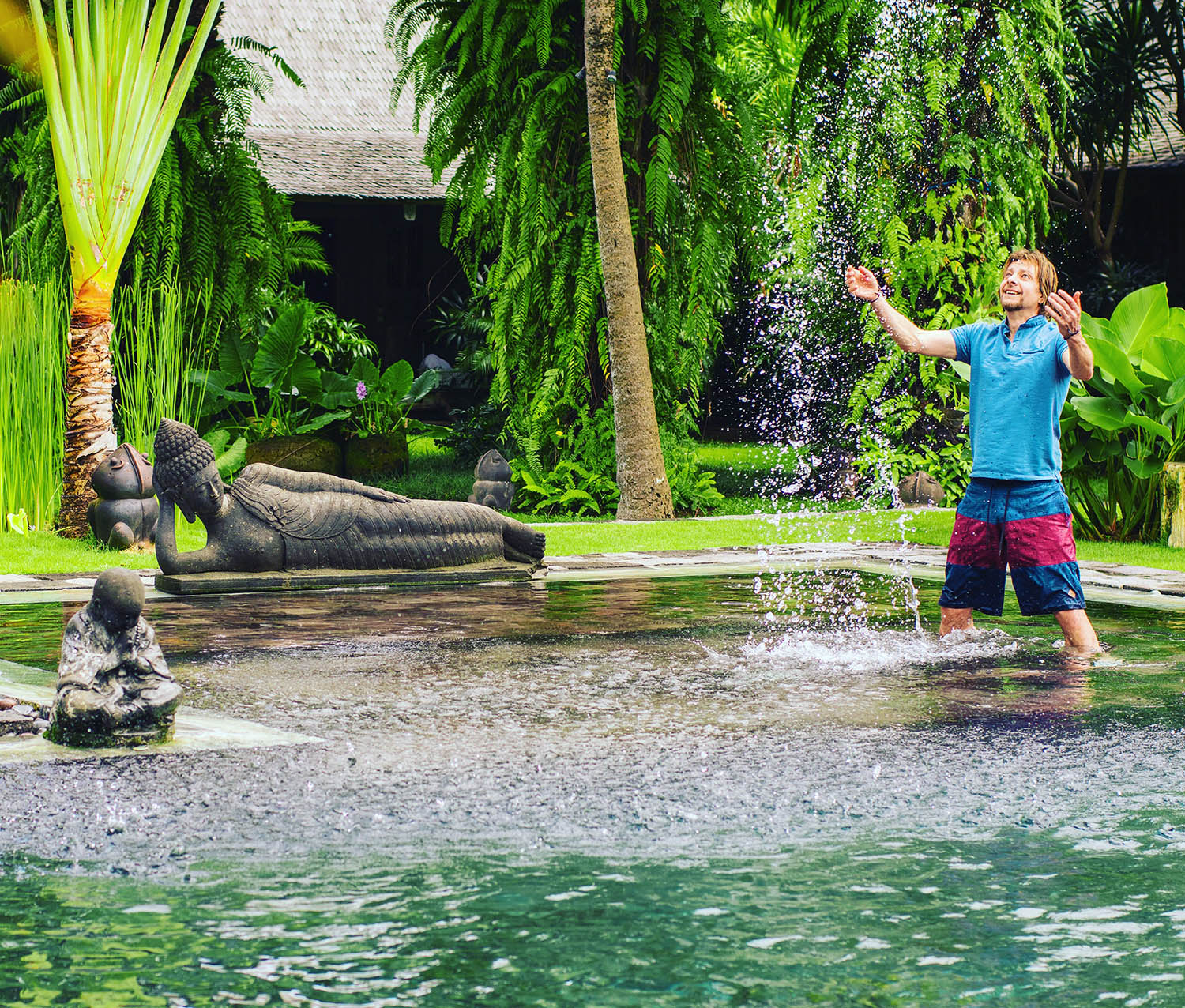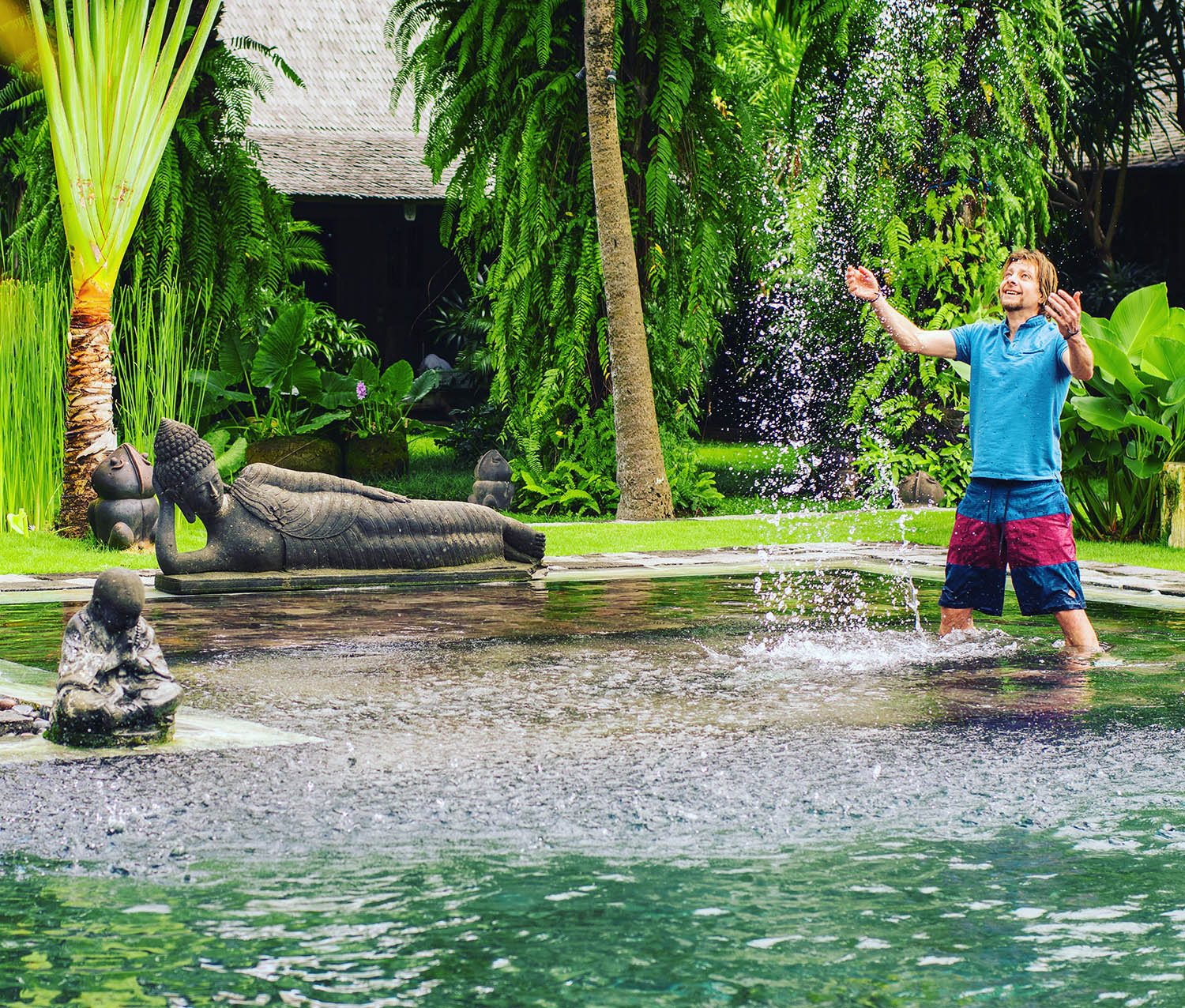 I couldn't believe my eyes how amazing this place was, heaven is the only way to describe it. My first impression upon arrival was speechless. It felt like I had stepped on a tropical paradise epic film set.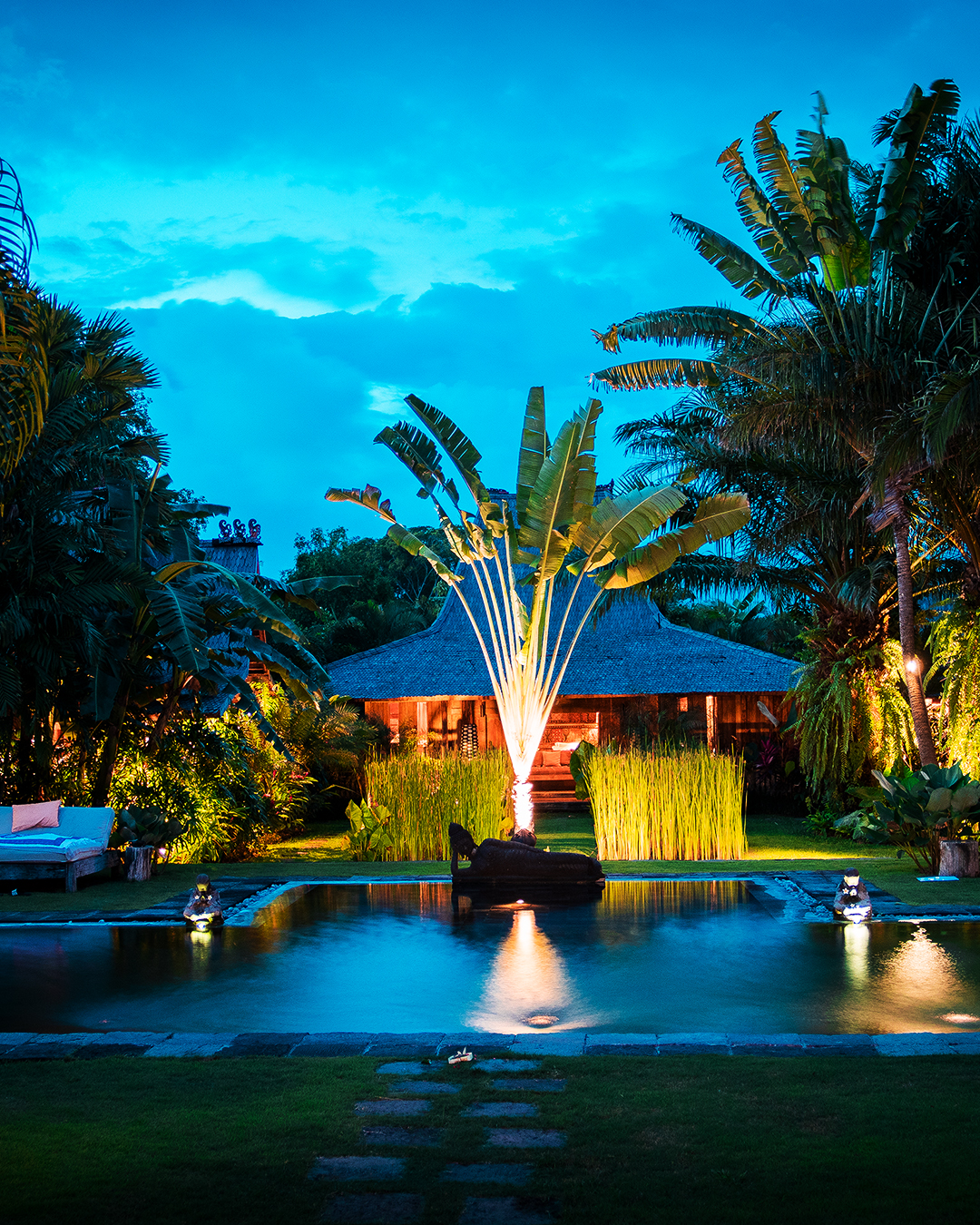 Everything was perfect. It's a five bedroom Balinese style villa and we had it all to ourselves, and yes there were just two of us. It has Balinese style open tropical outdoor bathrooms and a tasteful native theme throughout. Each room is unique and full of native art.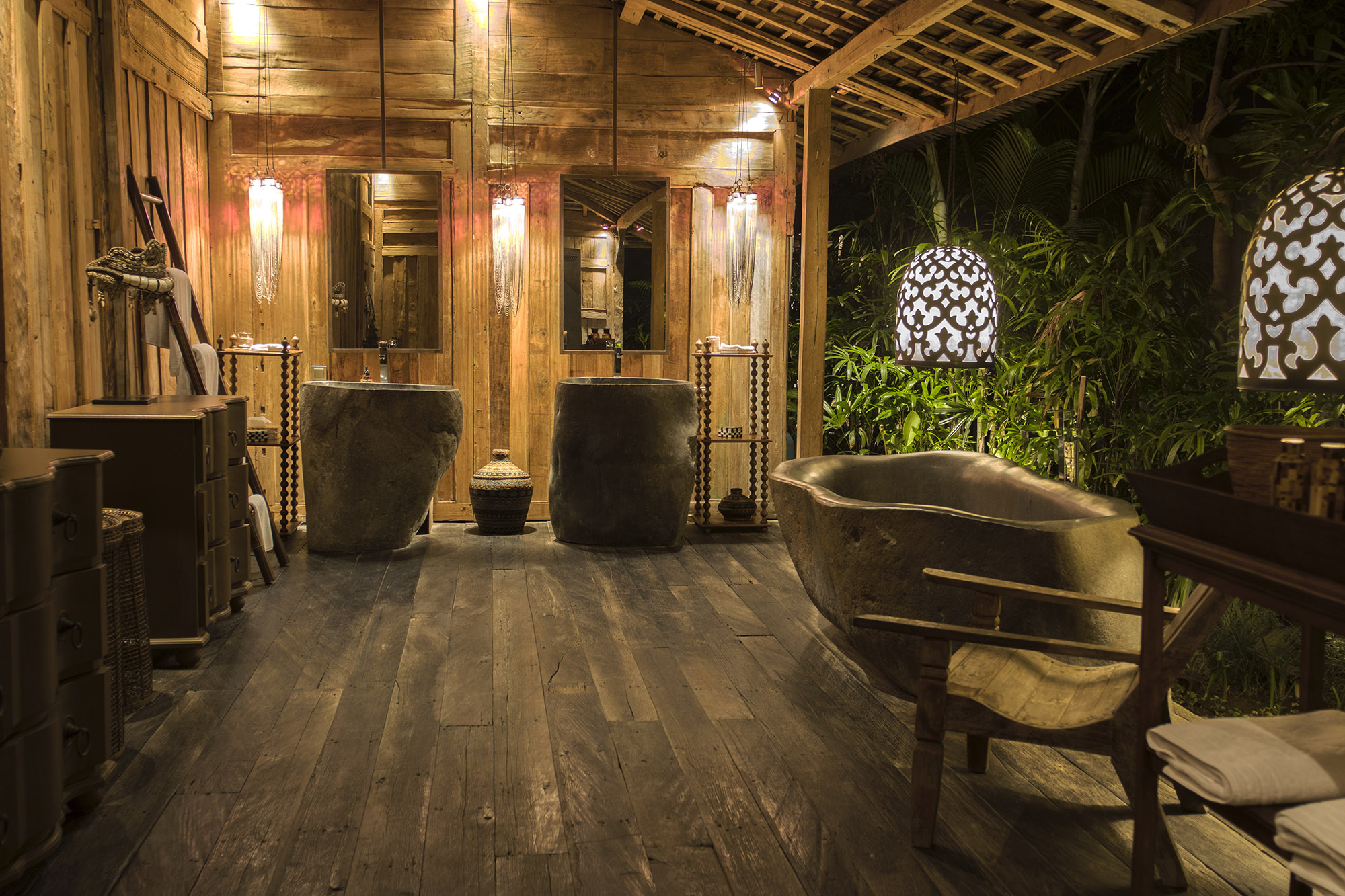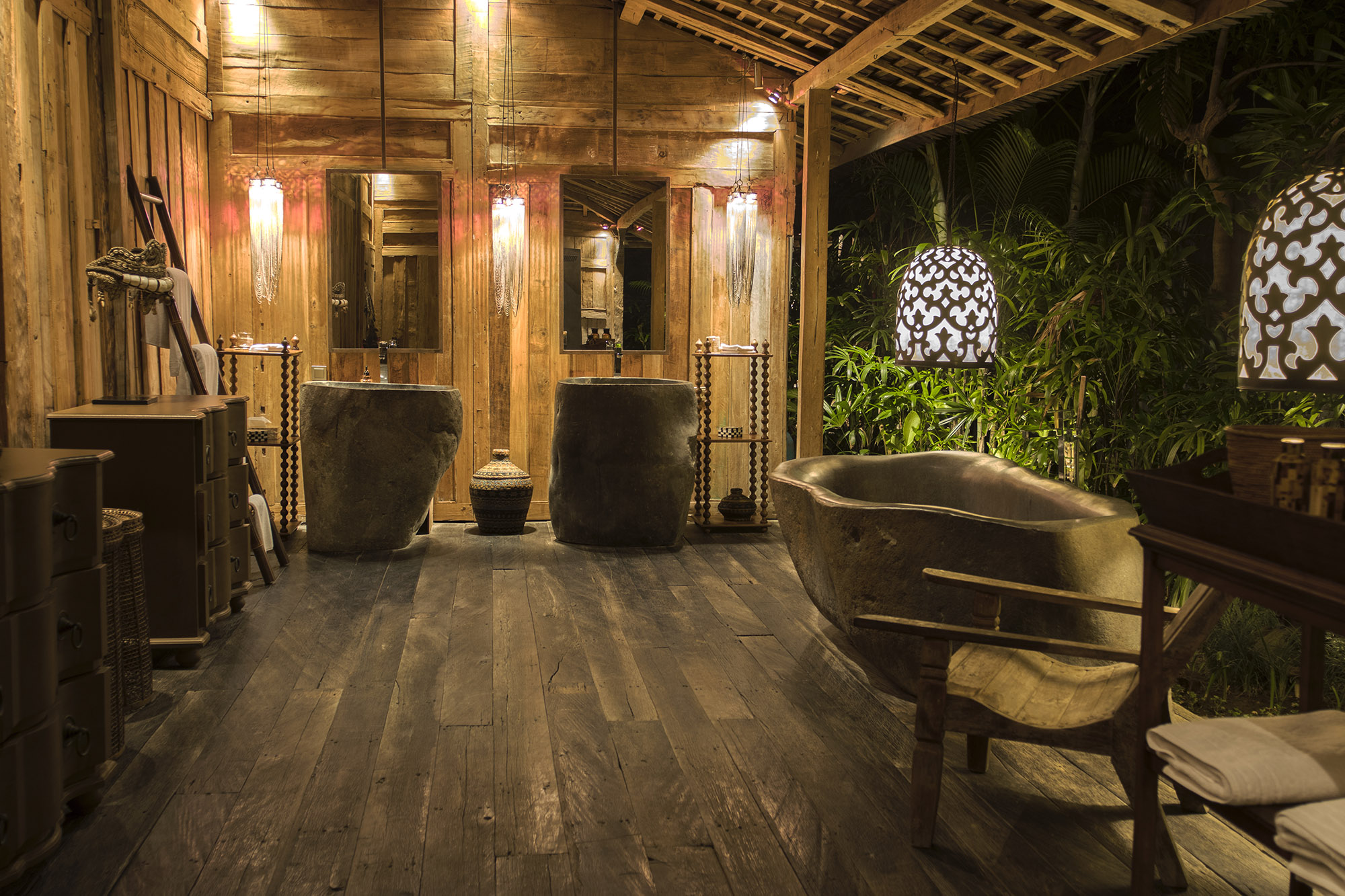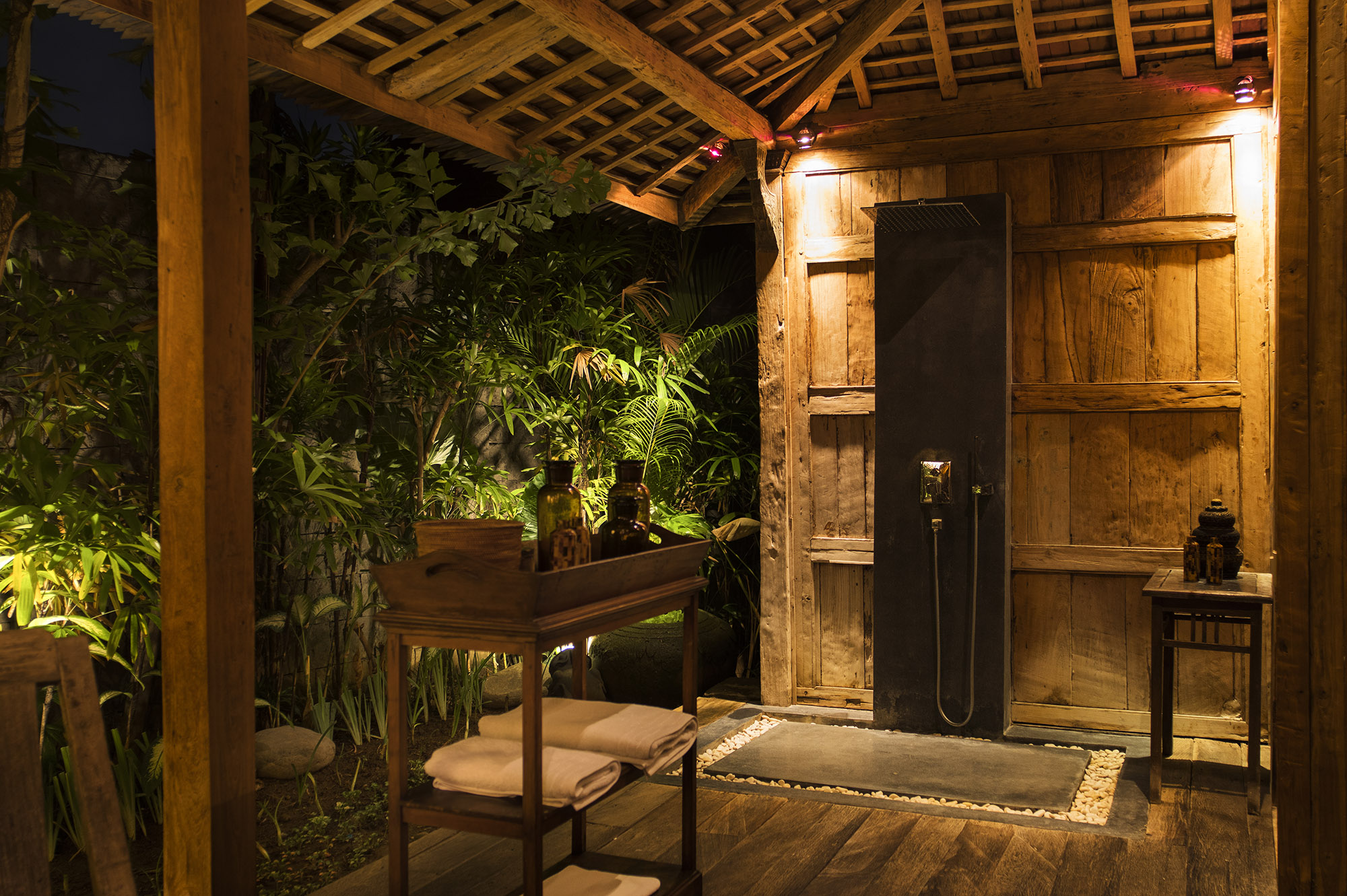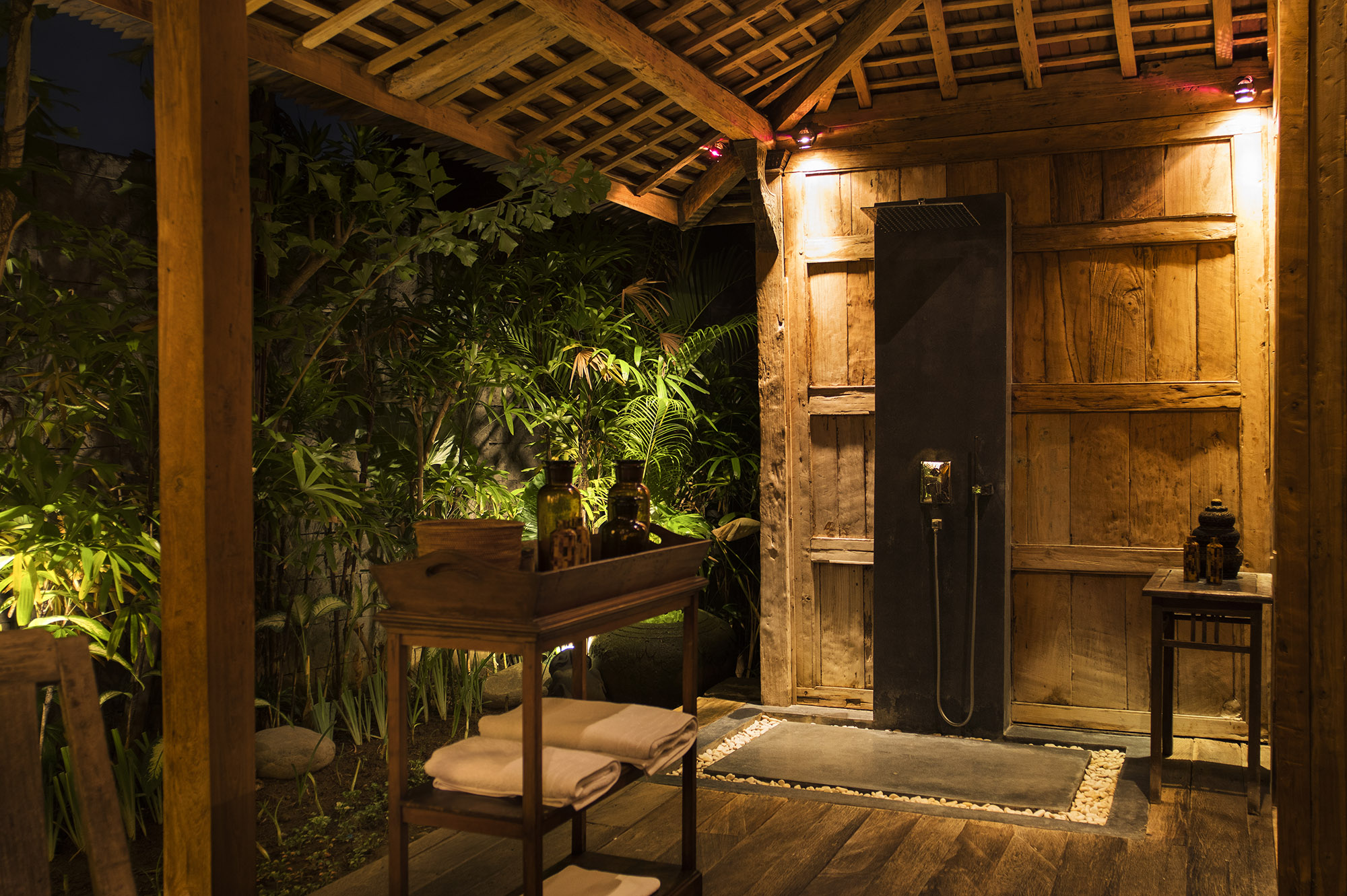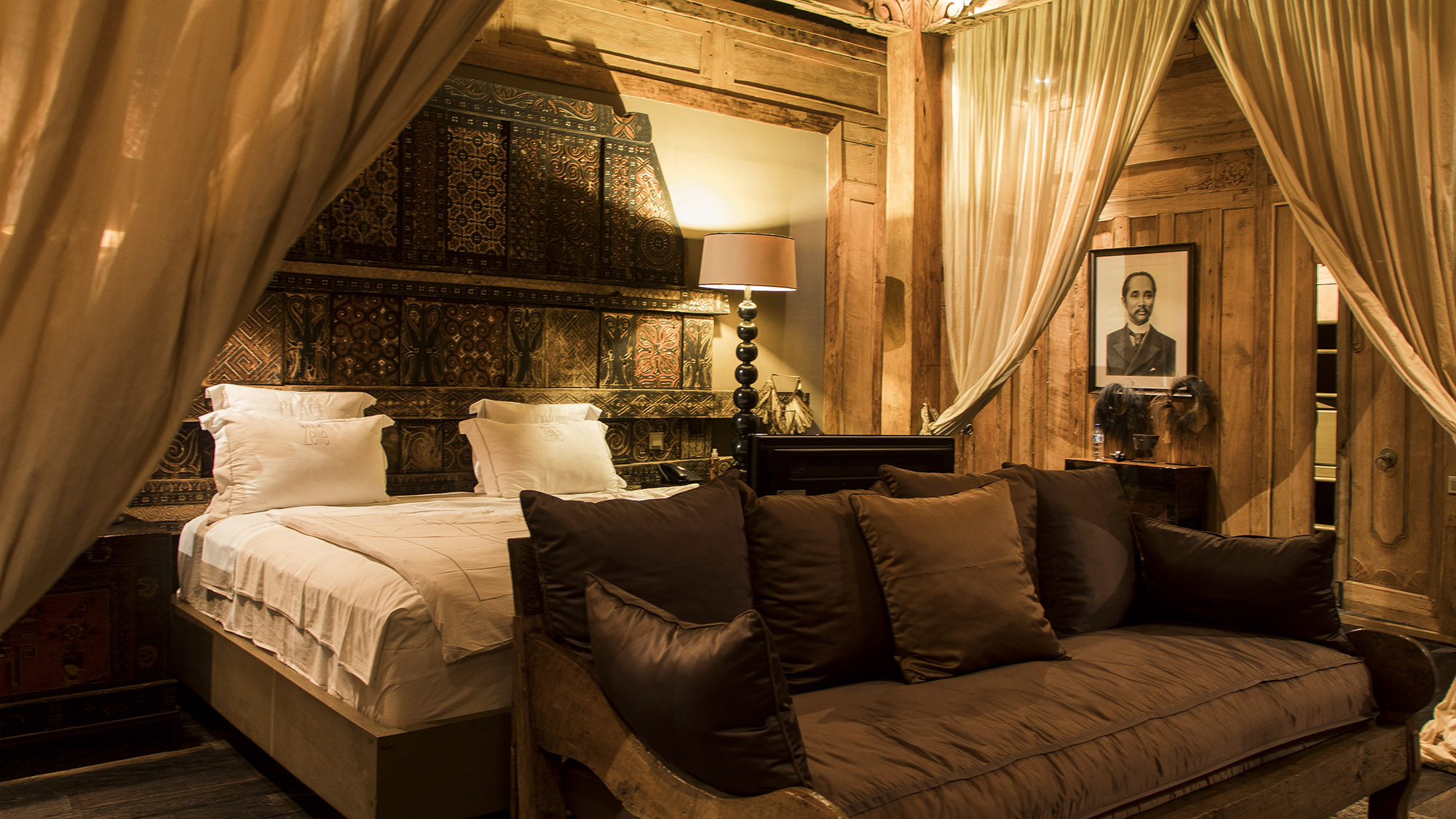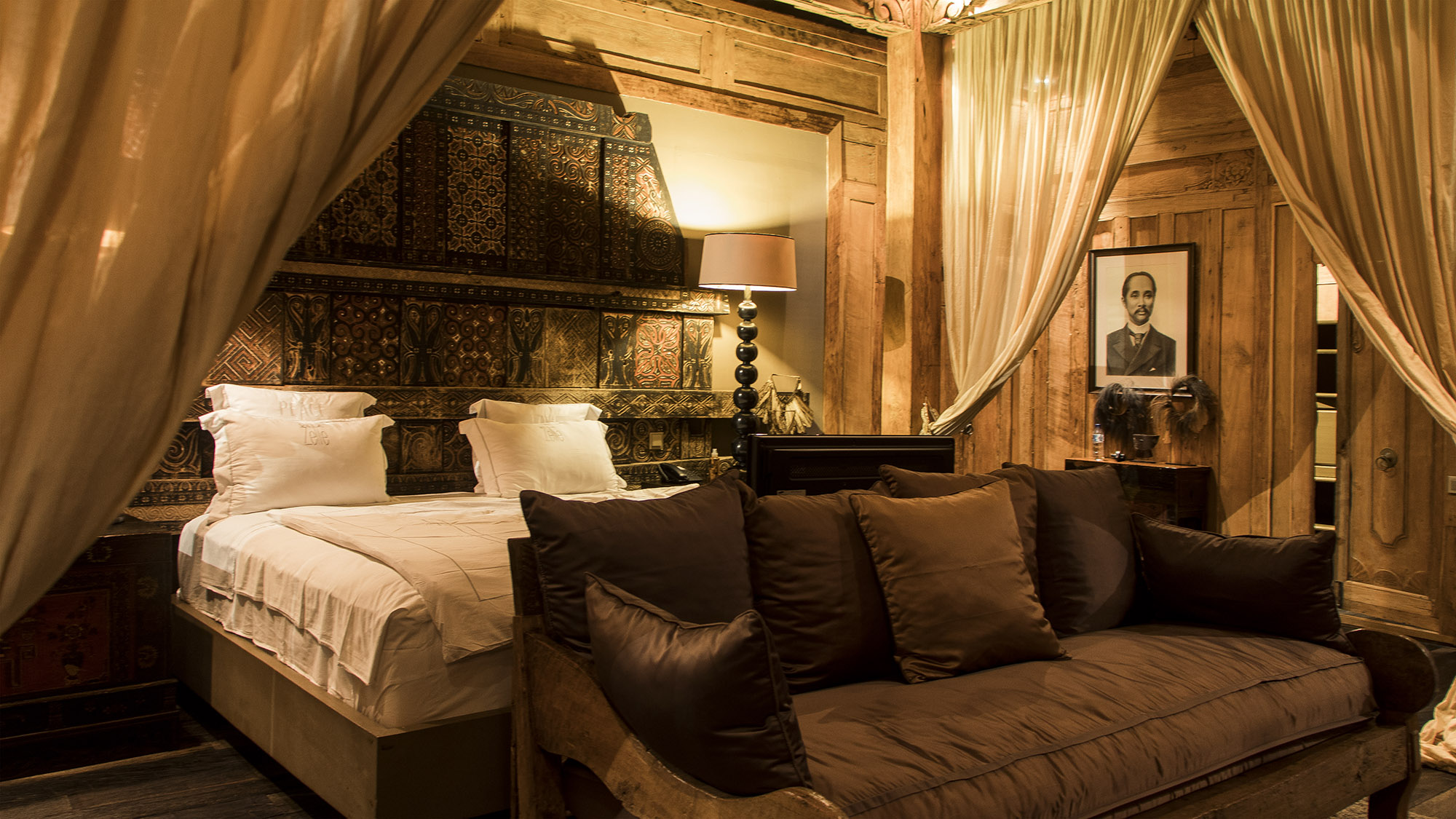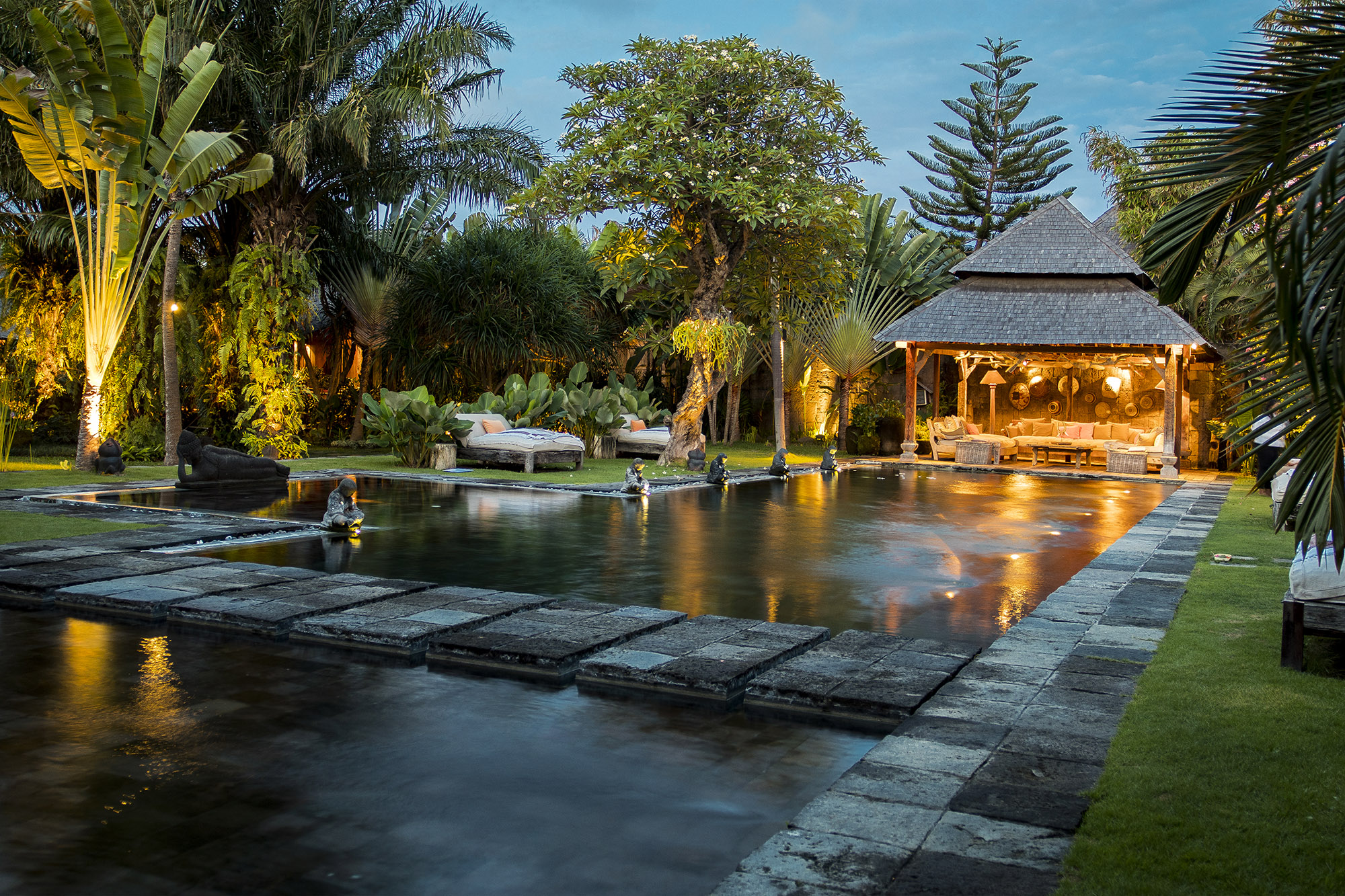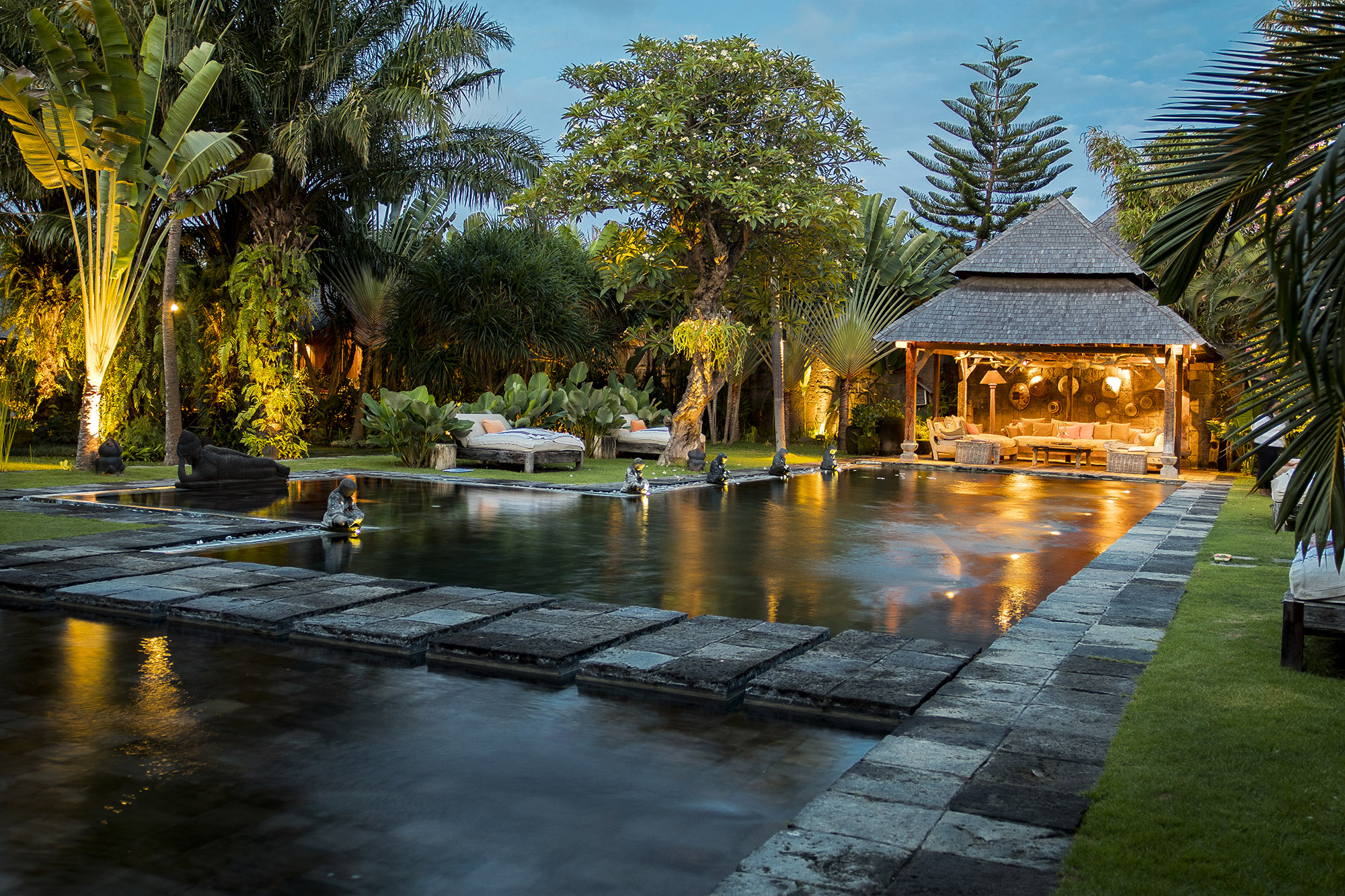 The villa came with a private Chef named "Made" who cooked us amazing traditional meals. These included stuffed chicken breast with Asian vegetables, Pomelo salad with Balinese orange Thai salad, hot banana spring roll with chocolate. Watch my video Vlogs for more.
The villa is close to the beach and comes with a huge 20 metre pool. It's located in Canggu Bali and I highly recommend it for groups or families travelling to Bali. When you divide the cost of the rooms by five couples, it's very good value as you effectively have a five star resort to yourselves.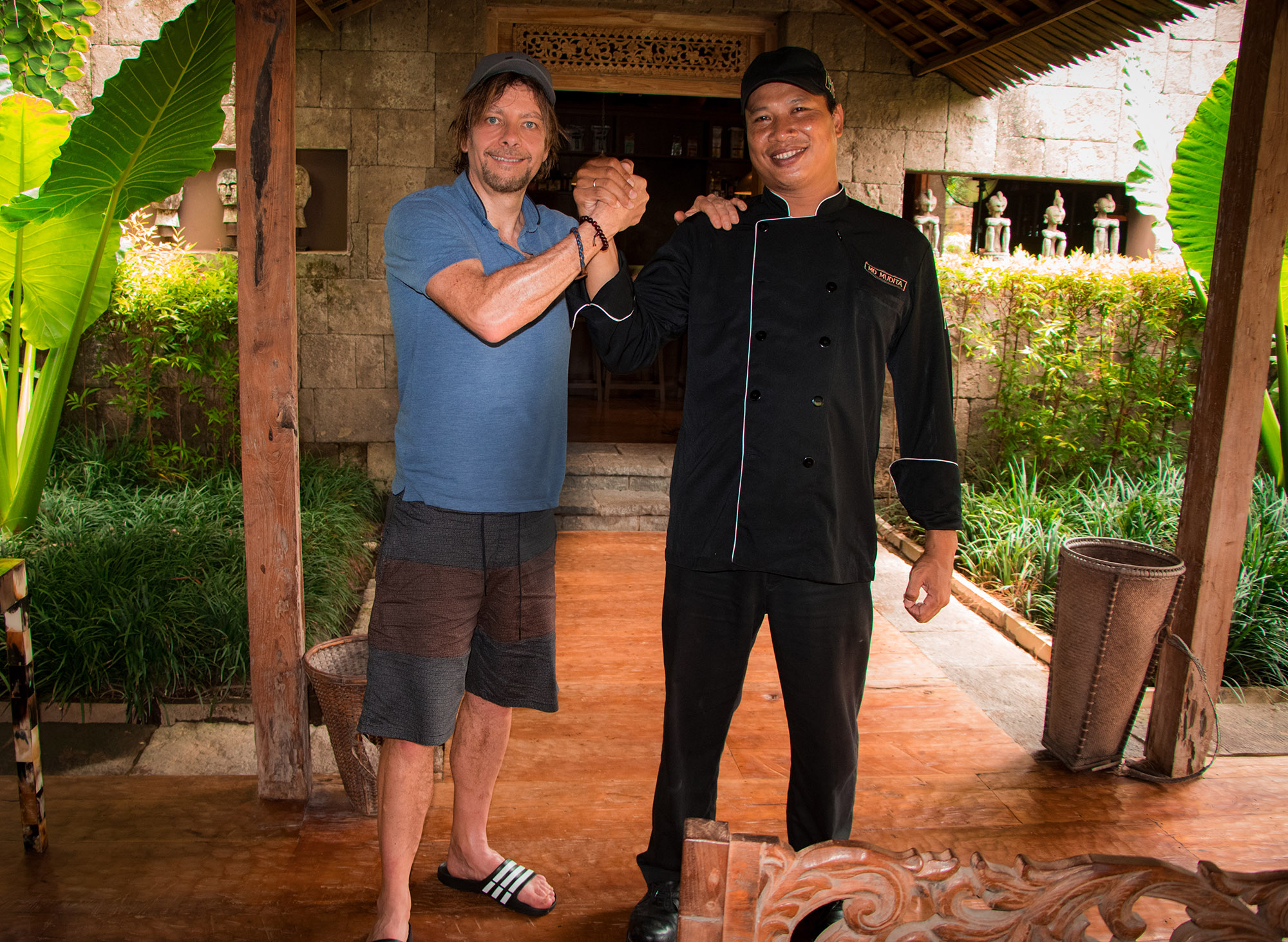 The beach is walking distance, in fact you can sometimes hear the waves crashing.
Dining in was the go, you have your own private Chef and you only pay for the ingredients. So you save so much instead of dining out. Plus the food was also five star all the way.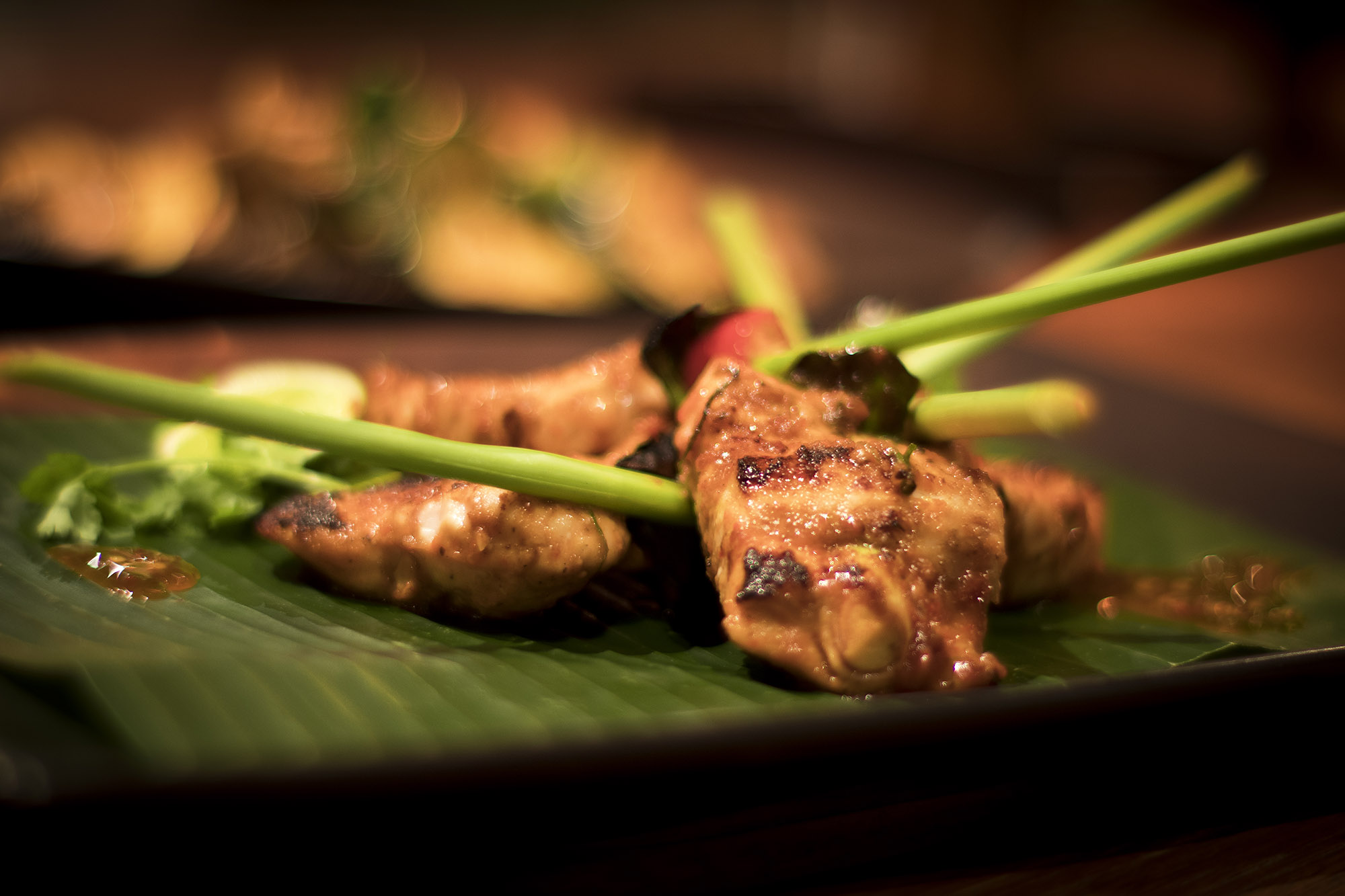 We stayed there three days and didn't want to leave. In fact we really didn't leave for the entire three days, I mean why leave paradise, right?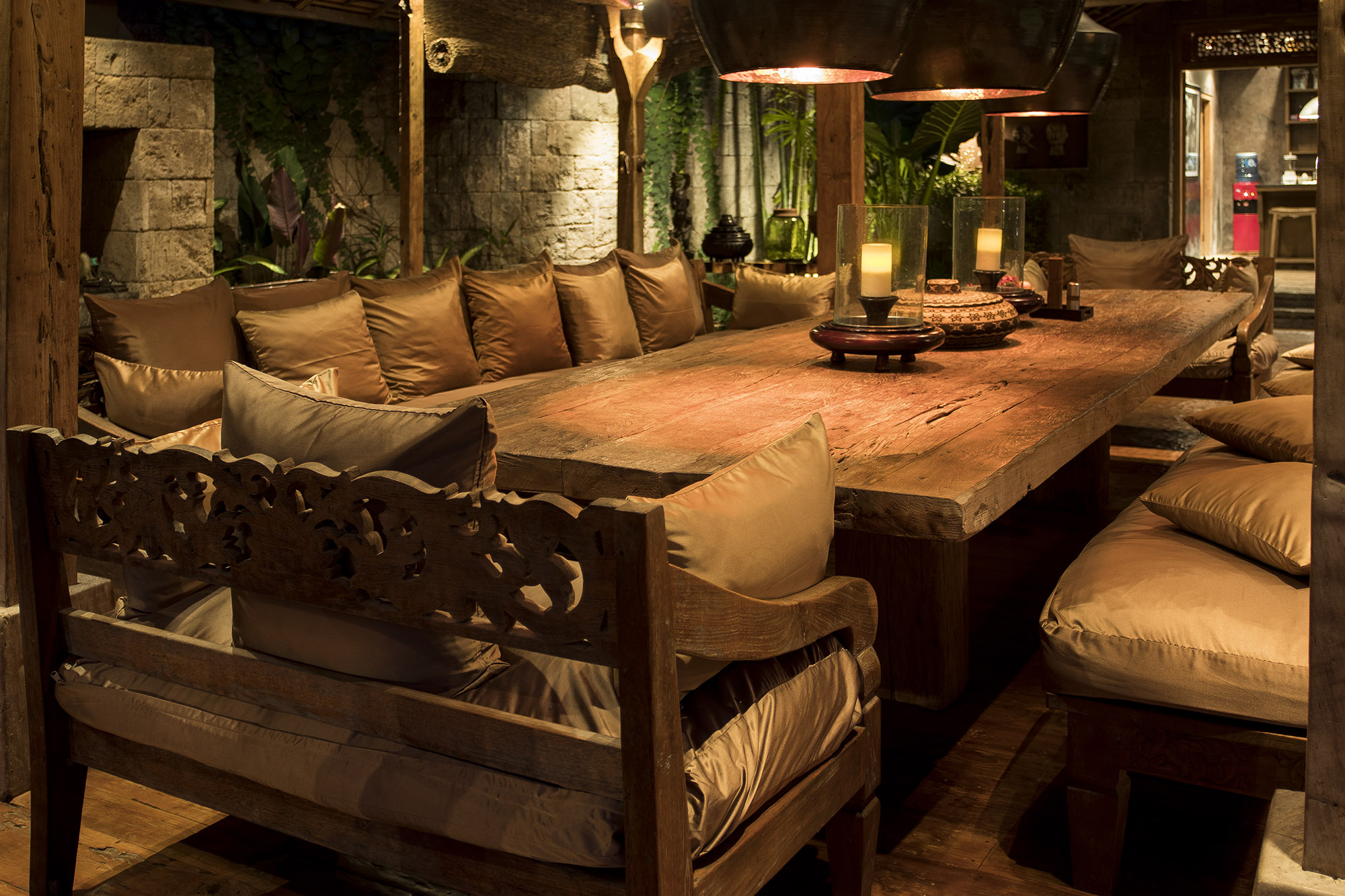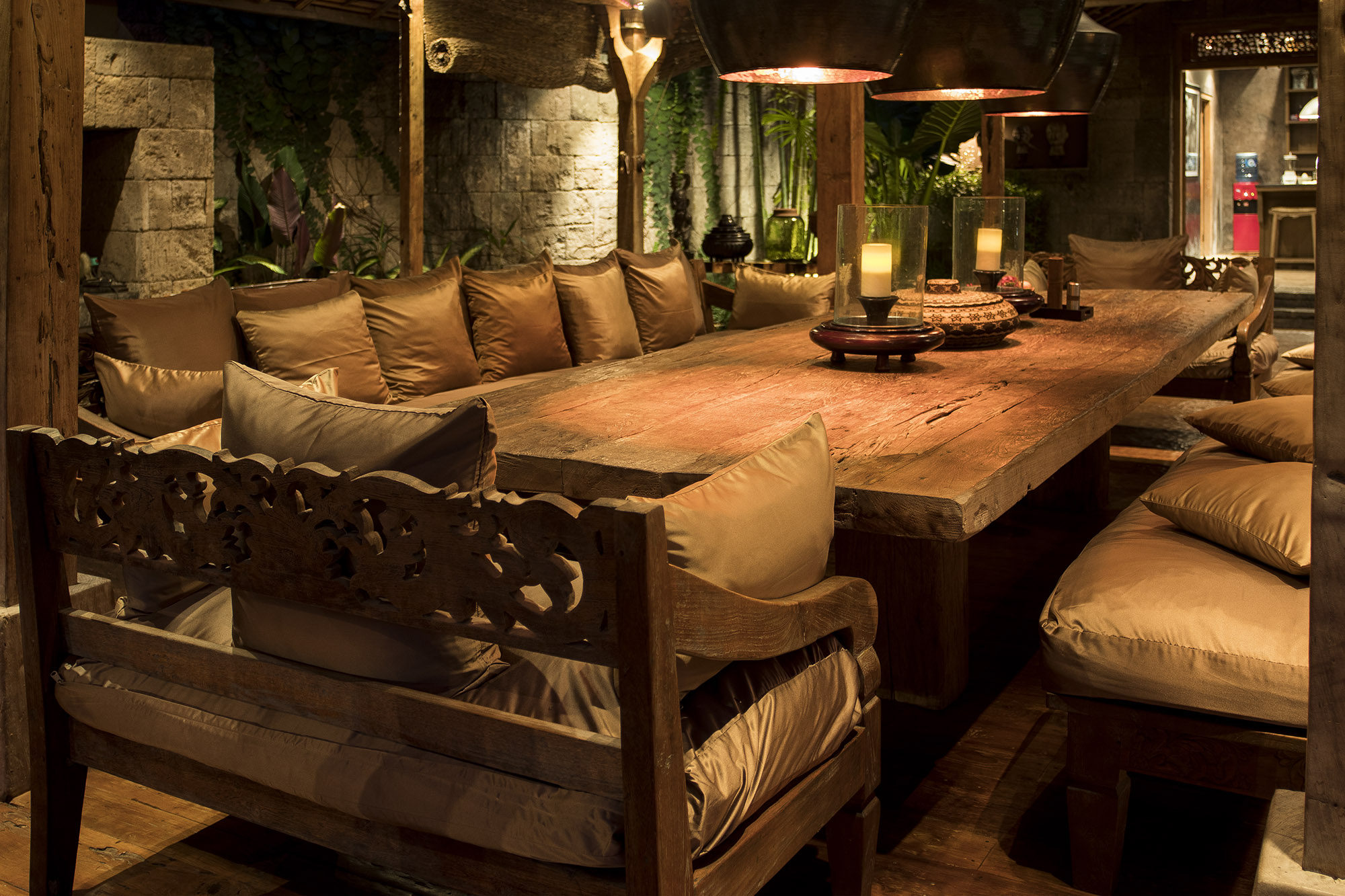 There was also a butler or two, room servants, gardeners, if you needed anything, just slowly raise your hand from your day bed by the pool. For me it was cappuccinos, but you already know I'm a coffee addict!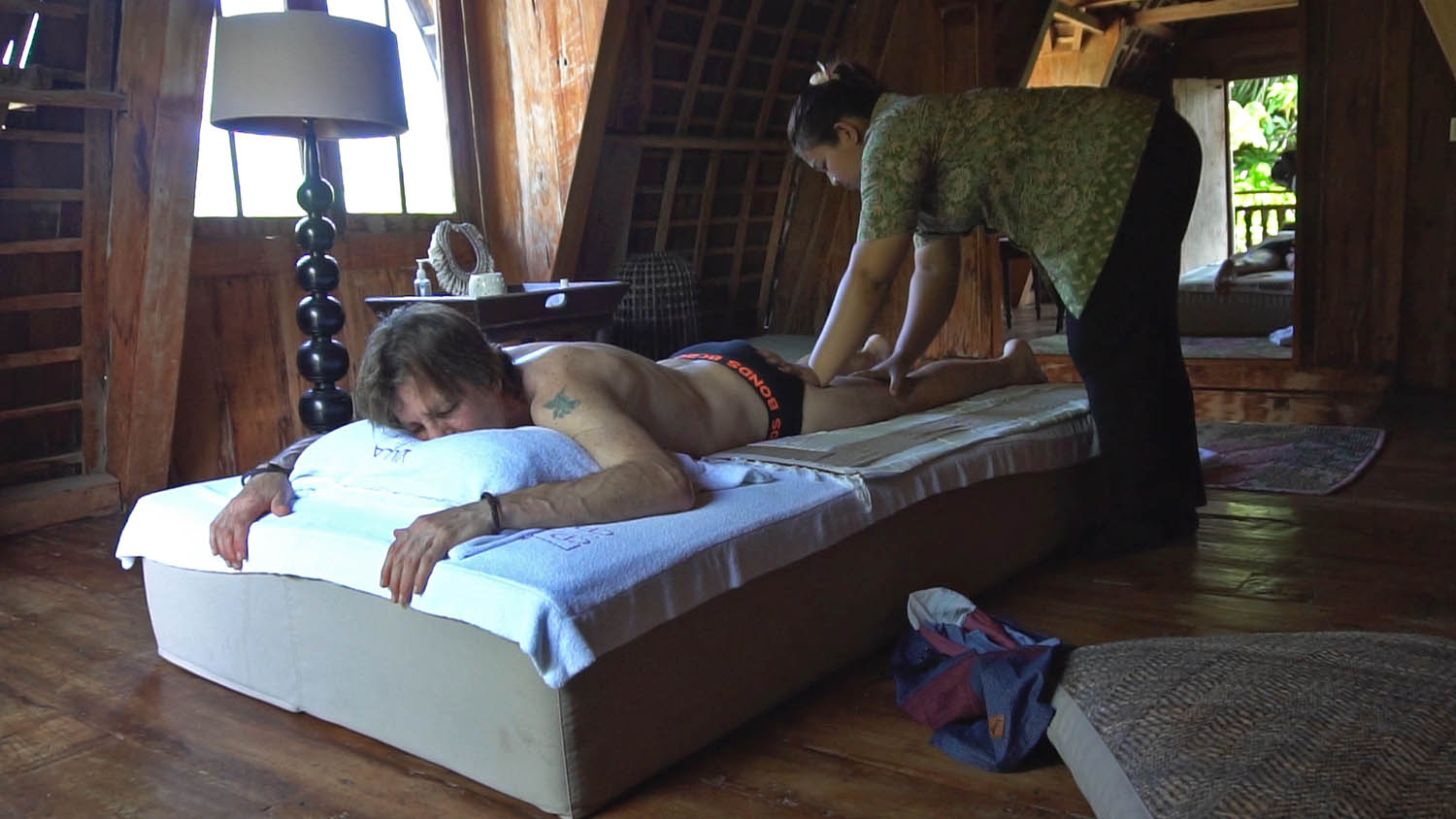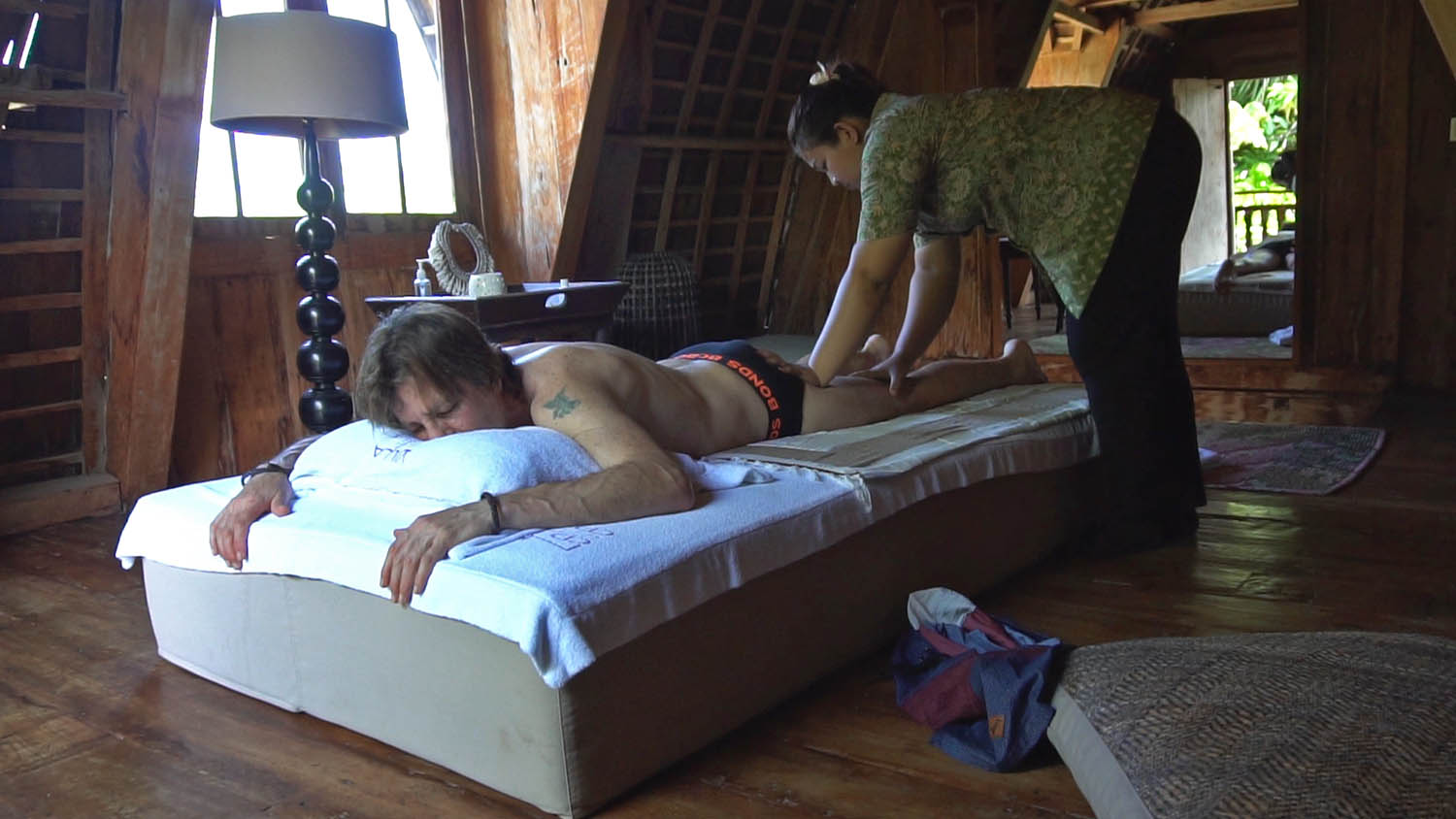 Want a massage, they organise it for you, the price at the time was 100,000 Rupiahs! Boy that sounds expensive, a hundred thousand! after getting my calculator out, I worked it out to be $100 for an hour. I thought that's not that cheap but it's still ok. Lets recount to be sure… oh! I left out a zero, it's only $10 bucks for a deep one hour massage. Last price I paid was $170 in a tropical resort far north Australia.  You can have seventeen one hour massages a day for the same price! No wonder all the Aussies come to Bali! And these girls were good, I was amazed. Do I look in pain, yes I was, that's how I like them, you feel so relaxed afterwards.
This was our first villa experience and the bar is now set damn high. Speaking of bar, there's even a great bar with lounge tables and a projector with a huge screen. And it's all private.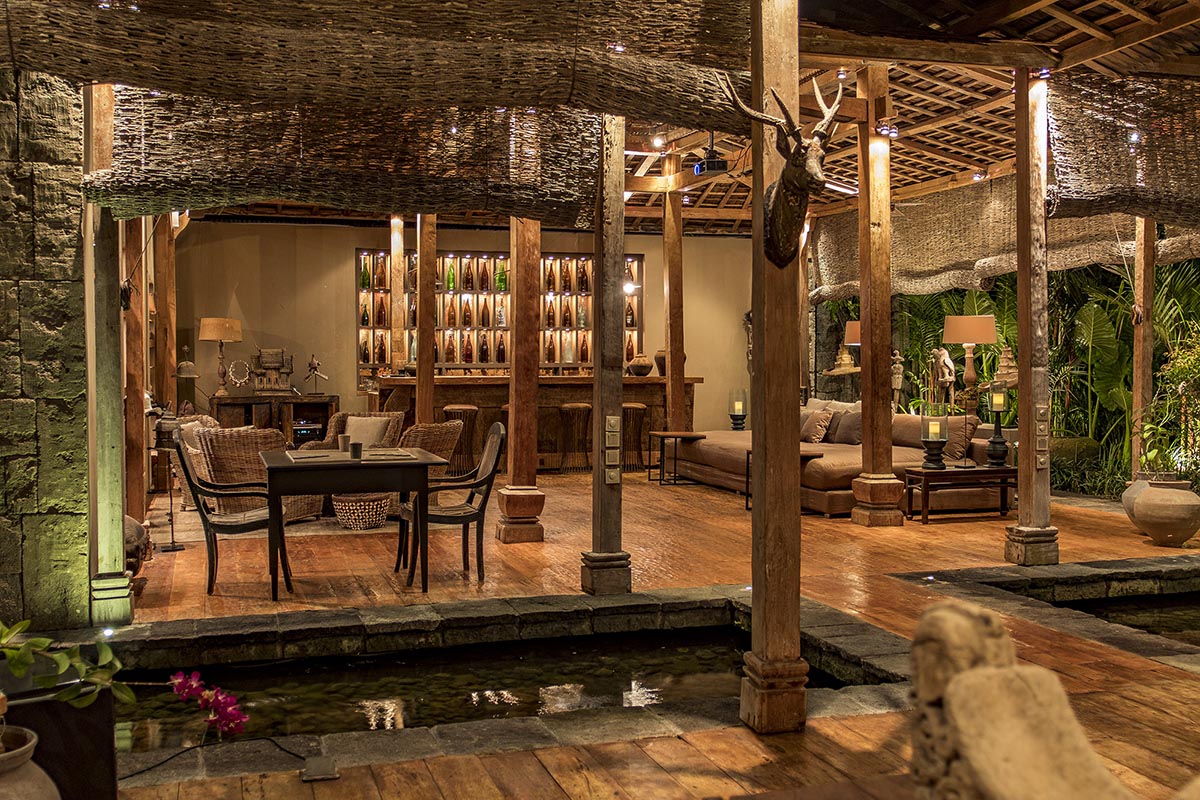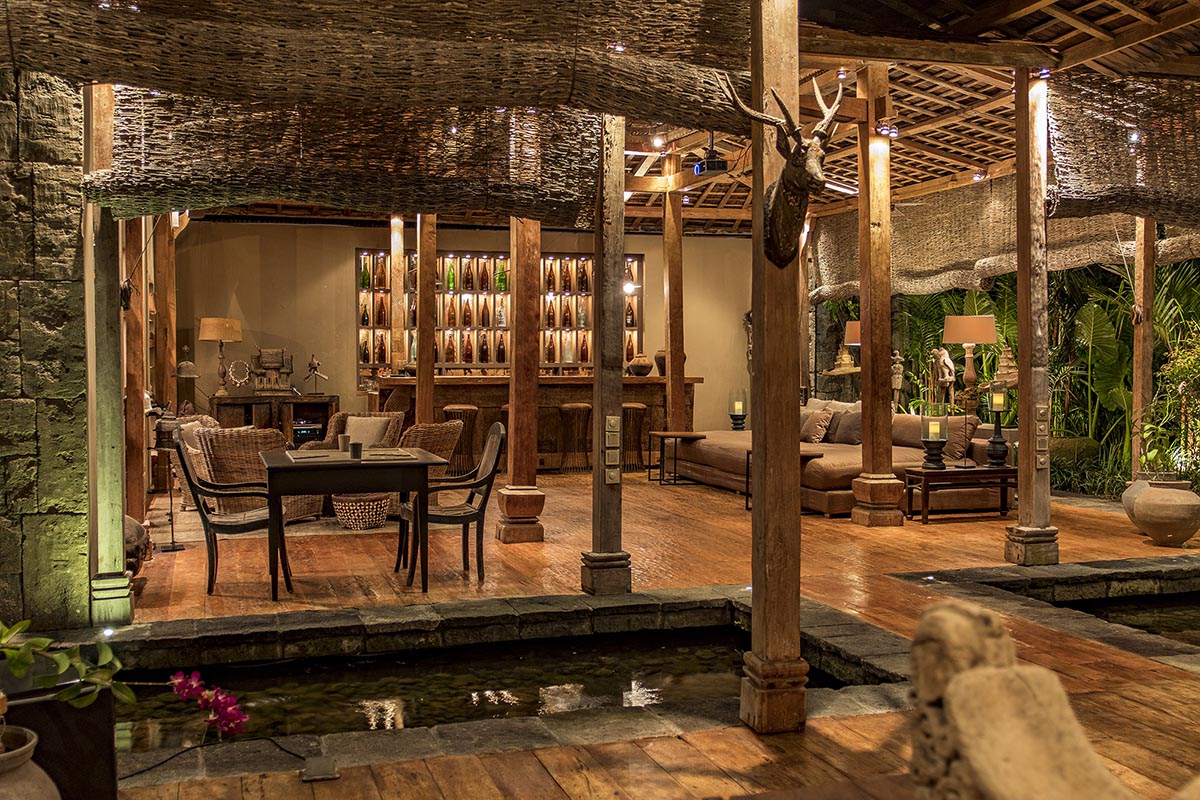 The vibe is certainly different to hotels, it depends what you're looking for in a break. For me, as much as I love hotels, I think I'm hooked on villas now. But the best way is to go as a group. Five couple, five bedrooms, cheap meals, cheap massages, it's quite cost effective. Prices change depending on seasons.
We finally left after our three days of heaven and felt so sad, it's like the staff became family, we loved them all. In fact there were tears! See you again villa Zelie!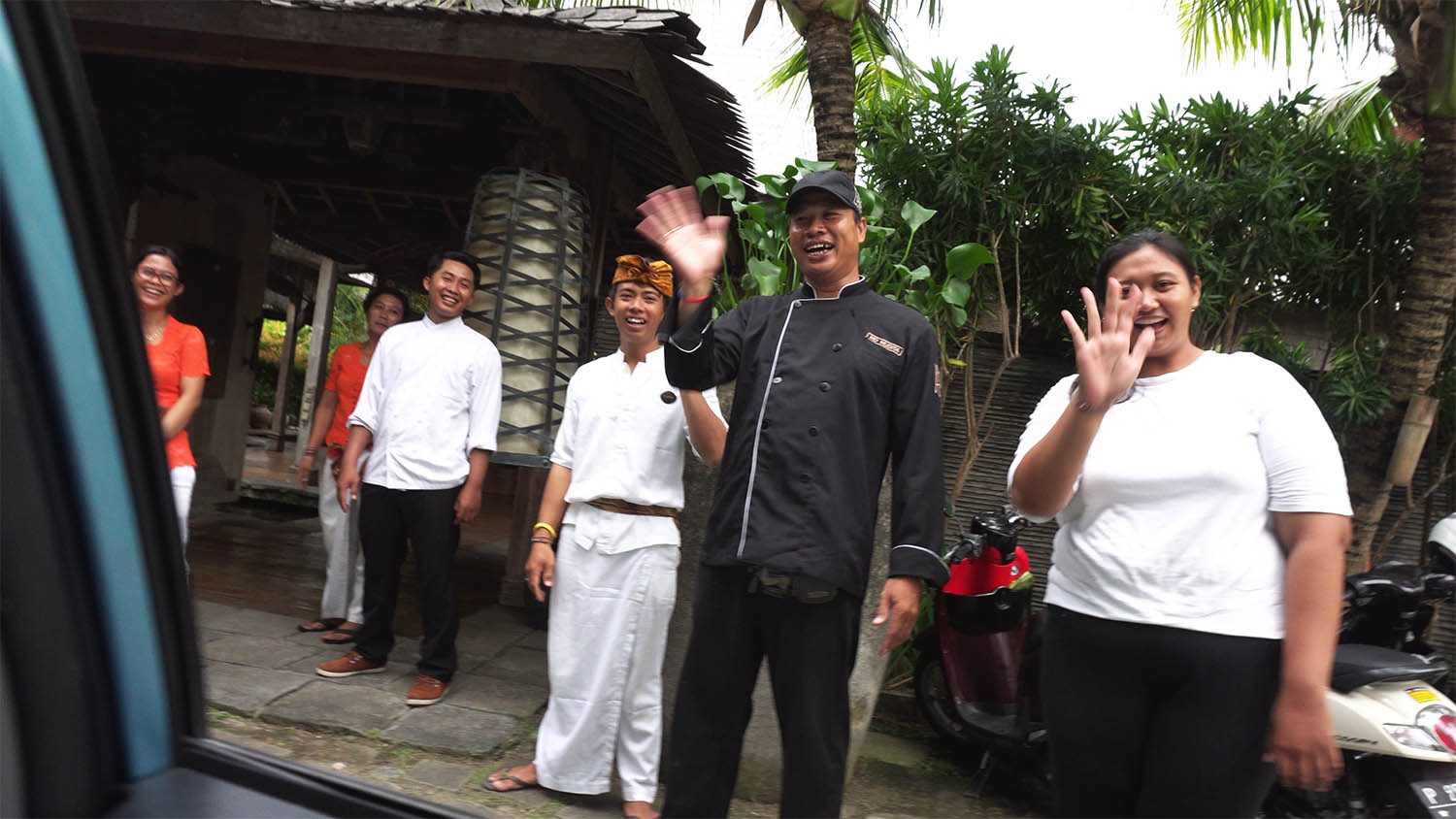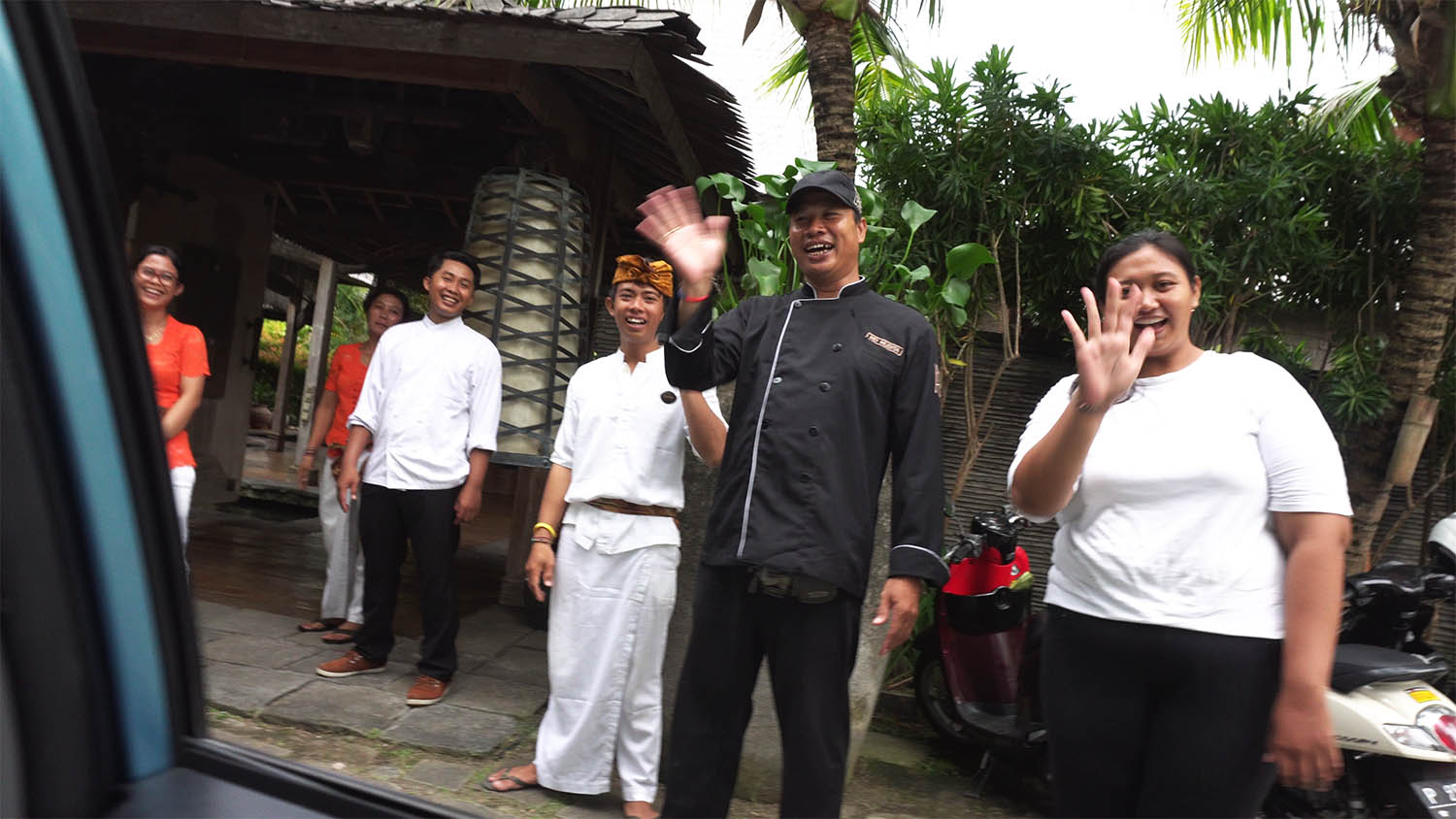 We then caught a taxi in the busy traffic to the south of the island. Be prepared that short distances take a long time to travel.
Our new Accommodation, Adila Bali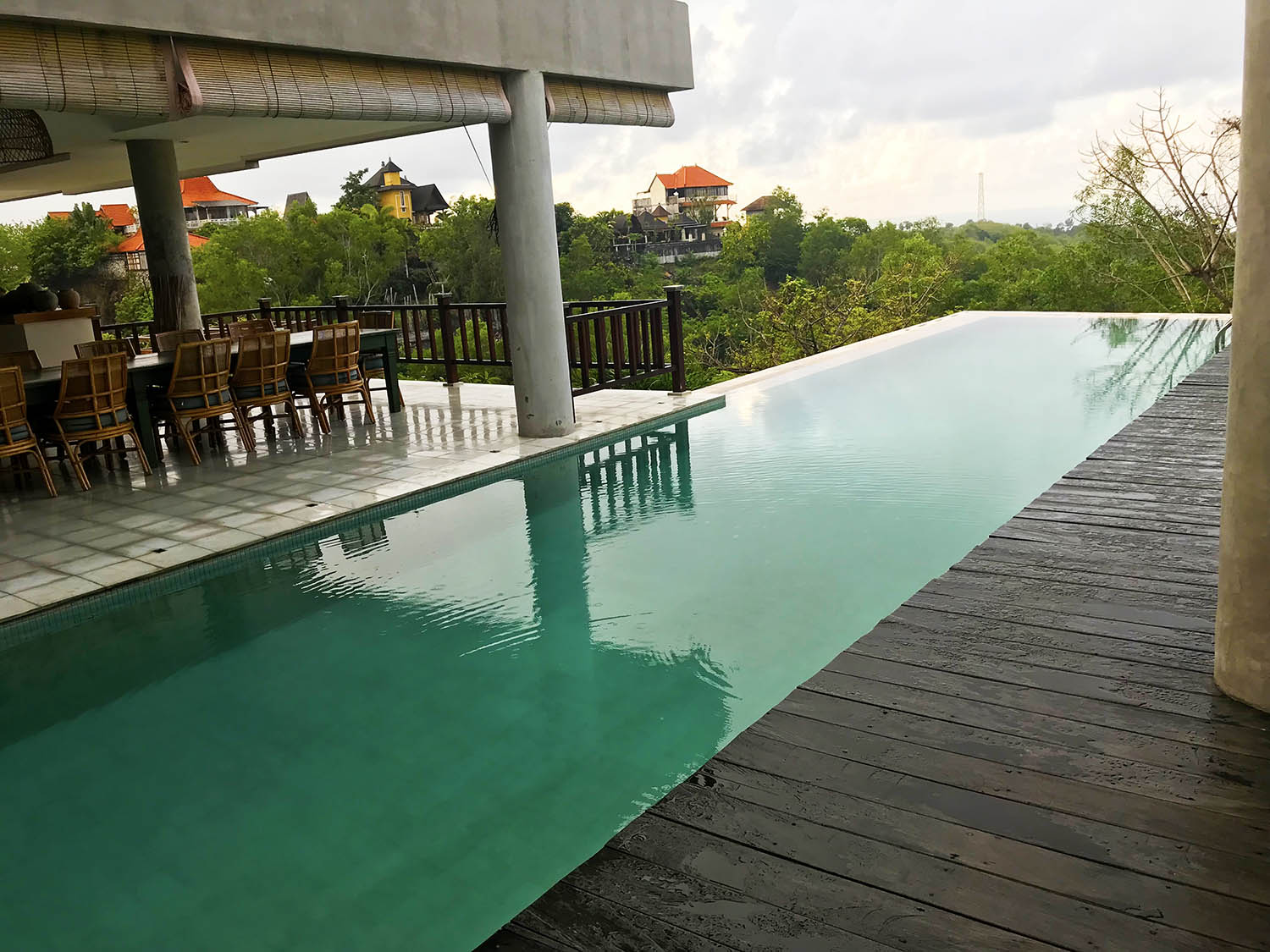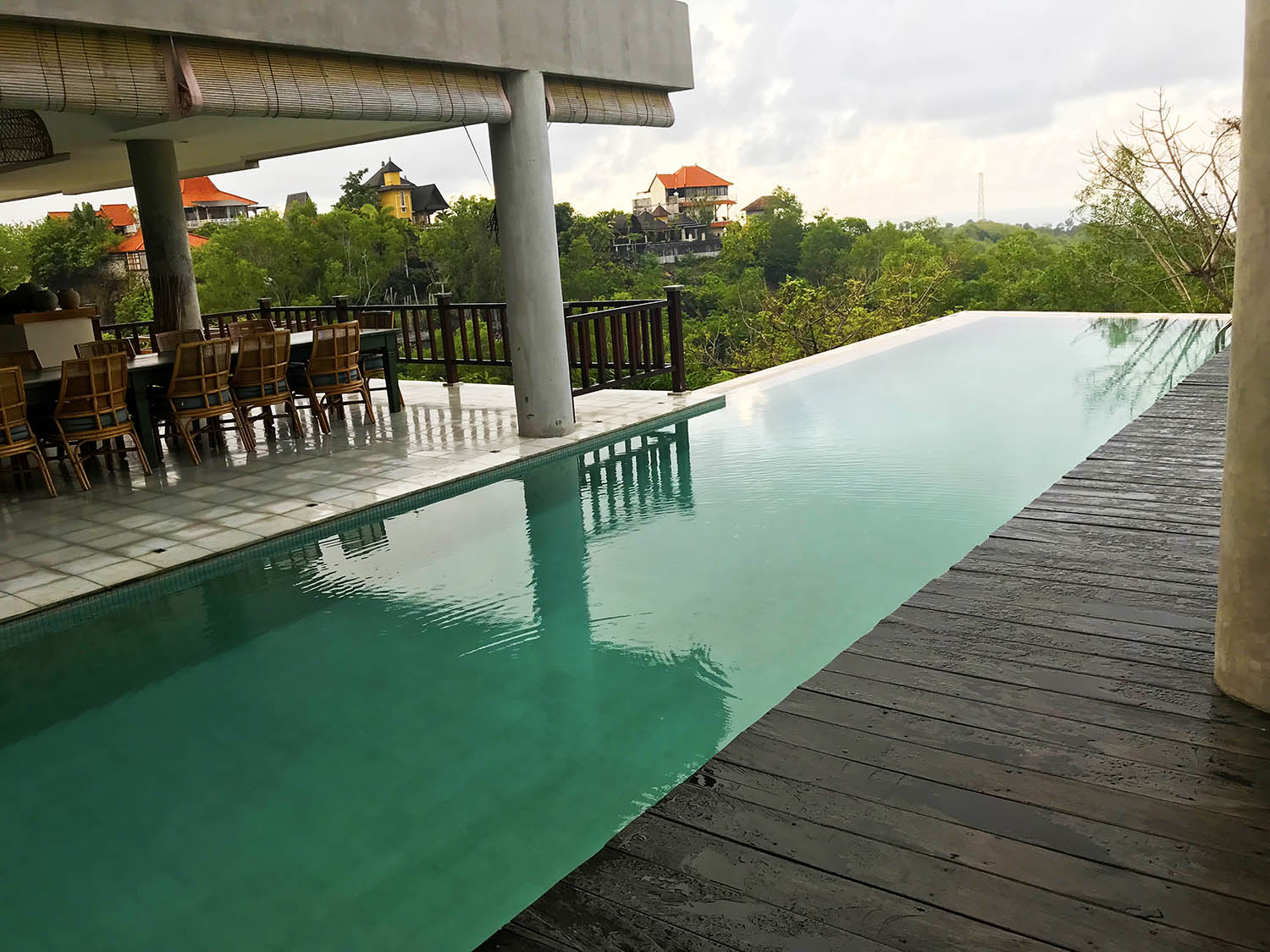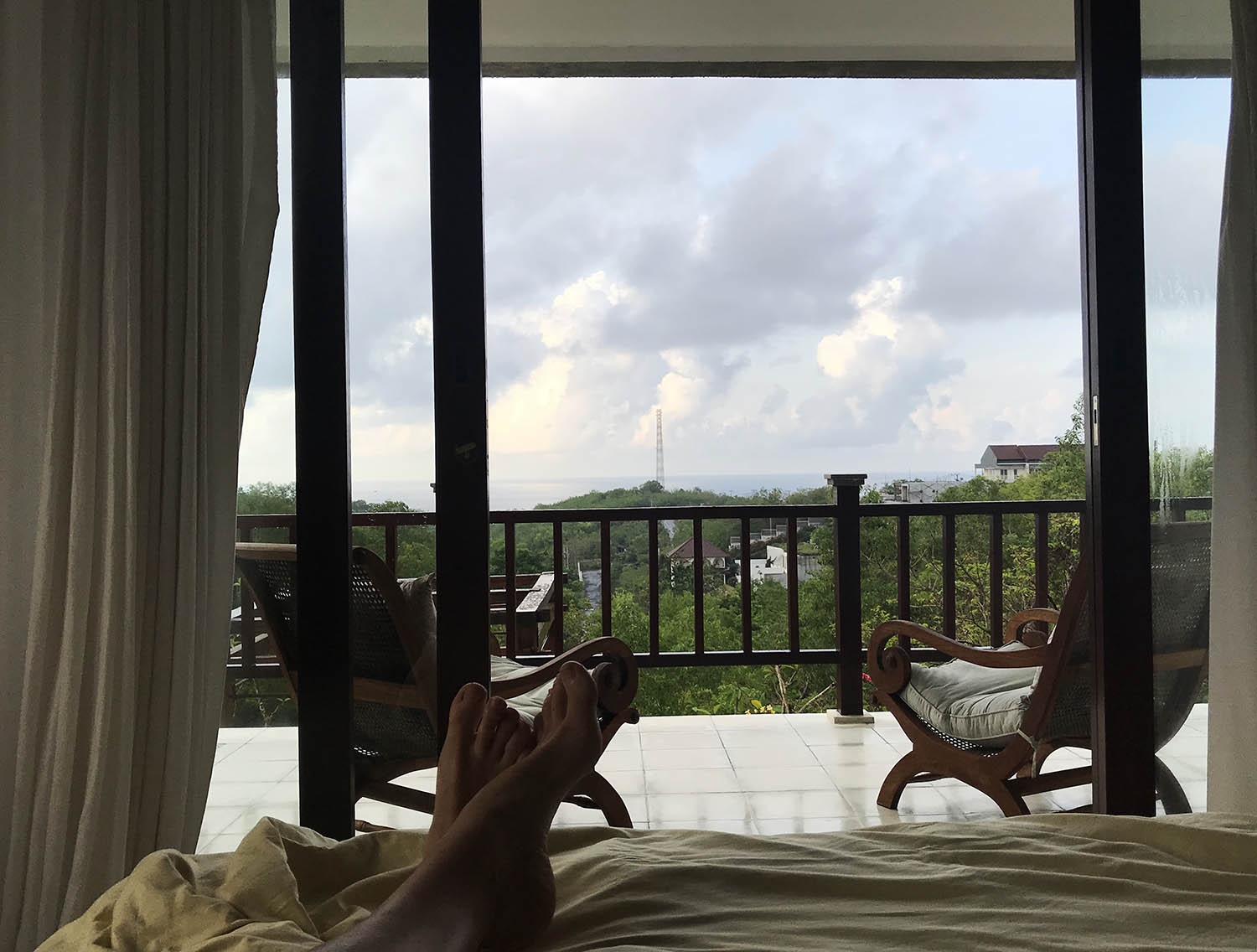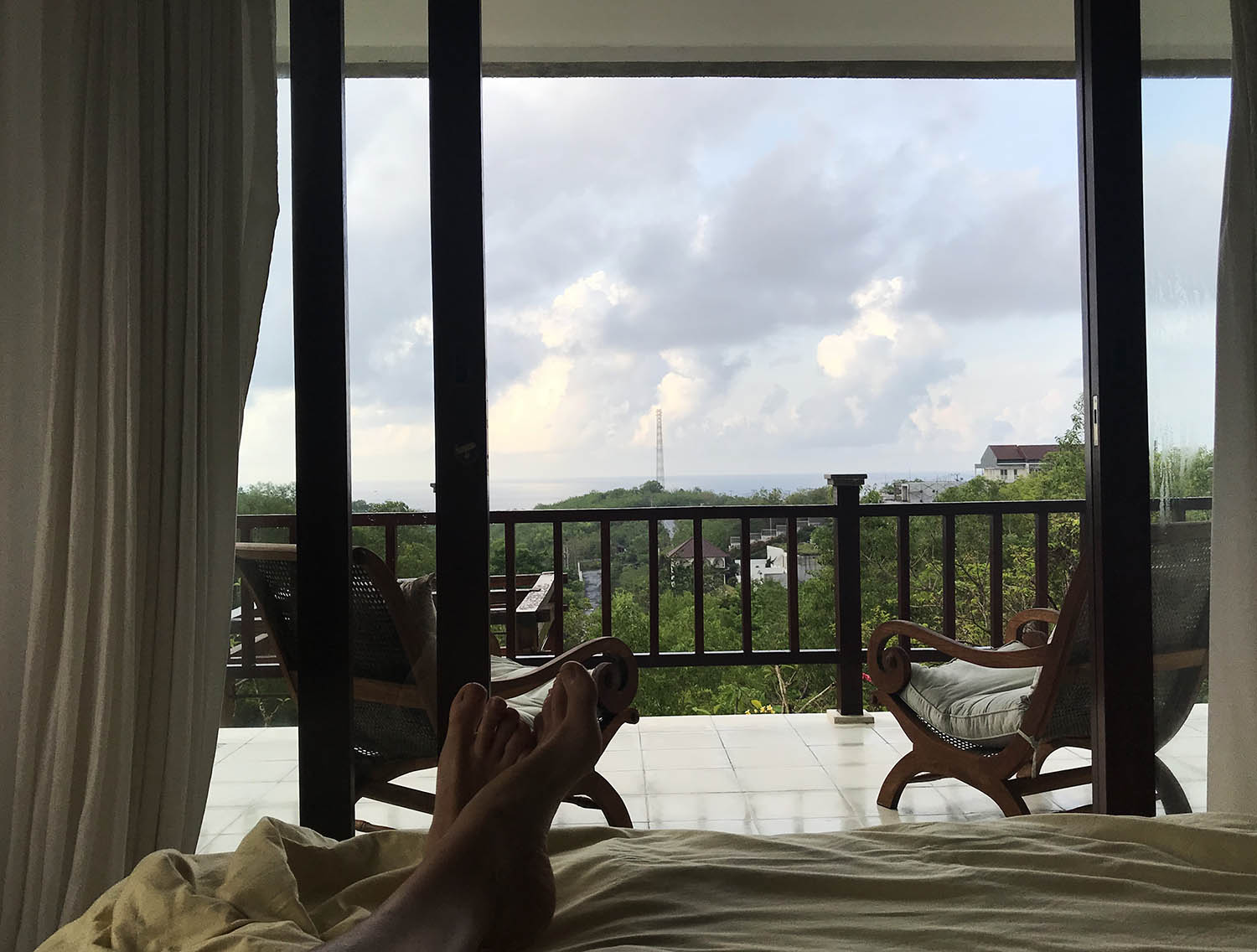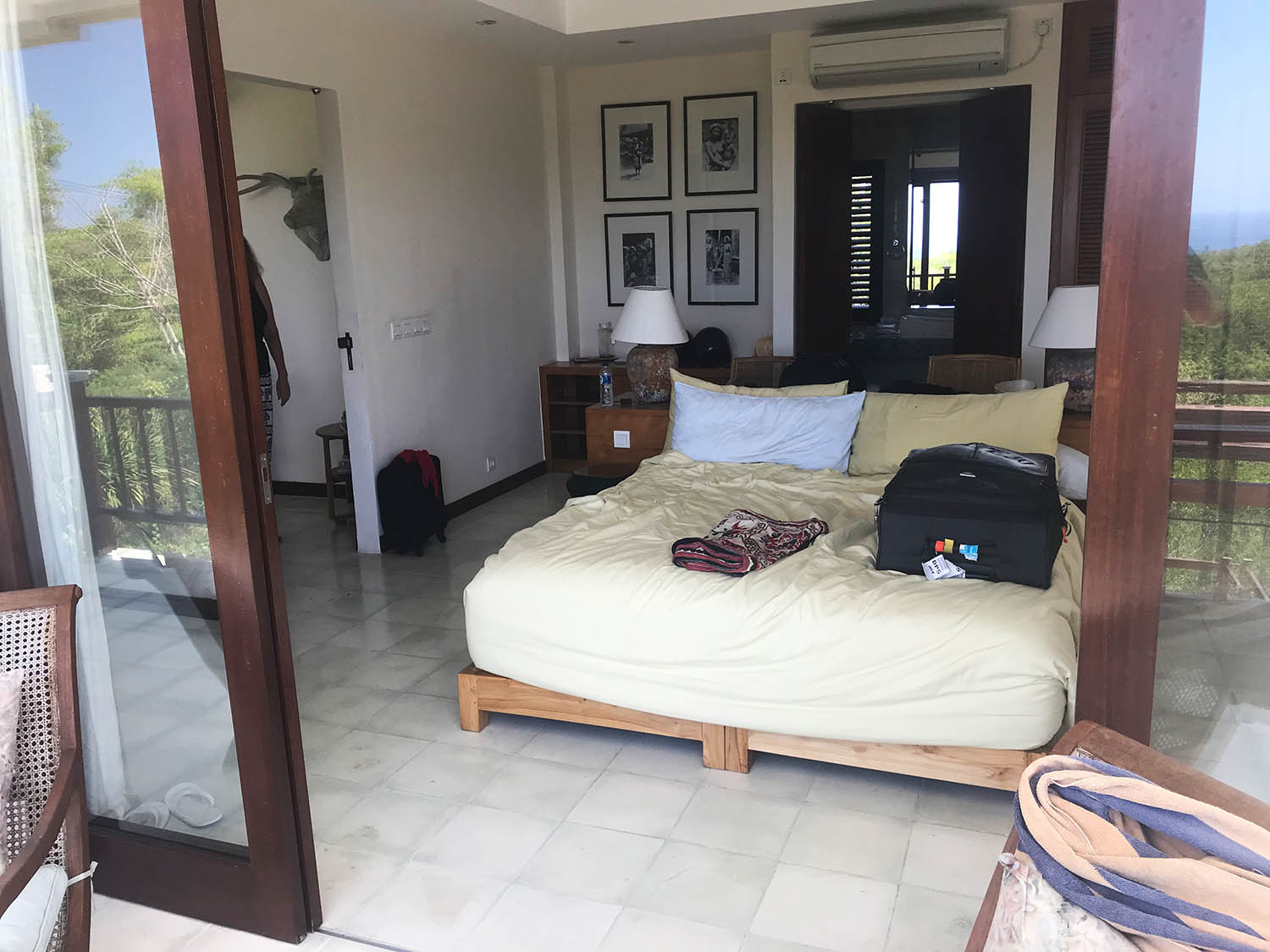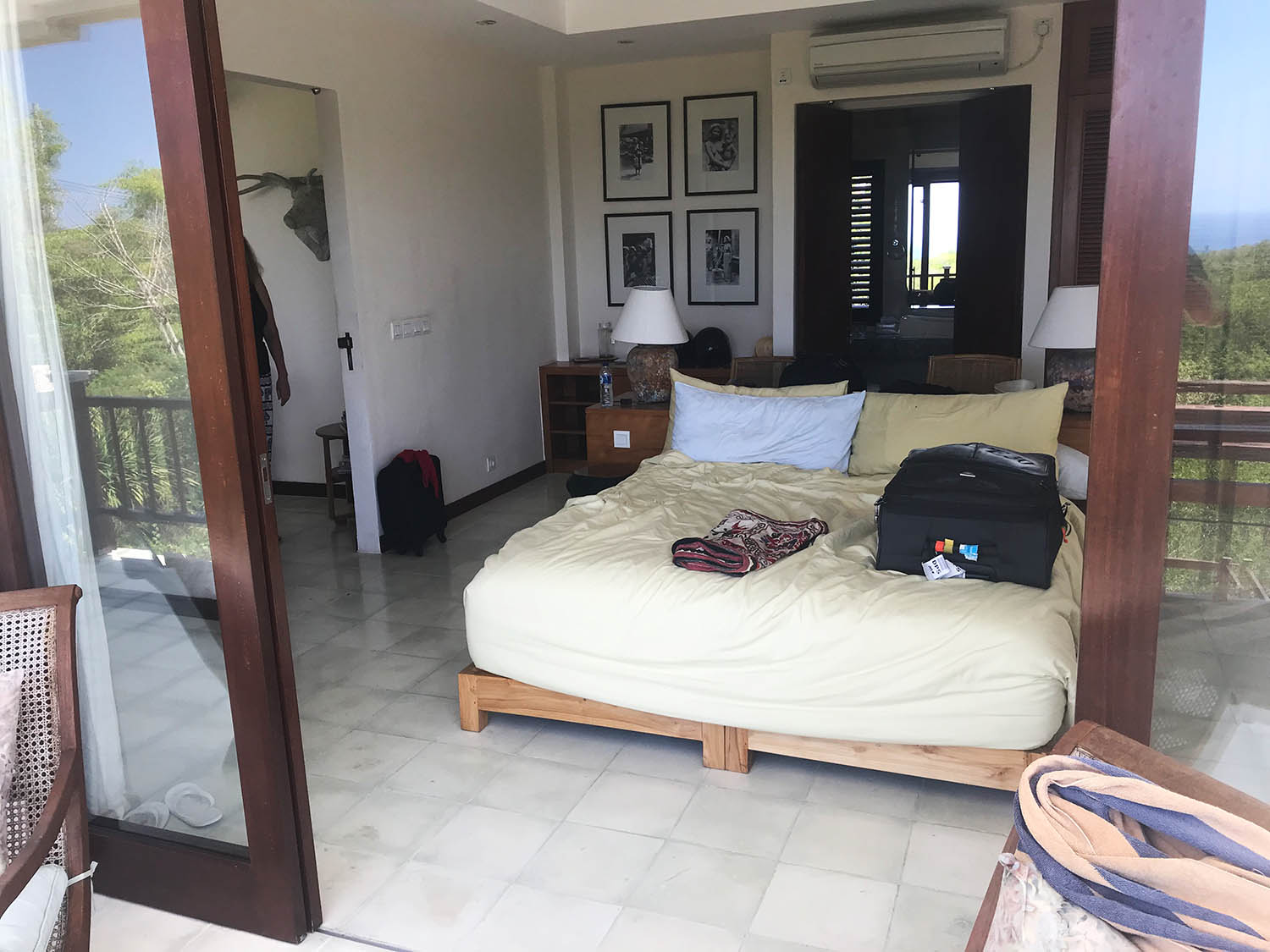 We stayed in a quaint little shared villa or mini hotel, not sure how to describe it exactly. It's like a big house perched over a hill with modern rooms and a pleasant constant sea breeze.  Our host Suskia was very helpful and arranged for us to rent a scooter. In 15 minutes the scooter arrived, I think it cost us around forty bucks for the day including fuel.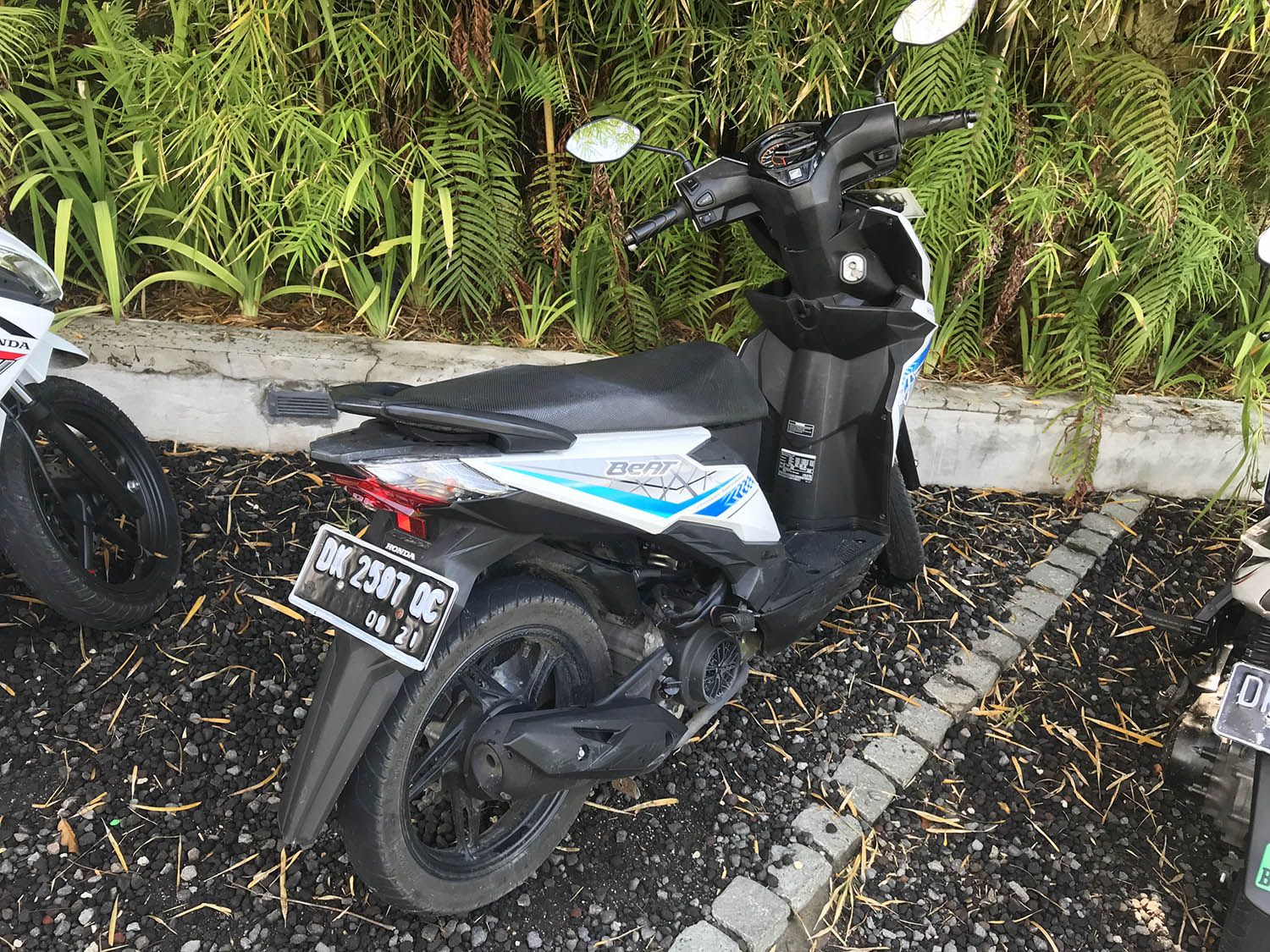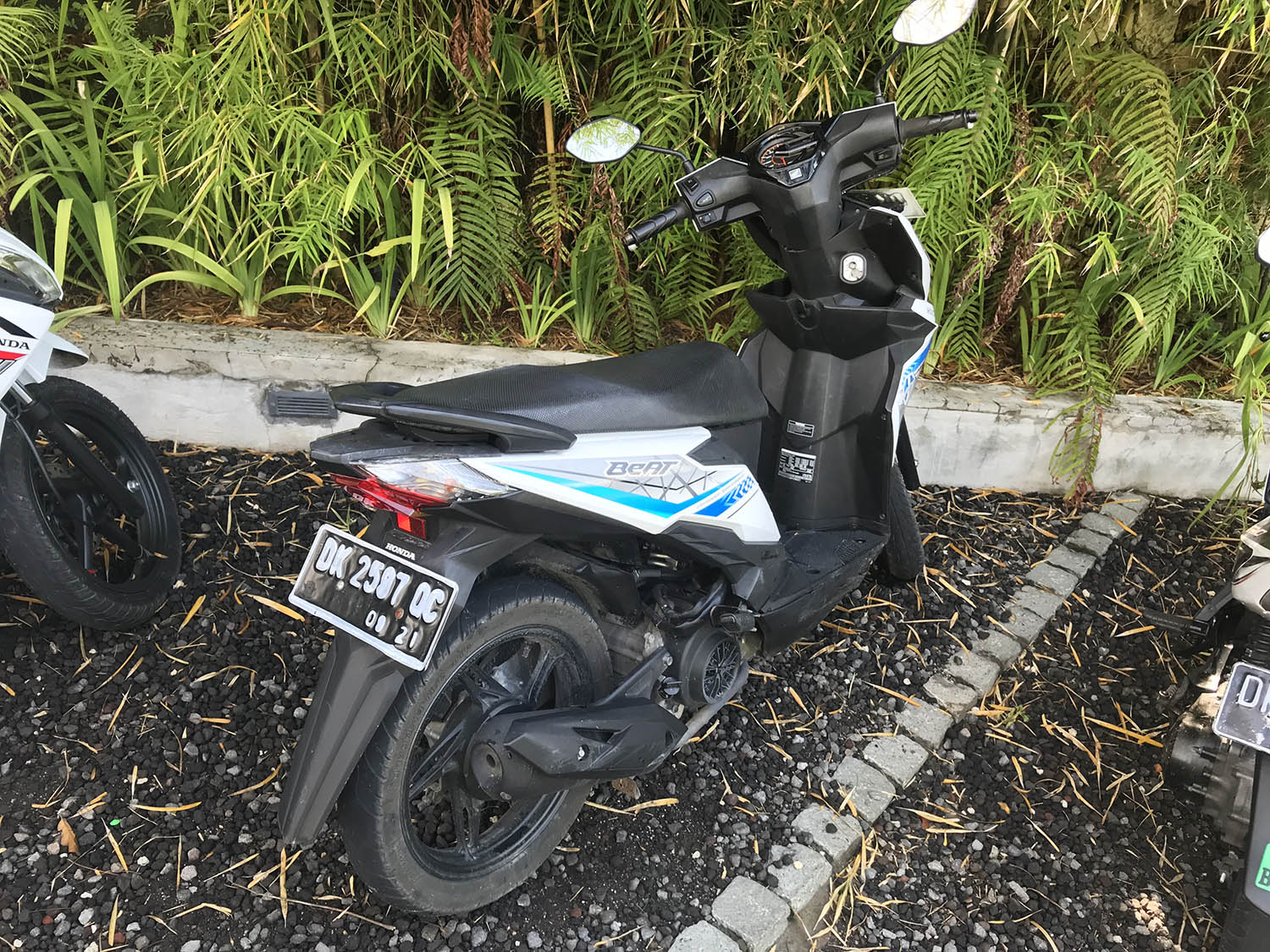 If you're game, that's the best way to get around Bali. Traffic is a killer. It was madness on the roads, at first I couldn't stop laughing, everyone cuts you off, jumps in front of you, honks at you and traffic laws appear to be optional guidelines. I recommend a helmet!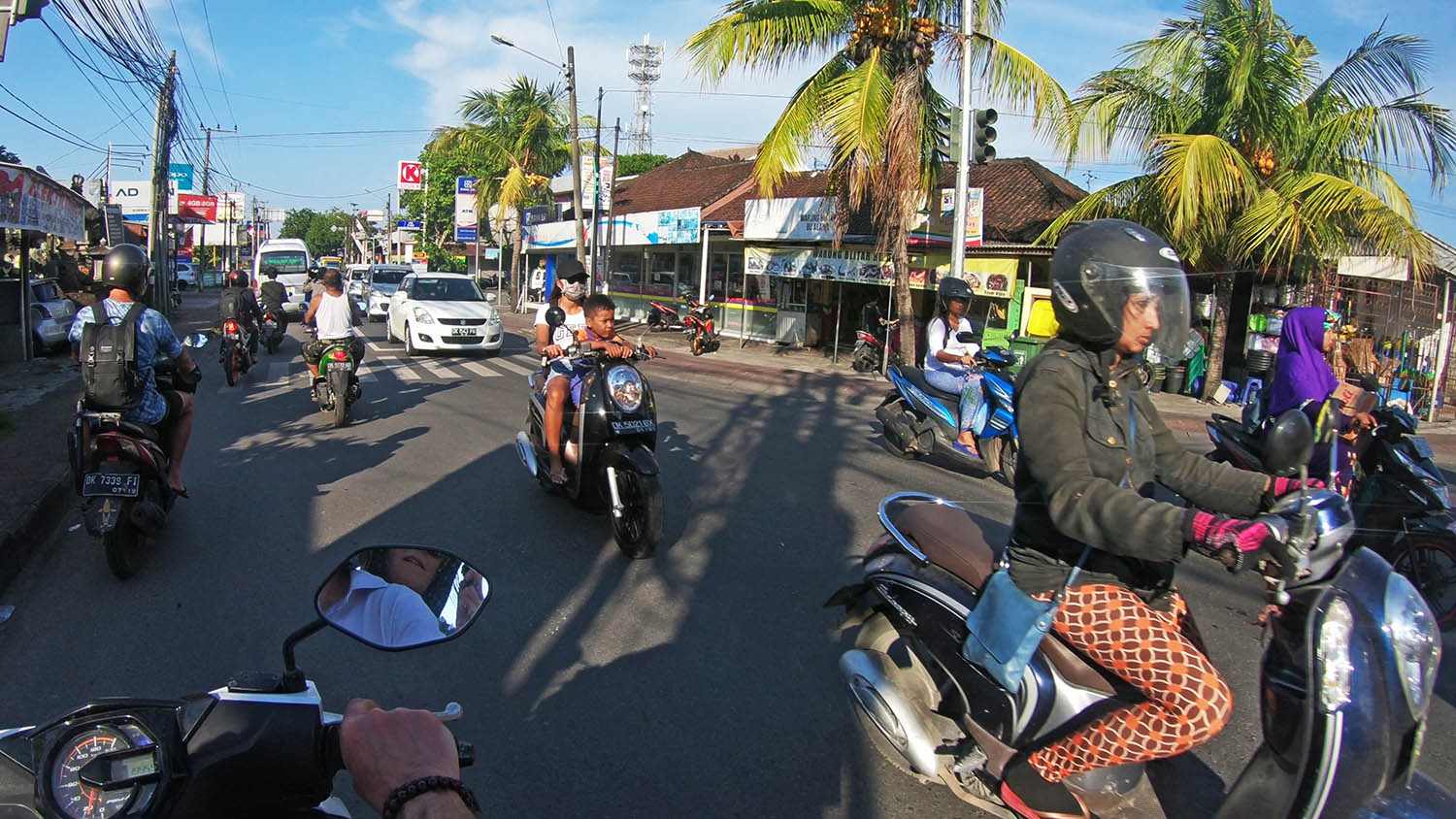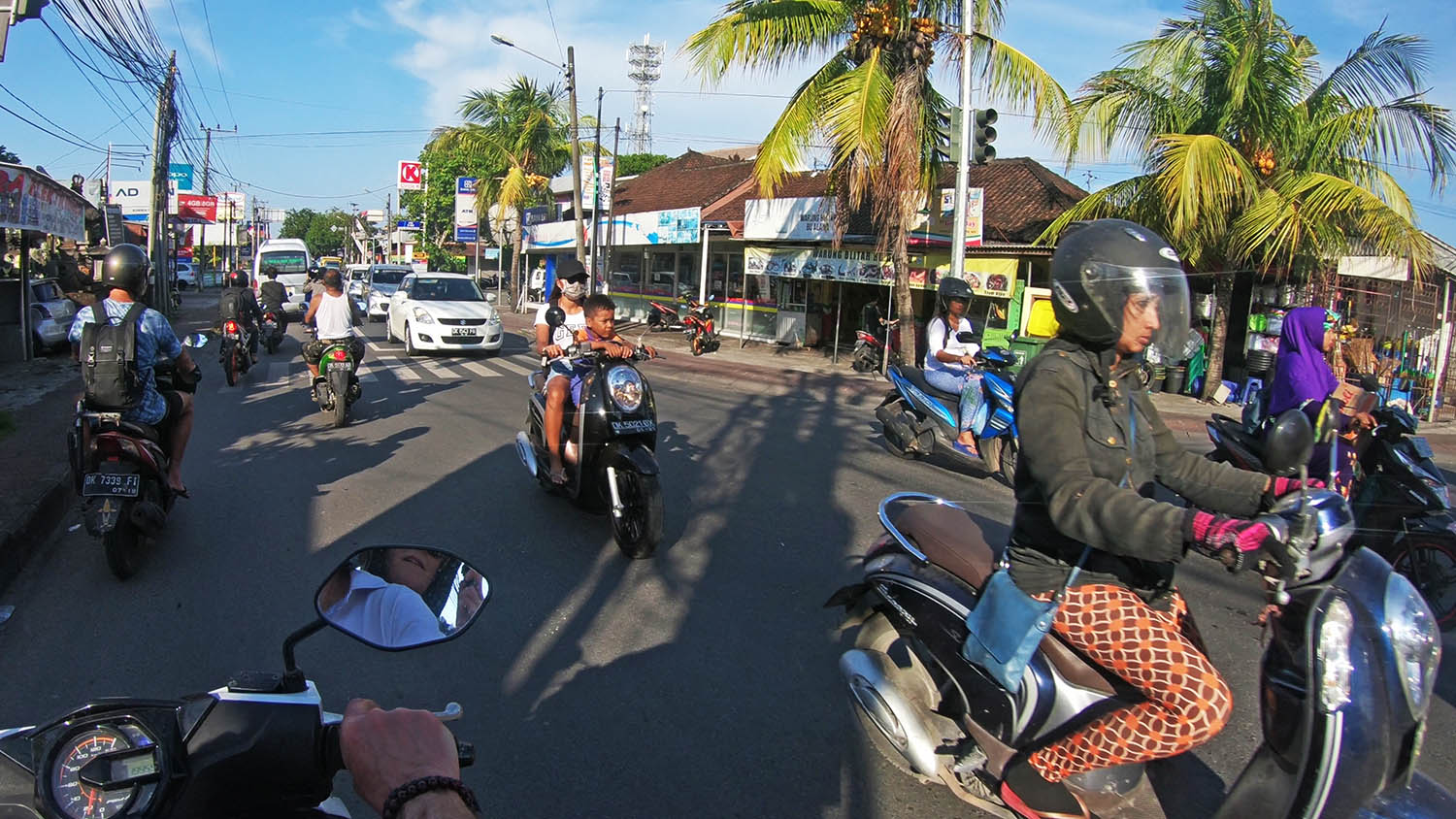 Despite all that, it's not aggressive and the people on the roads are friendly and chilled. It's just the way the system works, so I adapted very quickly and enjoyed every minute. My wife on the back did stop breathing a few times.  You'll see entire families on one scooter, trucks, buses, horses, dogs, cats, cows and even monkeys on the roads, so expect the unexpected and be safe.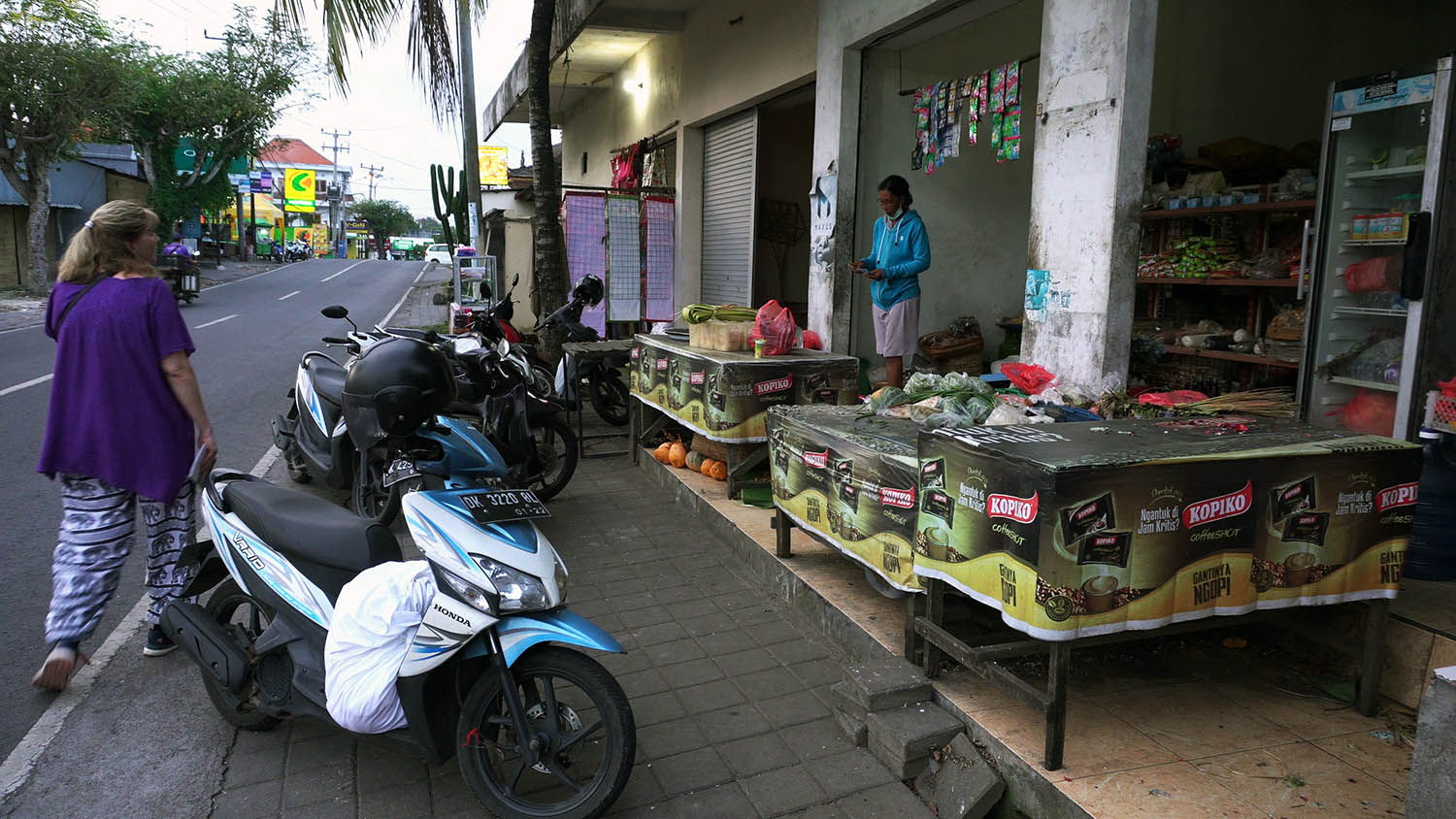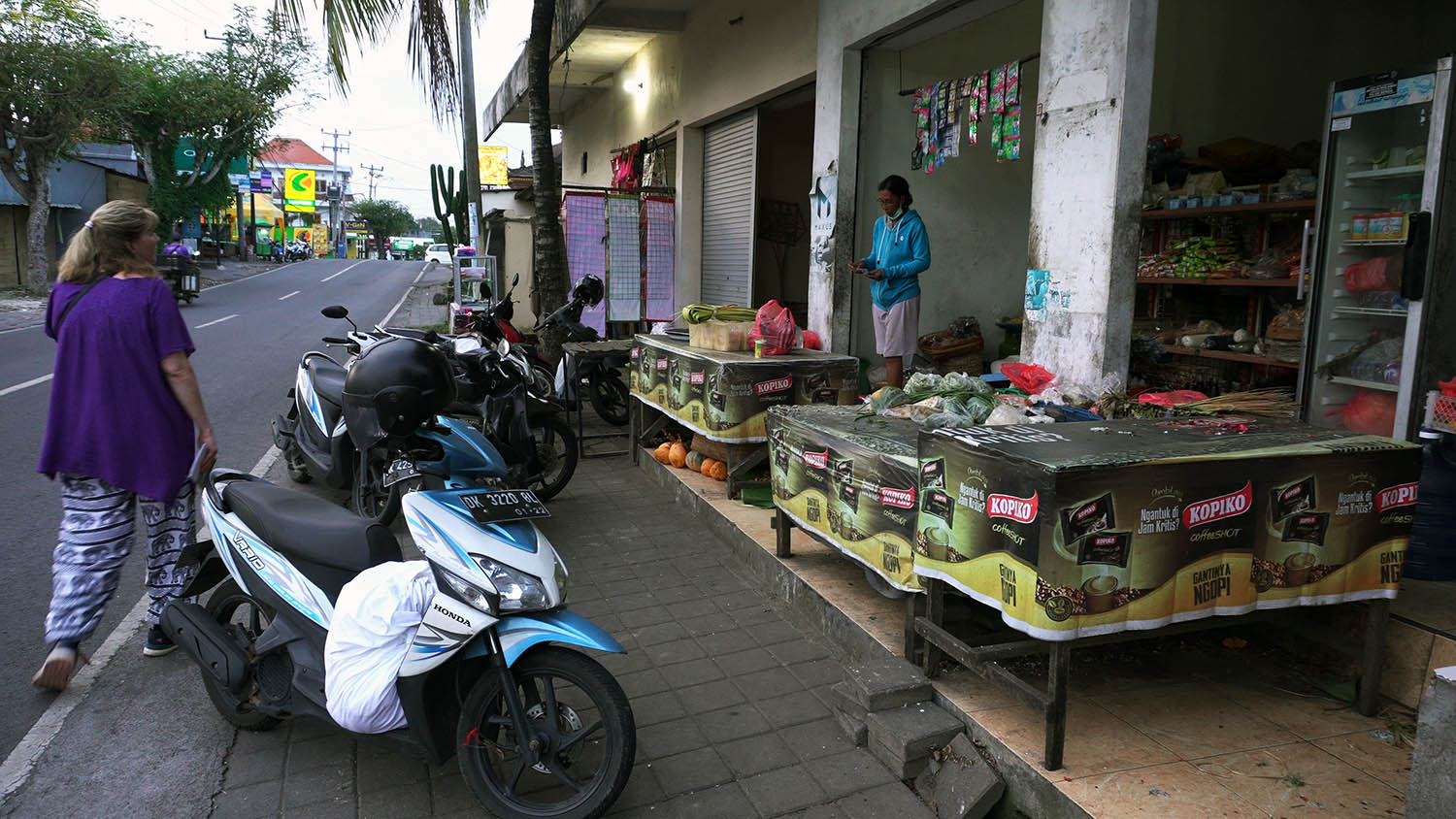 We attempted to walk to the nearest restaurant strip late afternoon, but somehow our directions got confused and although we were heading in the right direction, it felt too far away.  Even the cows knew we were lost!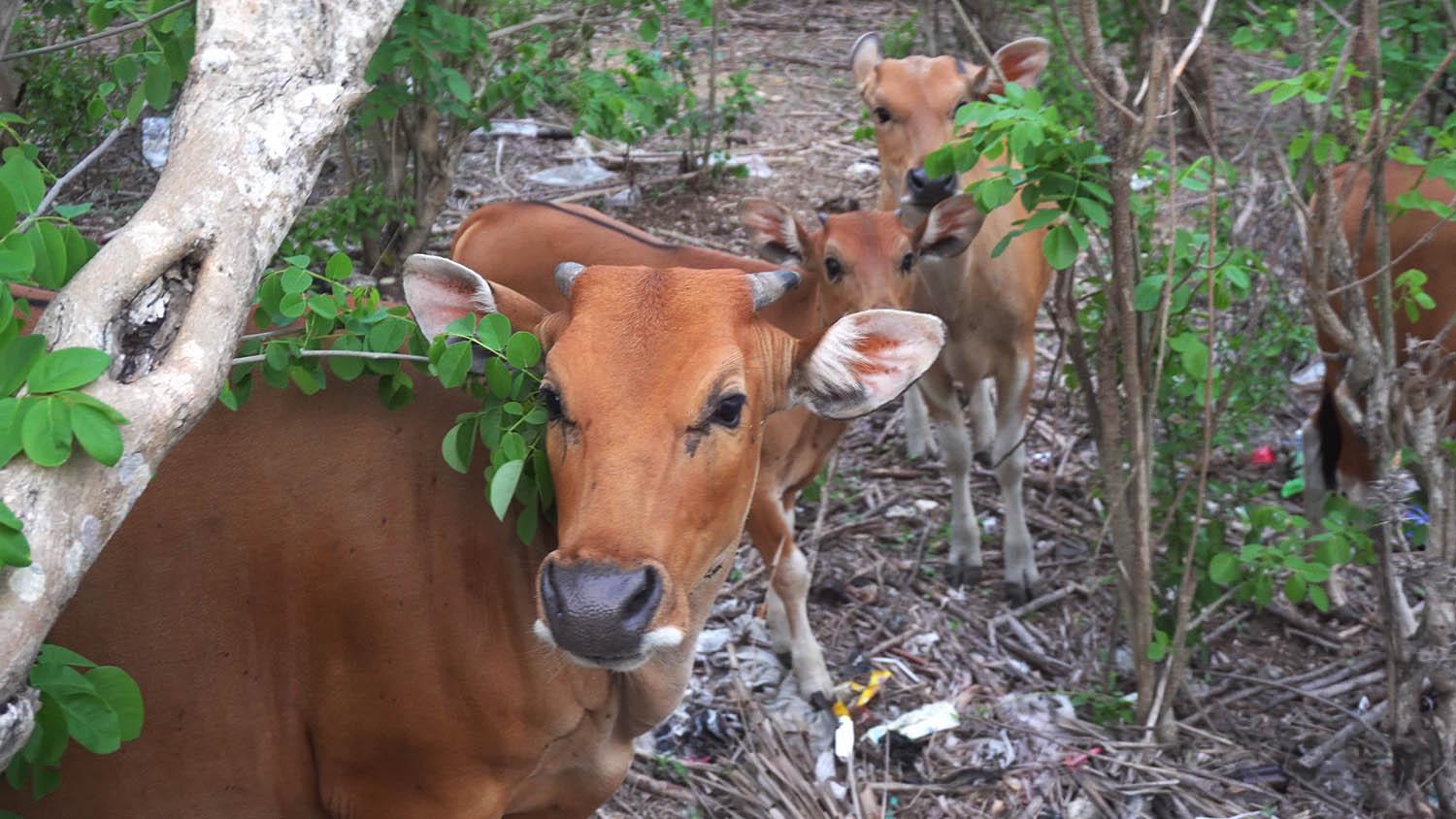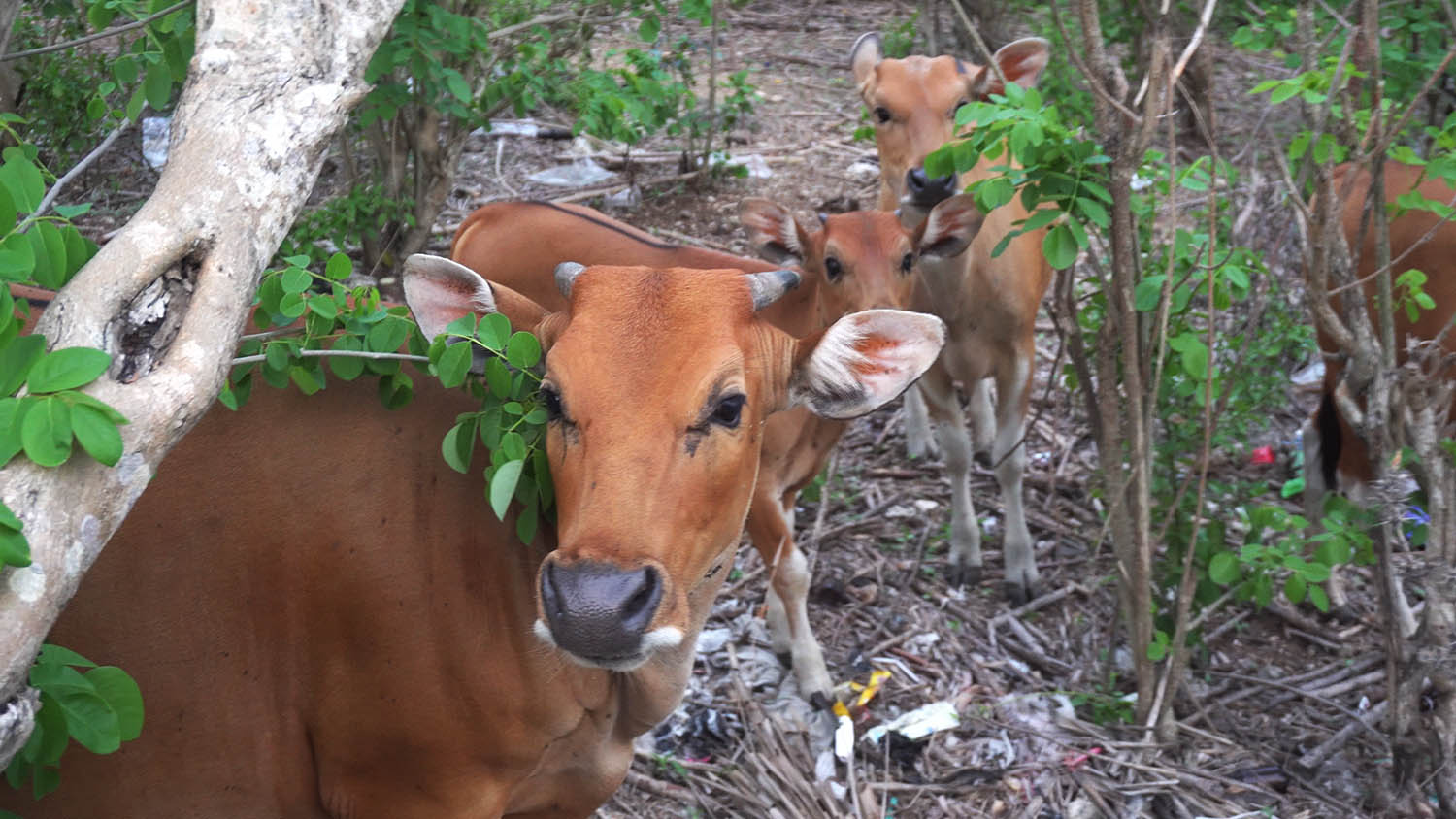 We decided to return to the villa but suddenly it was dark. I took my iphone torch out and used it so the thousands of scooters would see us and not collide into two stranded Aussie tourists. We were walking in almost total darkness on the side of the road, through speeding traffic on very narrow roads with big ditches on one side. We survived!
Upon our return, we ordered a taxi to take us to a recommended vegetarian fusion restaurant called Saffron. It was probably a 20-30 minute drive through the narrow busy traffic.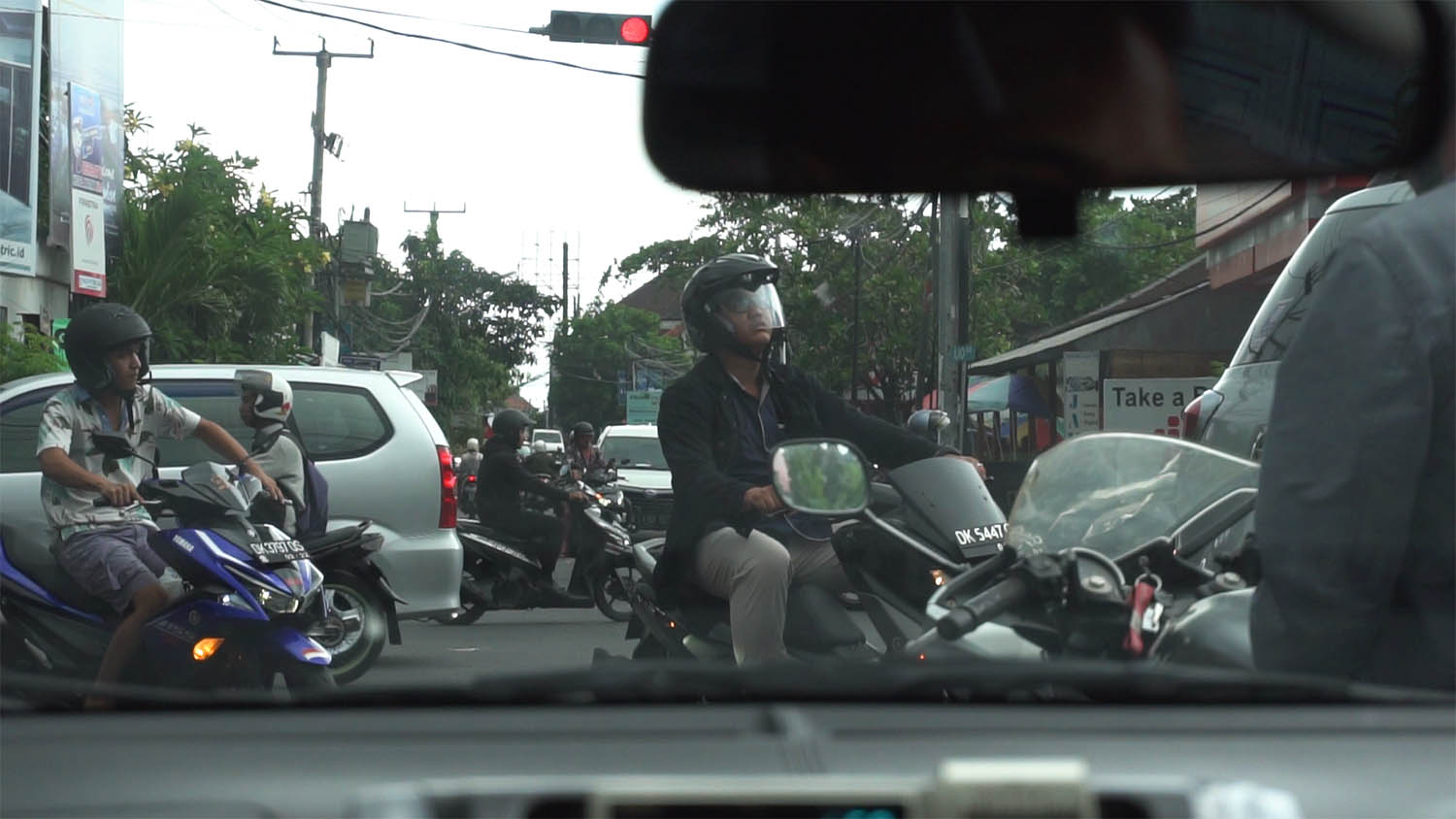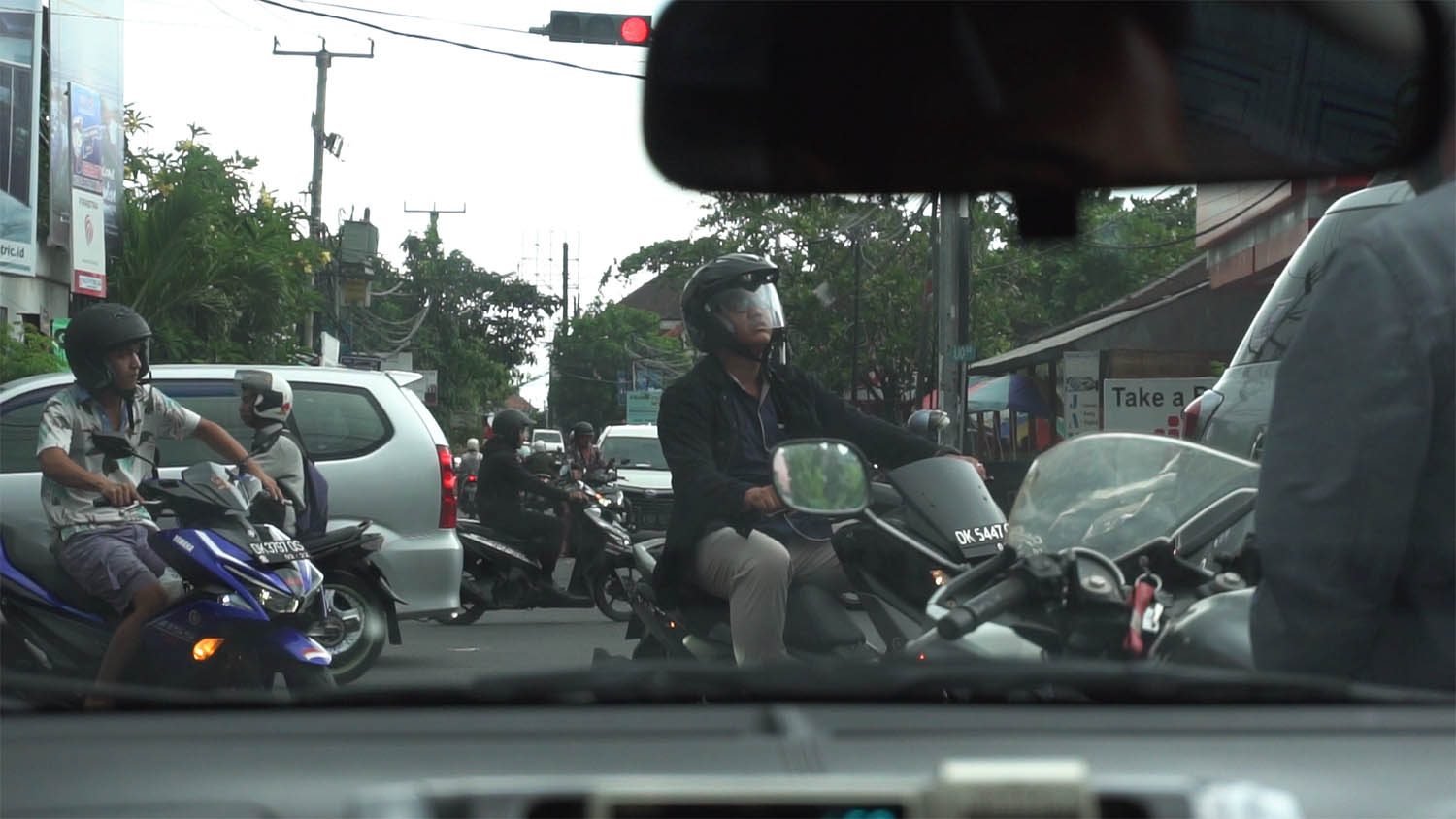 The taxi driver was kind enough to allow me to stop at ATM on the way, I needed cash as the restaurant didn't accept credit cards. Best to forget credit cards in Bali, cash is king, so get plenty of it so you don't get caught out.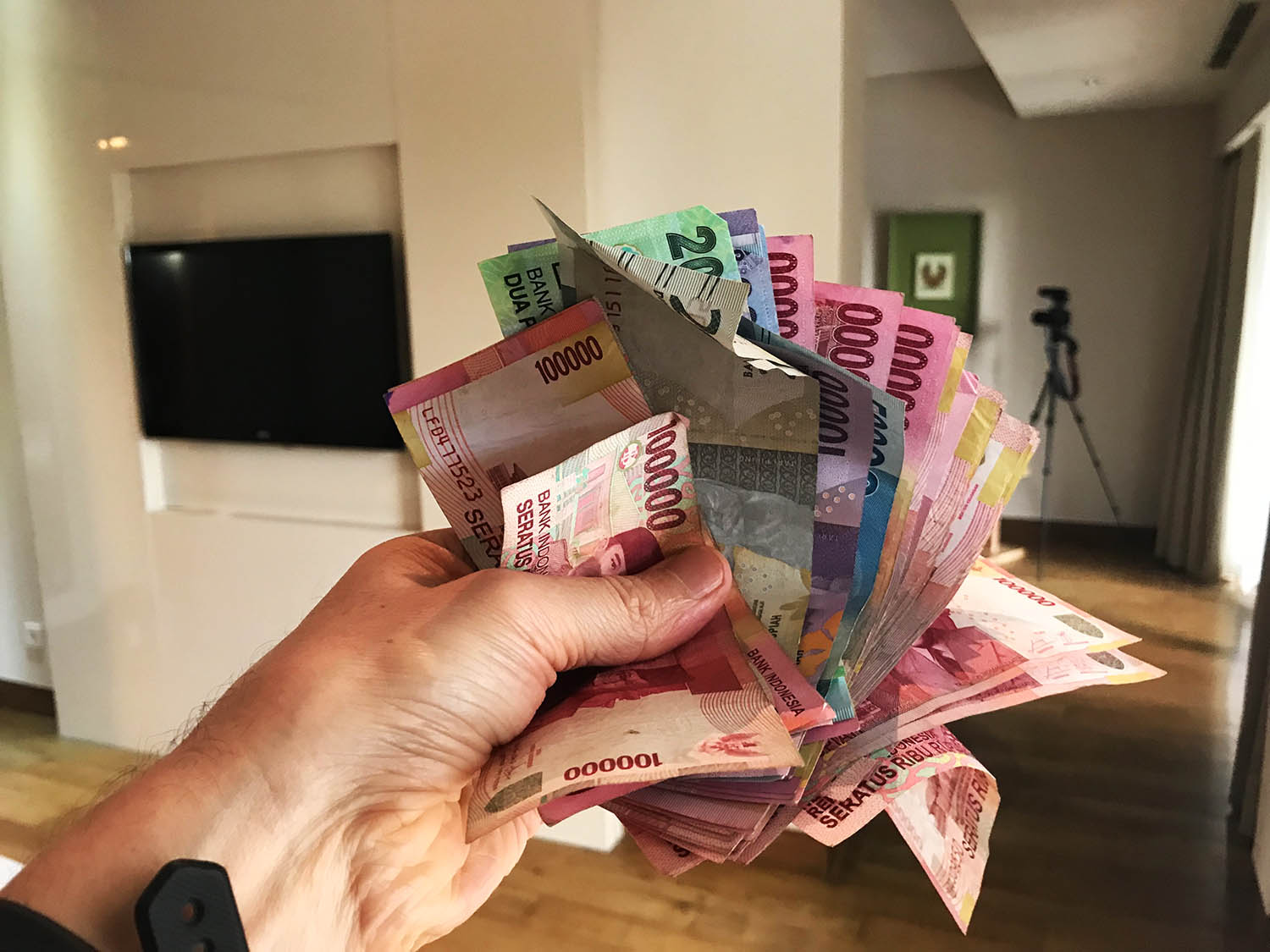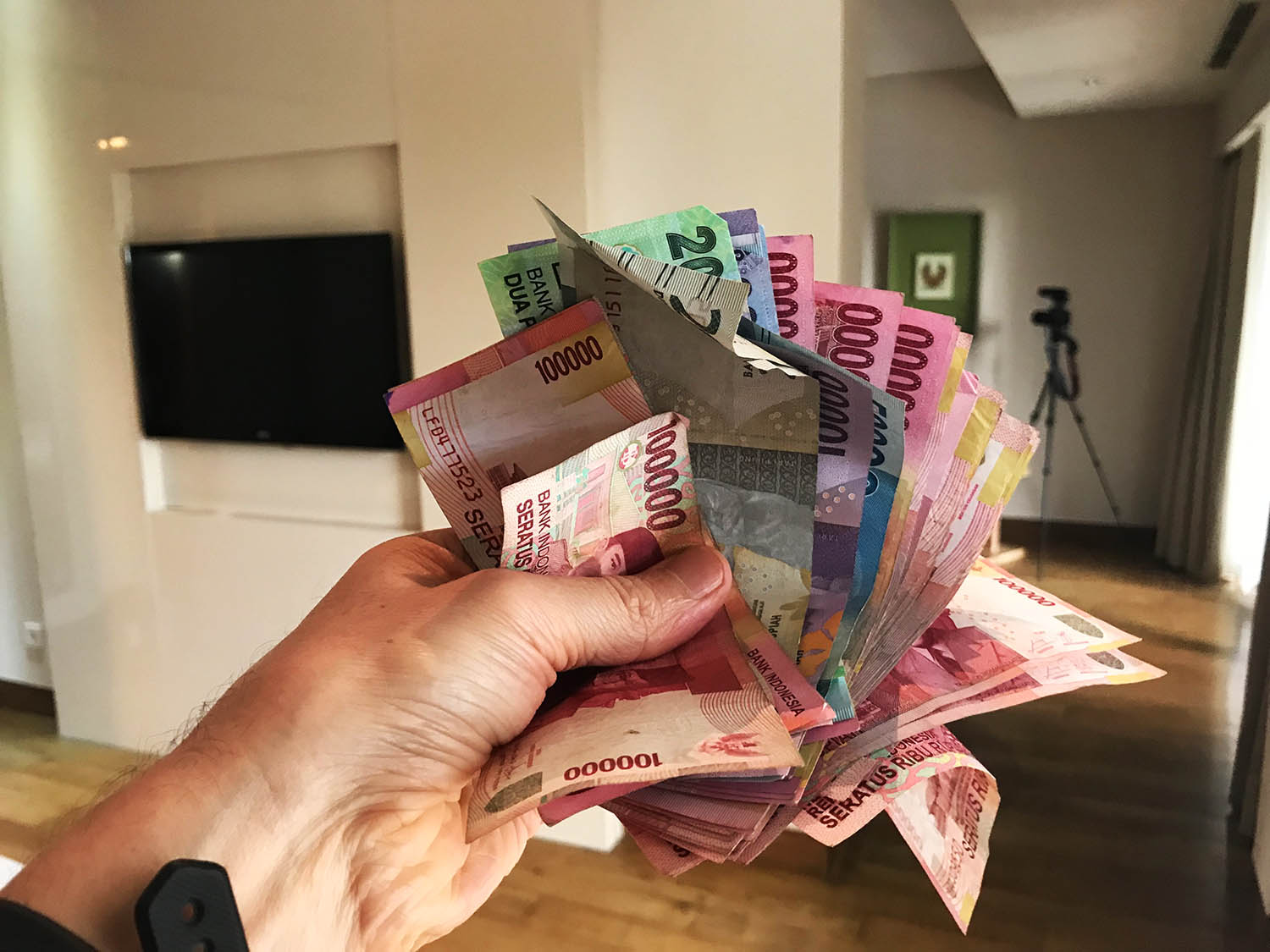 I also learnt that taxi drivers charge you more when the meter is off, so if the meter is not running, instruct them to turn it on immediately or get out and find another cab. I was only rolled once, lesson learnt!
It was night when we arrived at the restaurant. The off the track Saffron restaurant looked great, modern and full of fine dining charm with local decor. There's an open terrace with tree branches, as it was night we couldn't really see past that. There were a few tables with customers but surprisingly not very busy.
I ordered the chicken Tikka Masala, and of course it was vegetarian chicken, if that makes any sense. The plate looked nothing like had imagined but I was pleasantly surprised. I even had a chicken drumstick which was a fried potato crust wrapped around a piece of lemon grass.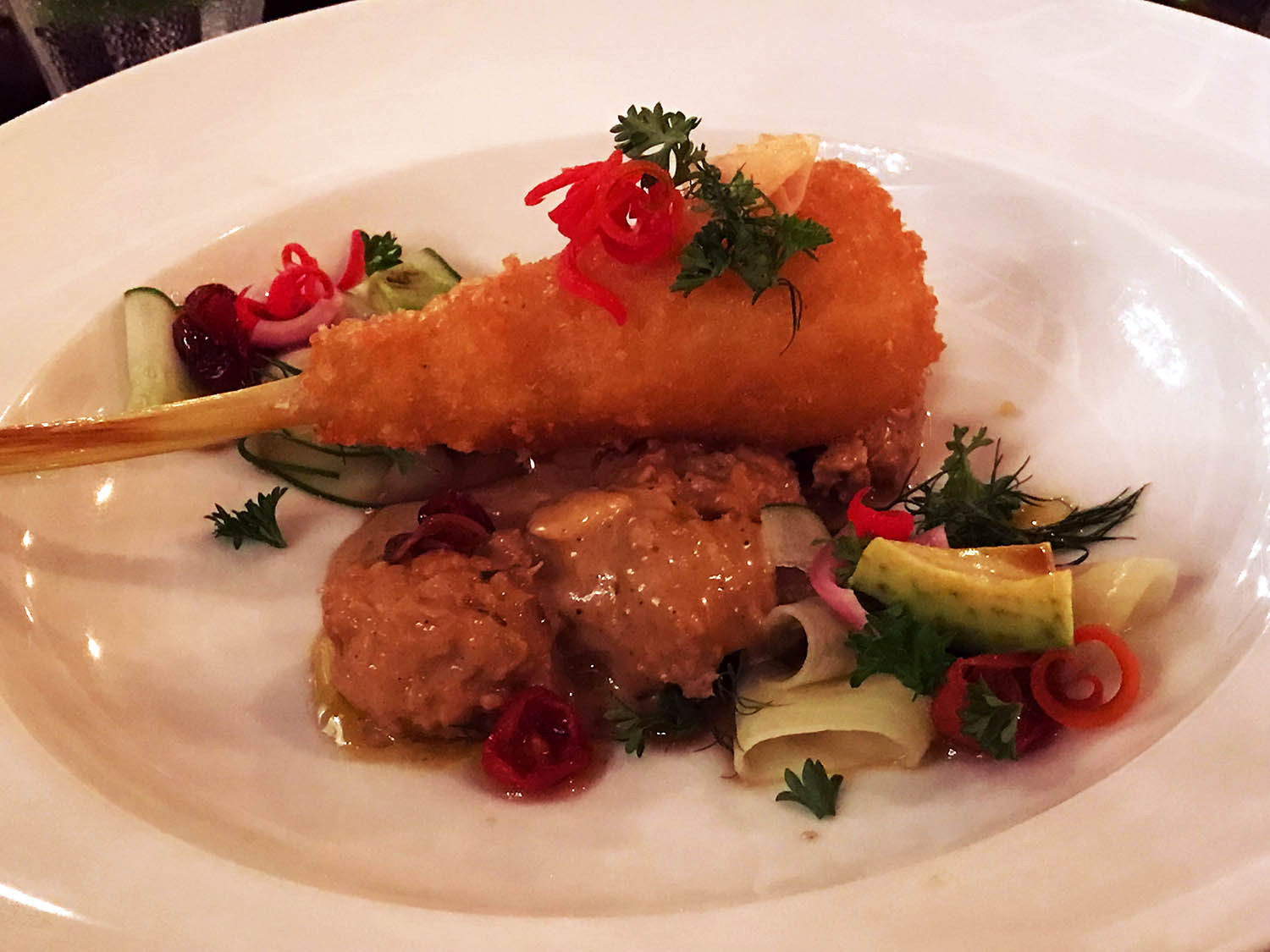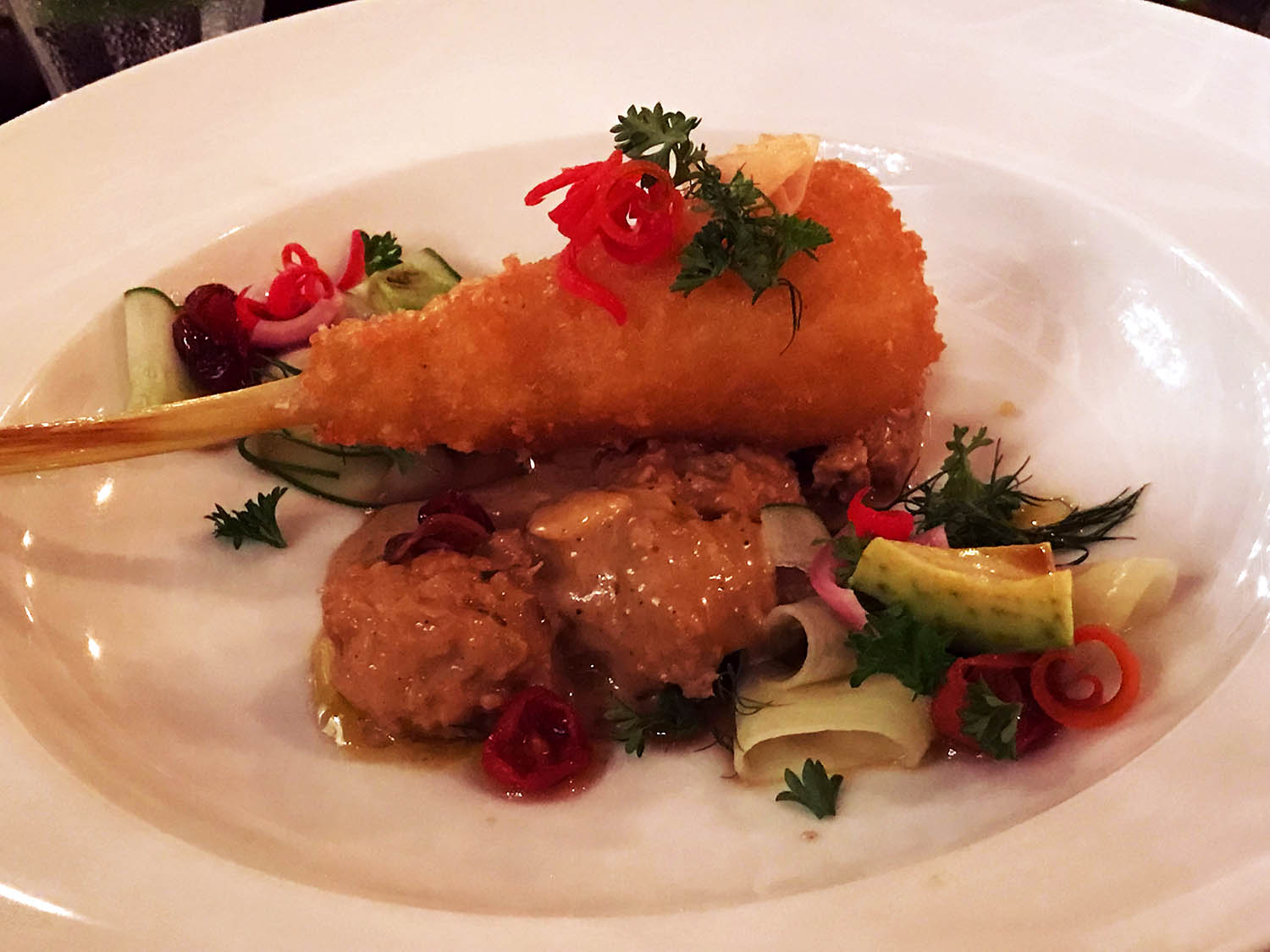 Sue ordered the Saffron Risotto which was nicely done.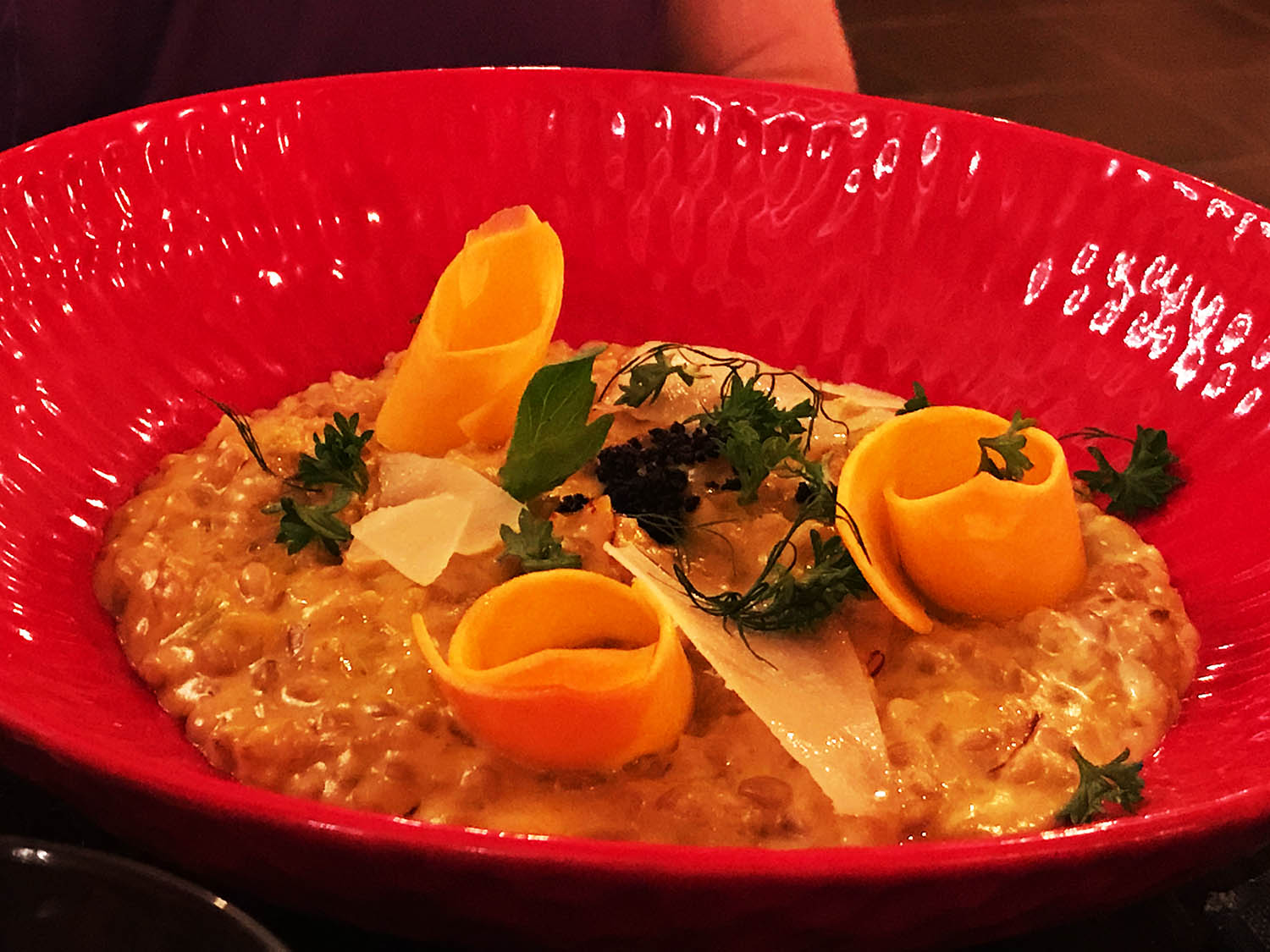 For dessert, she had the chocolate dessert and I had mango sticky rice pudding below, I forgot the names but they were both delicious. I'm not a vegetarian (although I do eat less meat these days) but I would gladly go back. If you're in the area, it's really worth a short trip.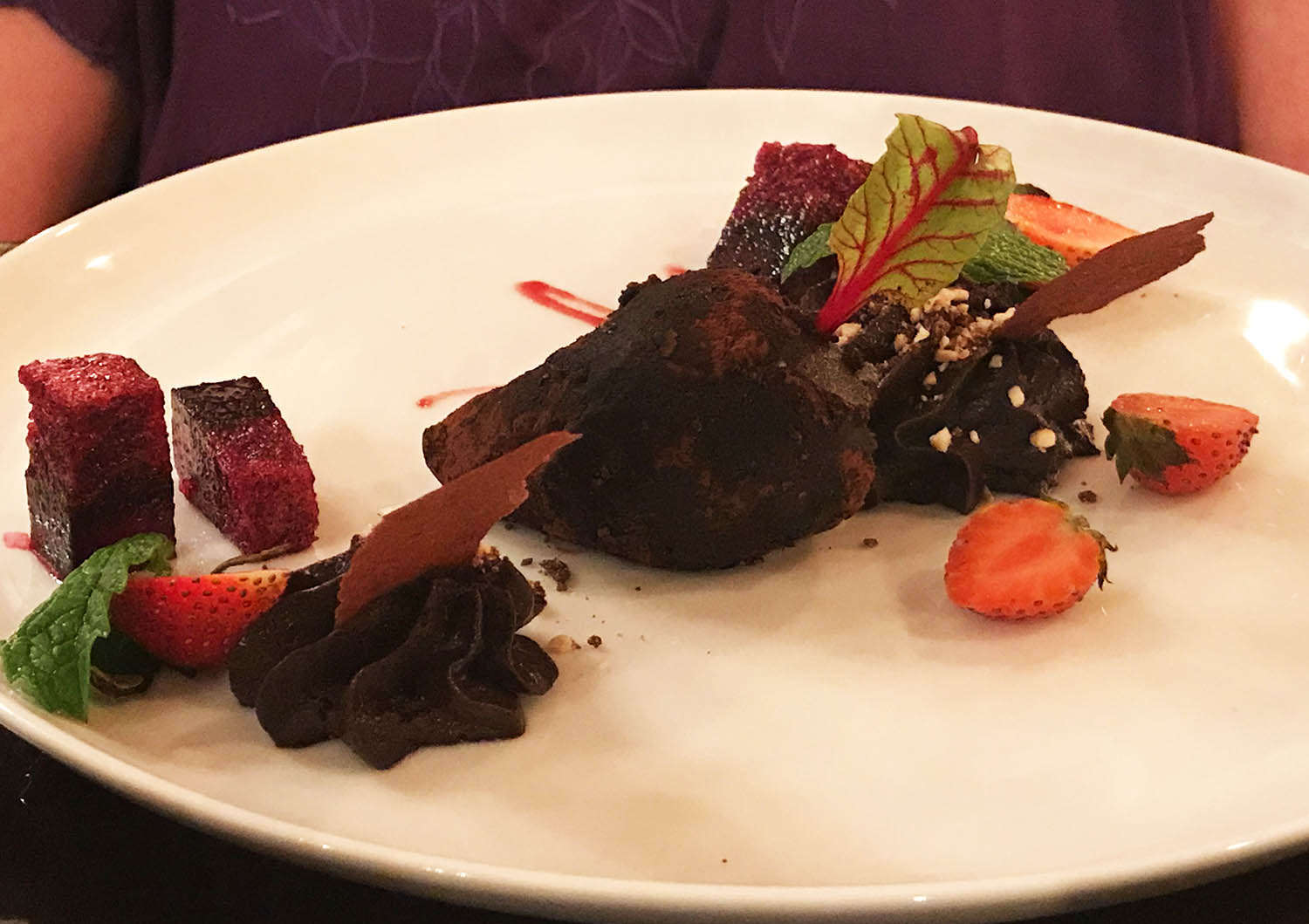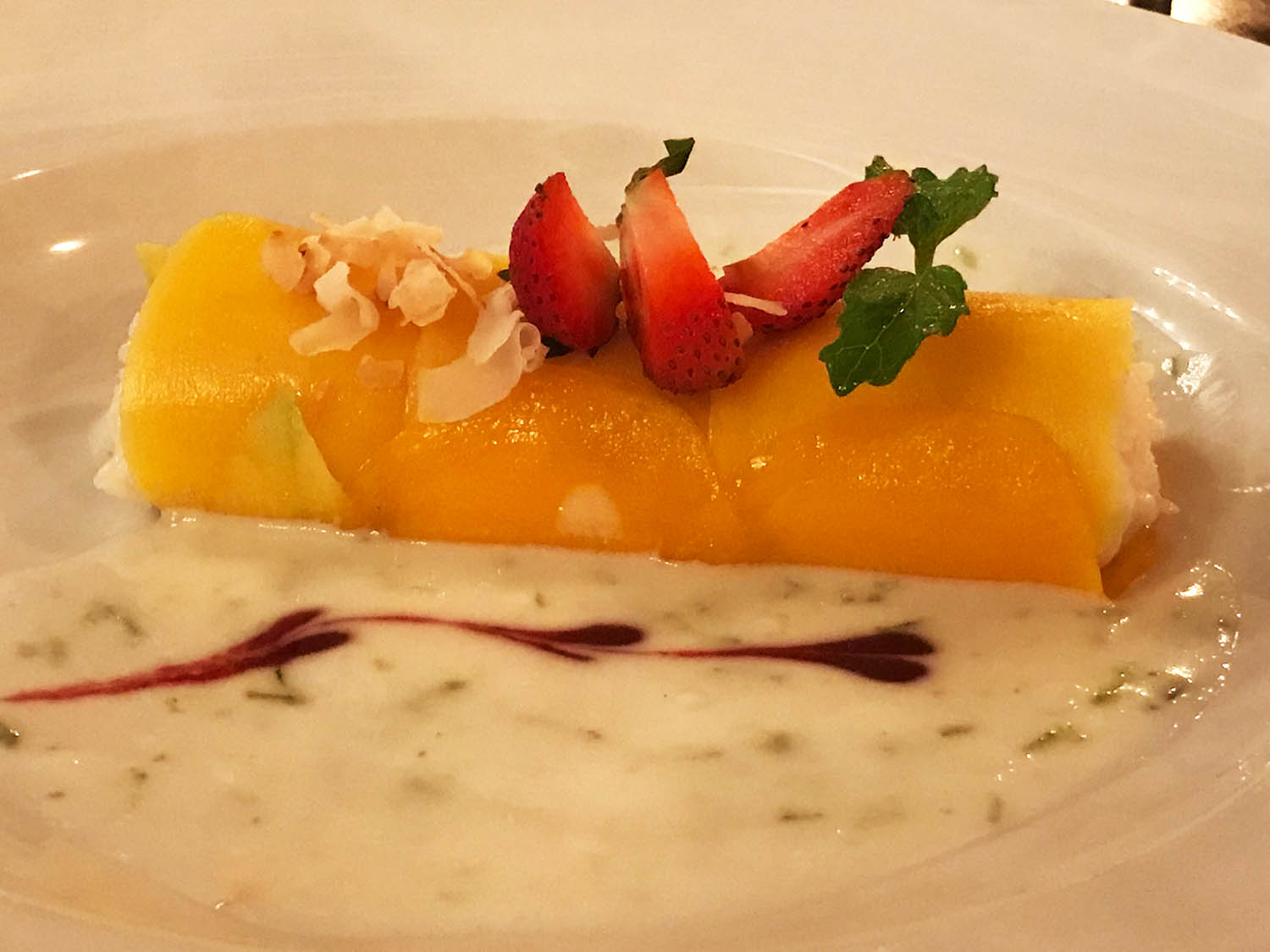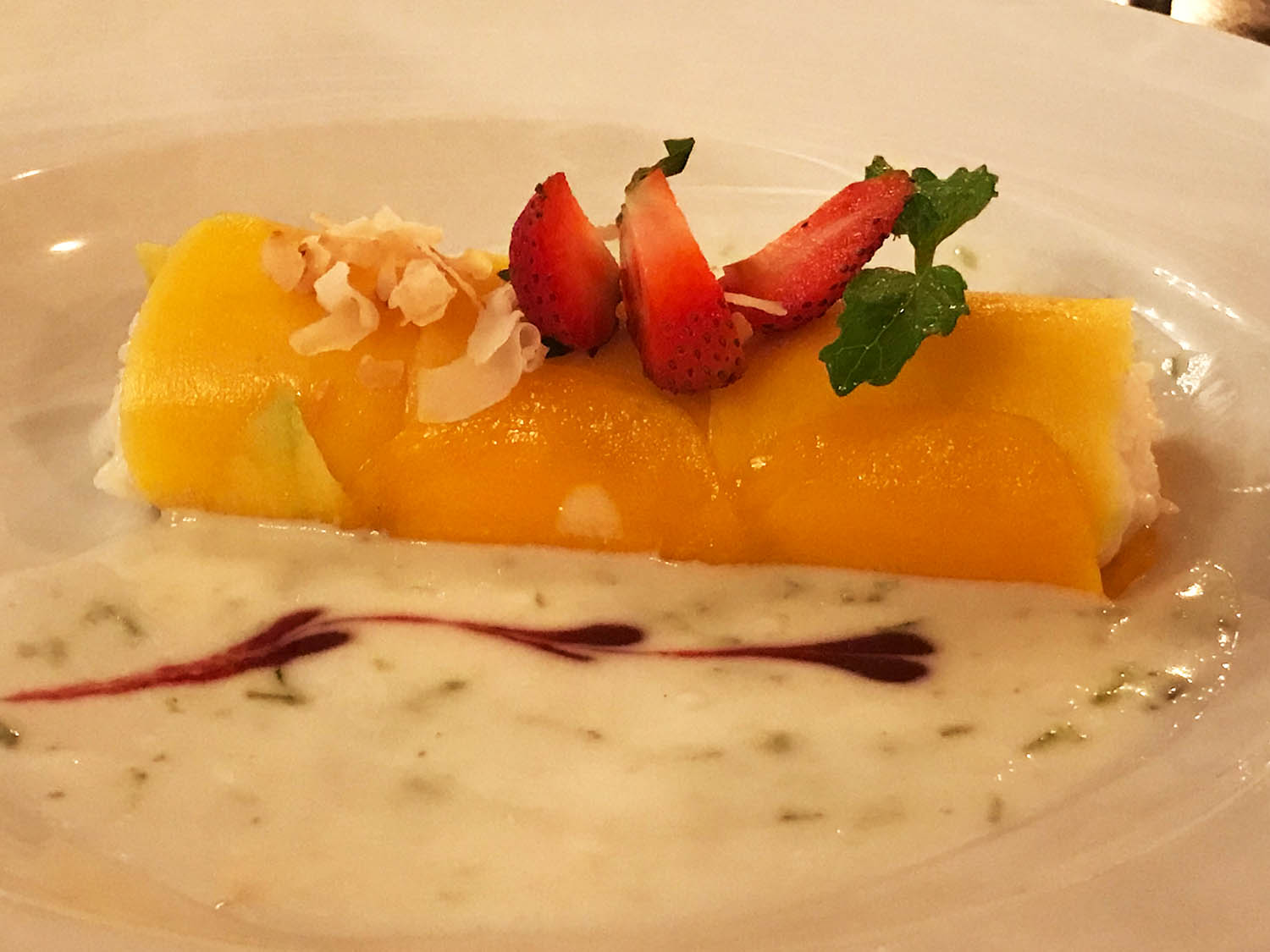 The next day we thought we would visit the famous Uluwatu sea temple at Pecatu, it was probably a 30 minute fun scooter ride.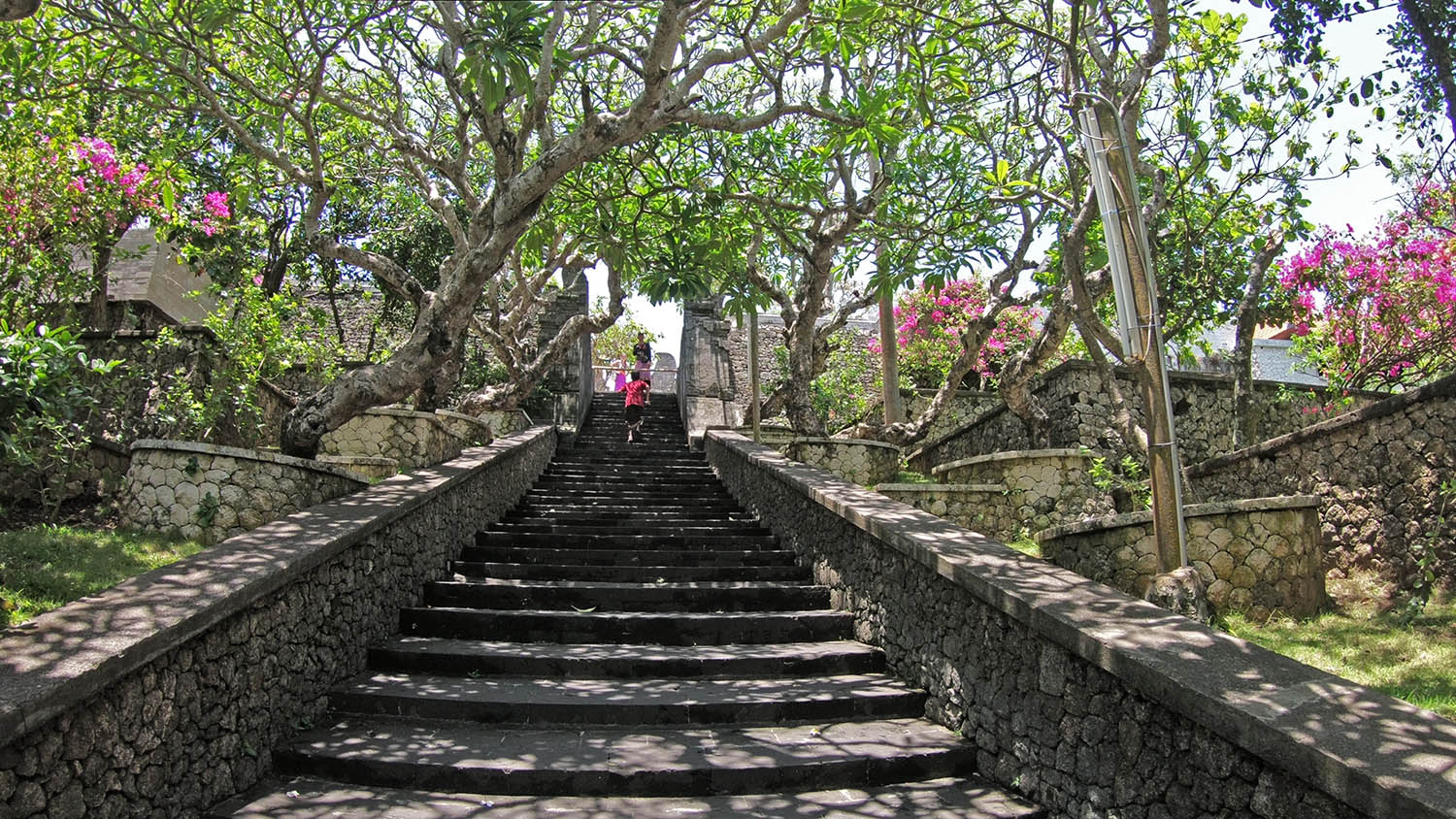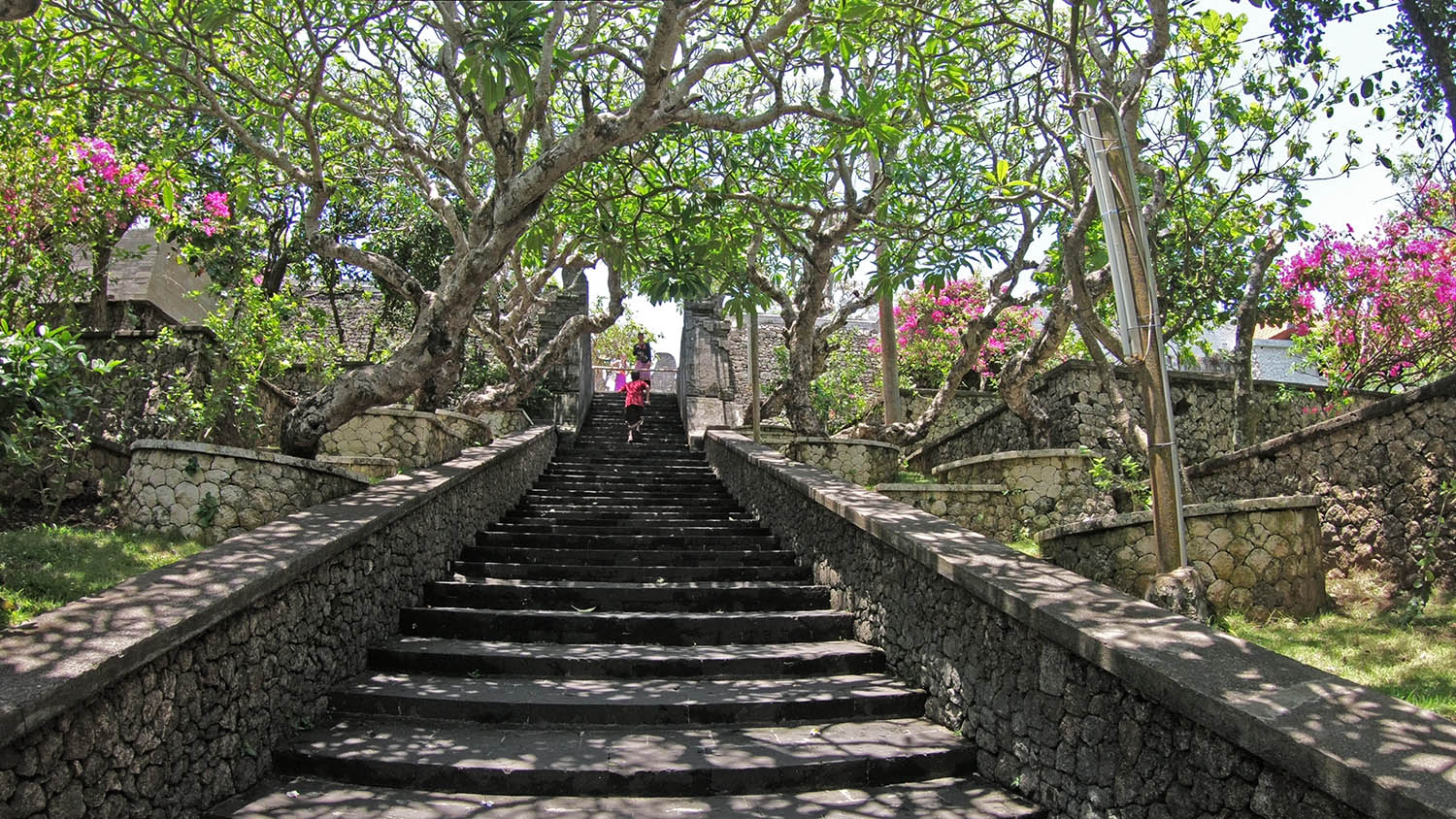 Upon our arrival there were plenty of parking spaces so we slotted our trusted Honda scooter in a cool shady spot.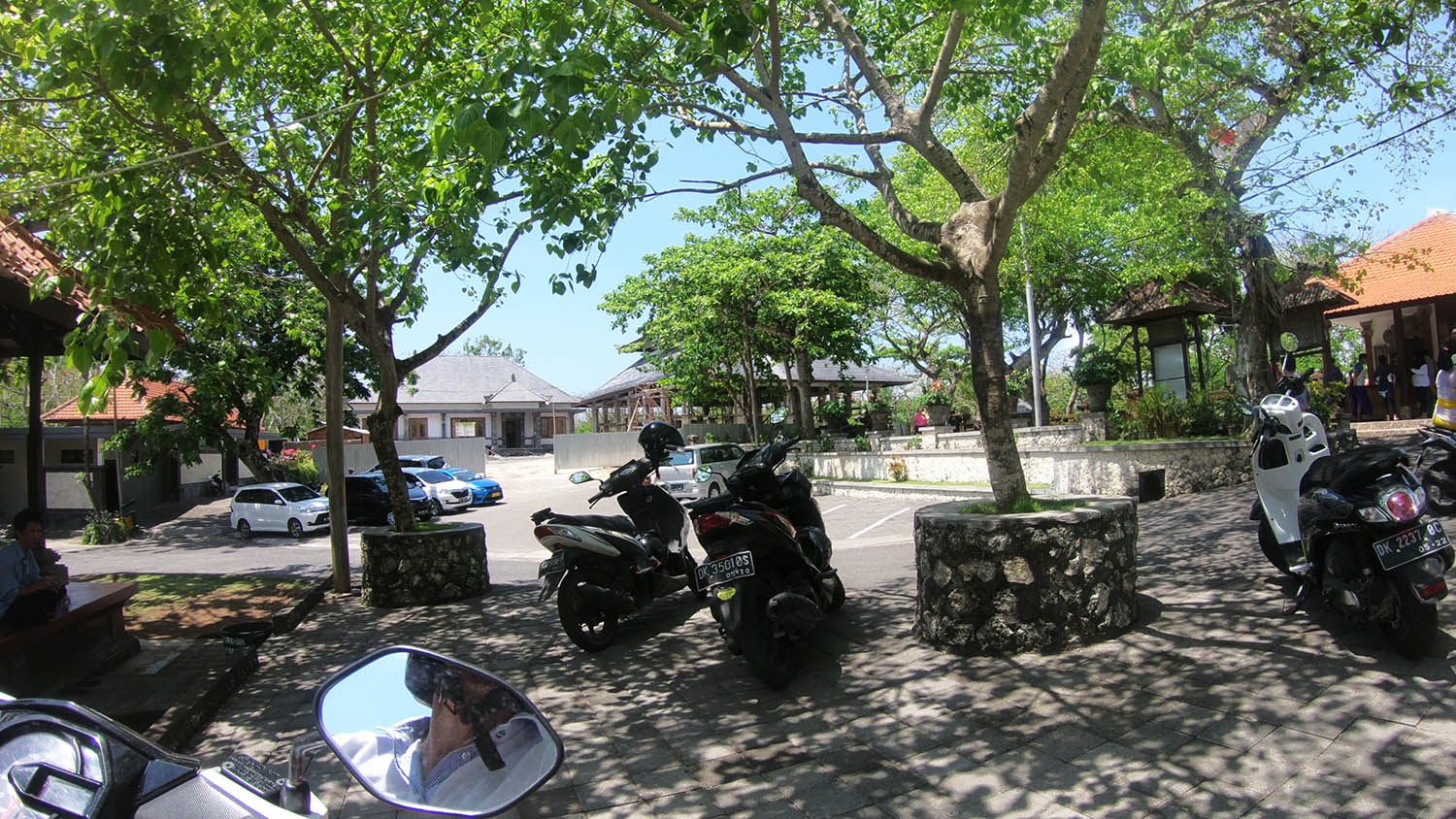 We bought some tickets, had a sarong wrapped around us by a local and we were on our way. It was very hot that day, blue skies, perfect weather. After climbing quite a few steps and reaching the 70 metre top of the temple, we realised we were starting to dehydrate and there was no water to be sold.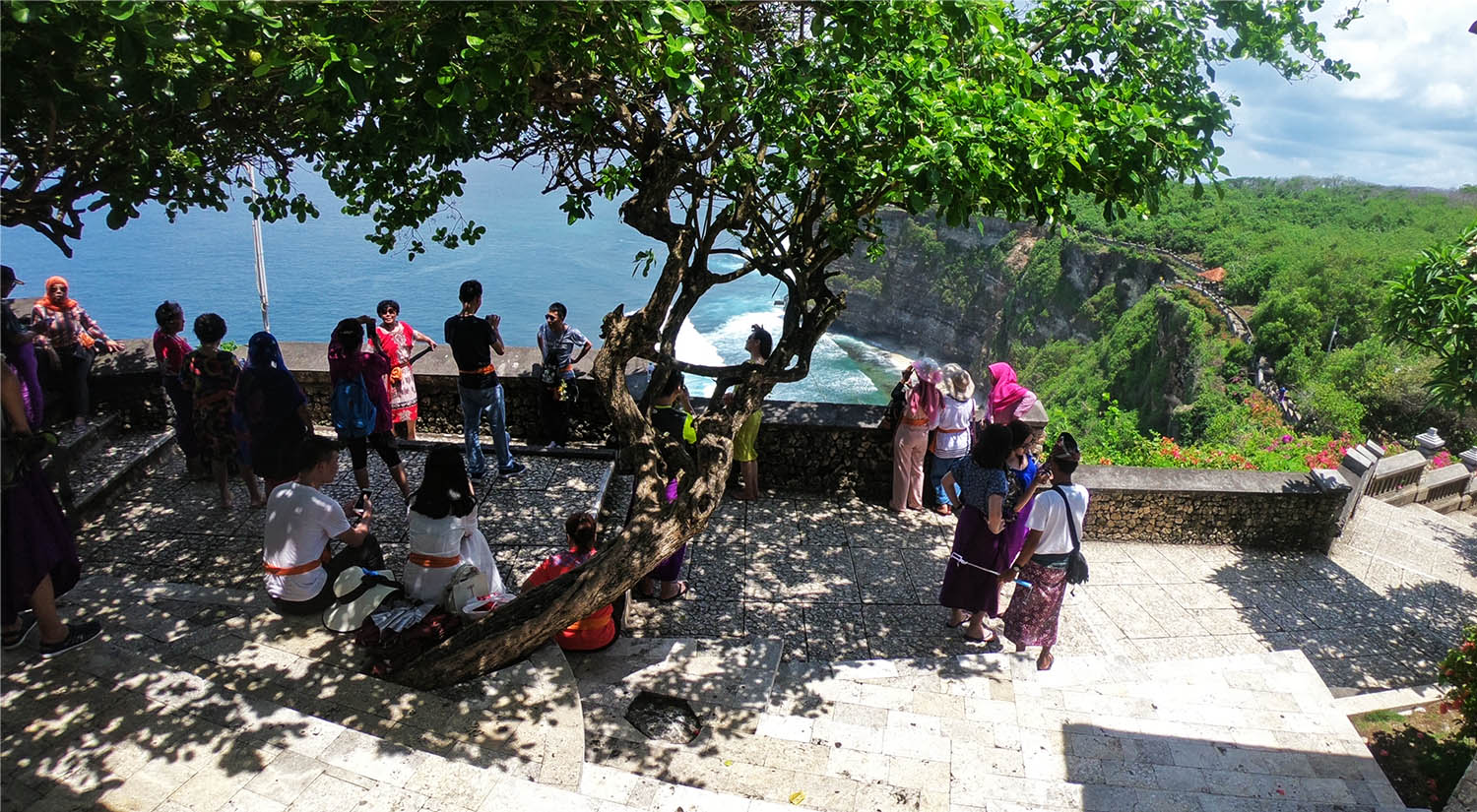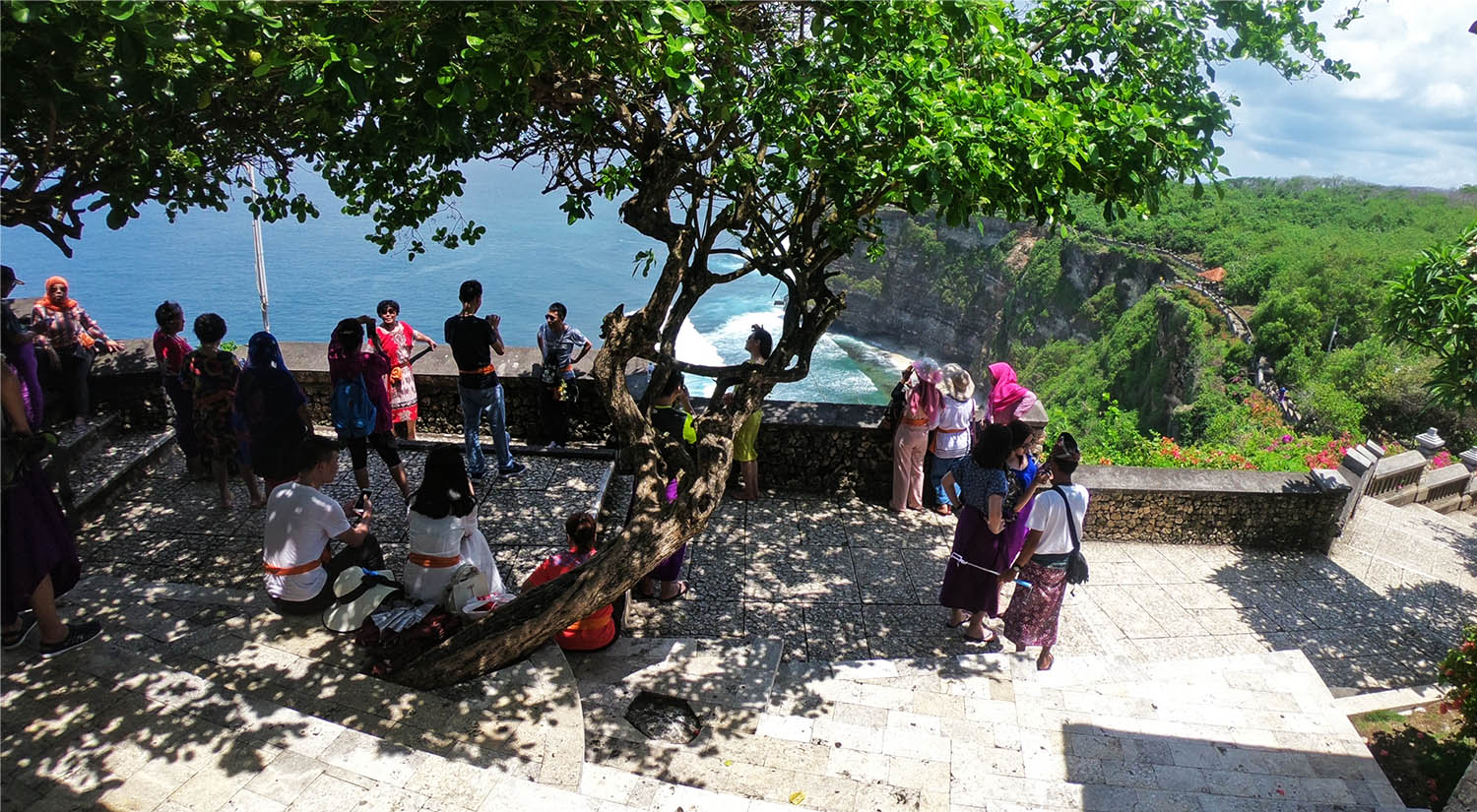 So we returned back to the car park, upon our return we noticed our scooter was trapped by approx five lines thick of other scooters behind us. There was no way we could leave even if we wanted to, so another lesson learnt. Don't park in places that you're likely to get trapped. I thought we'll worry about that later, in life there's always a solution.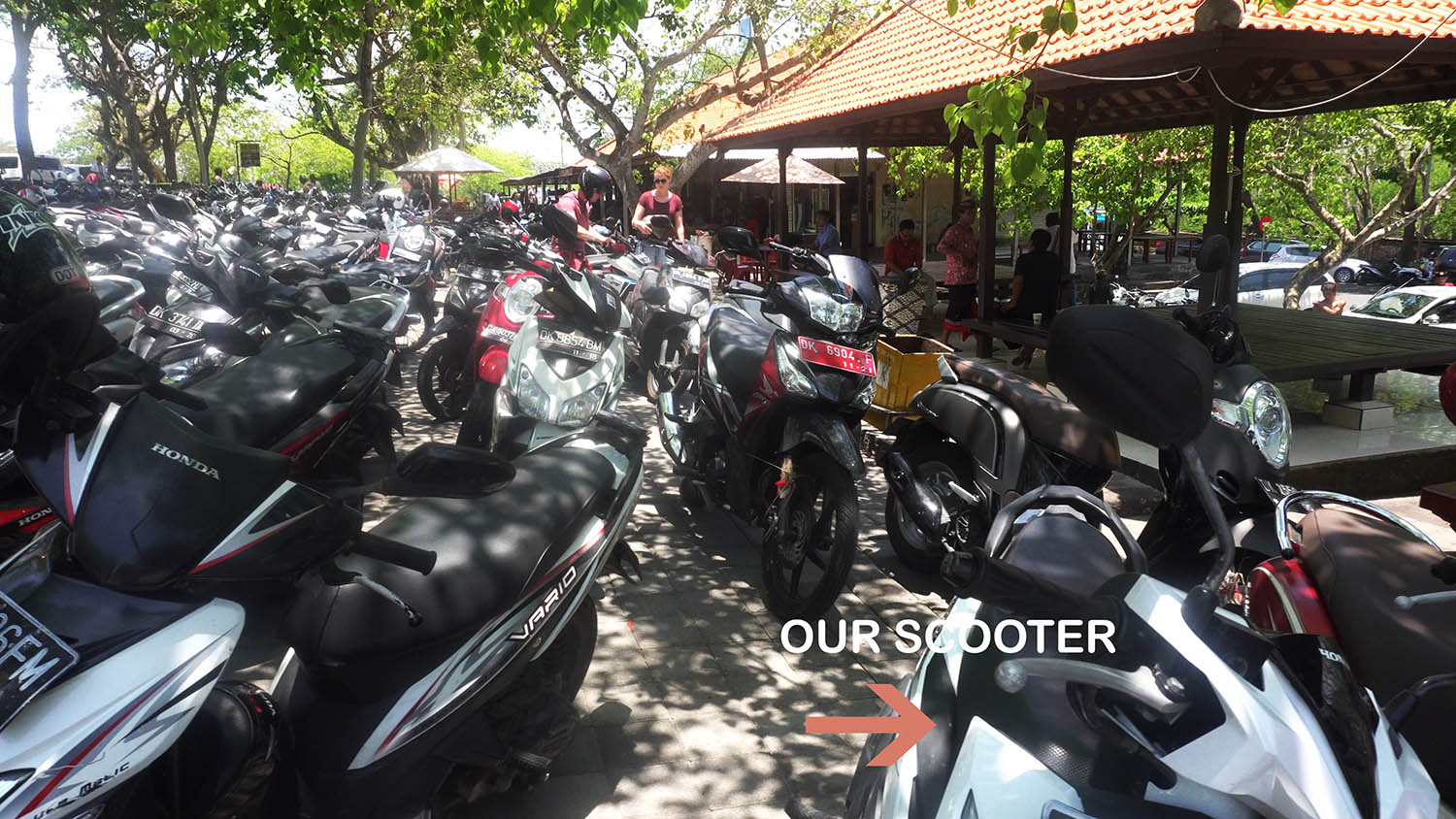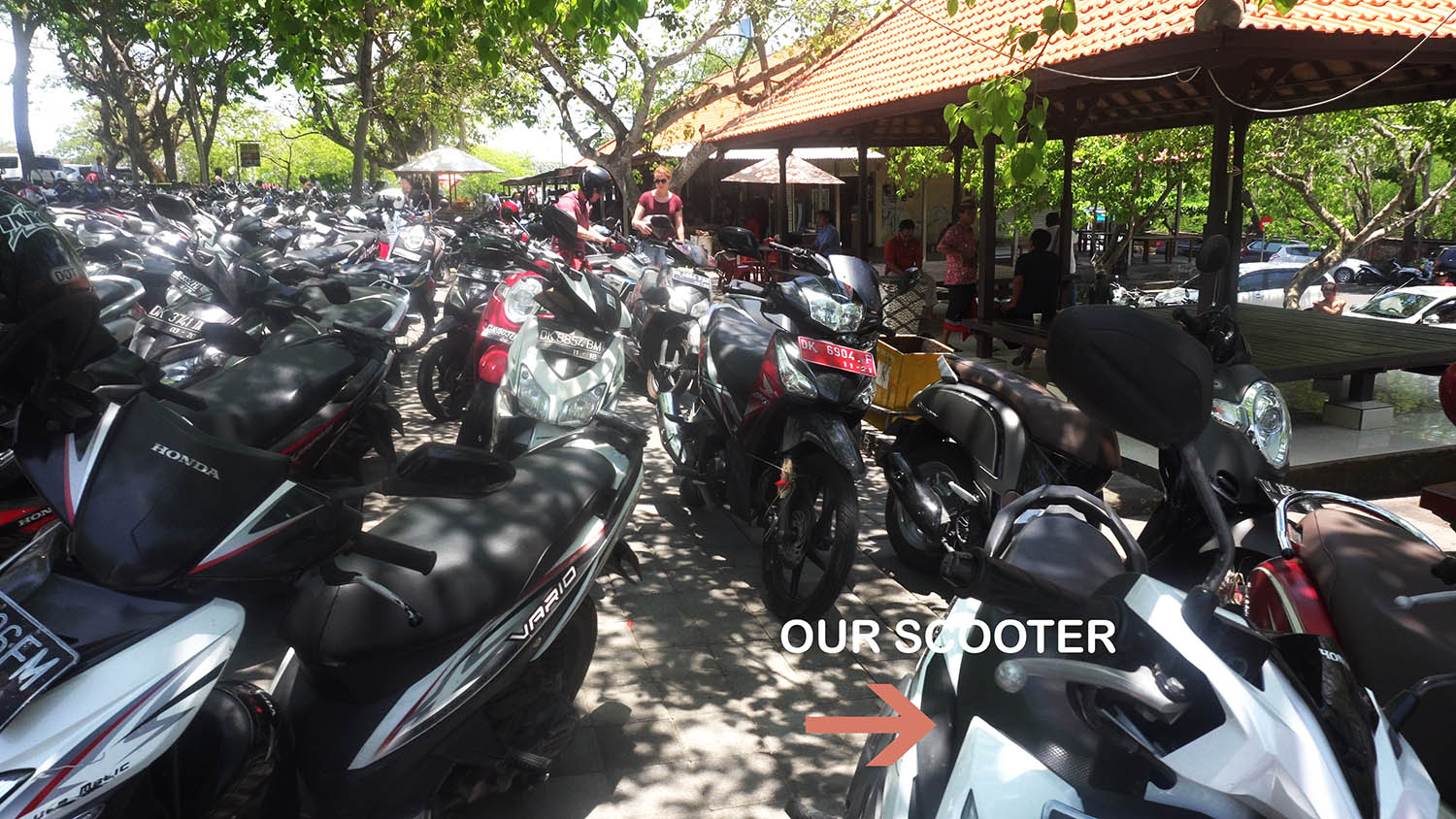 Near the carpark, I noticed a lady was skilfully cutting open coconuts using a machete. Yes, surprisingly she still had ten fingers, so she knew what she was doing. I ordered two coconuts, but somehow I'm sure once she took a look at me the price was quite different to the locals. It seemed quite expensive for warm coconuts in Bali, in fact about the same price we pay in shopping centres in Australia. Was I rolled again? Probably, but I don't mind so much as I know it's going to good use.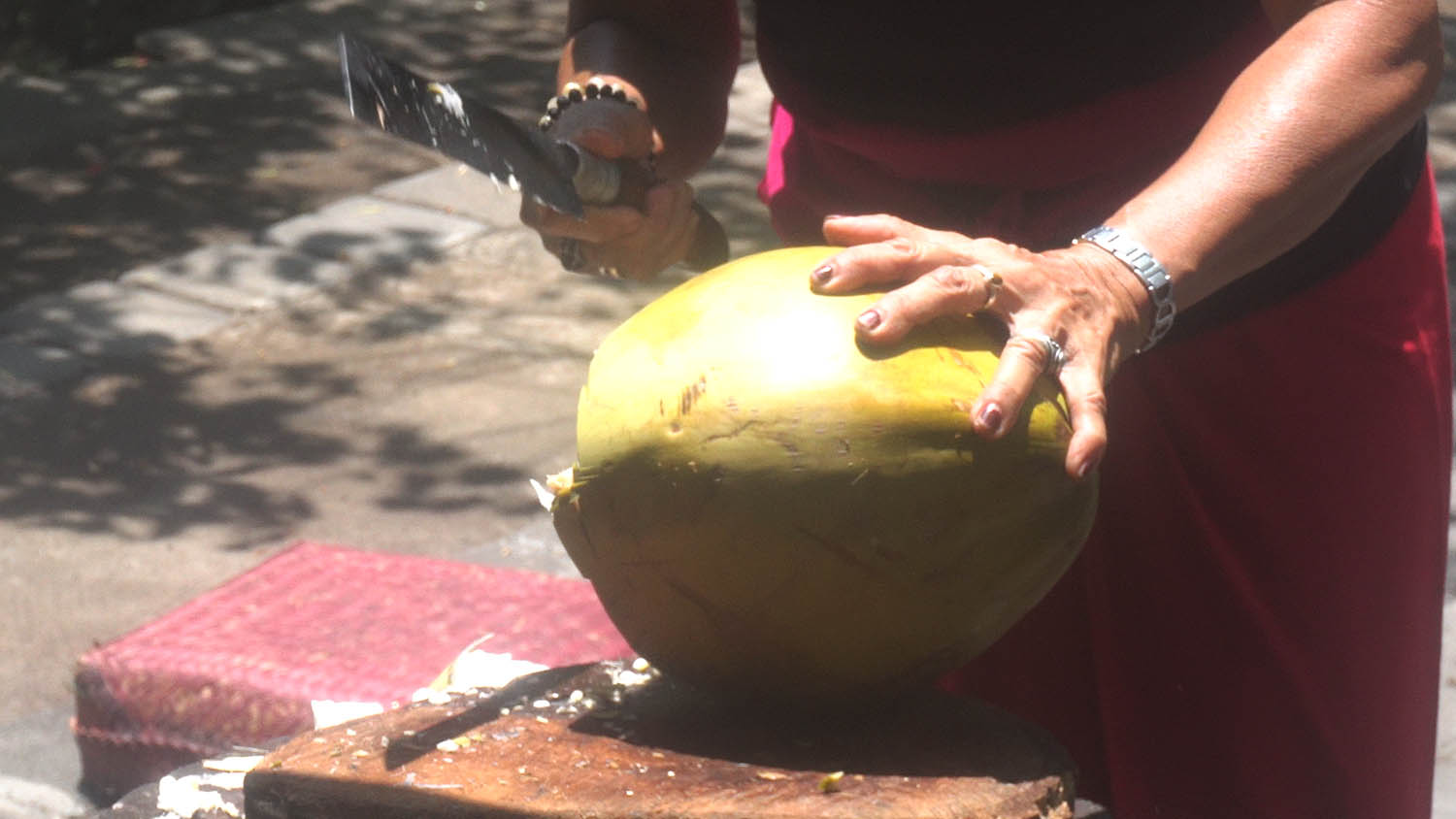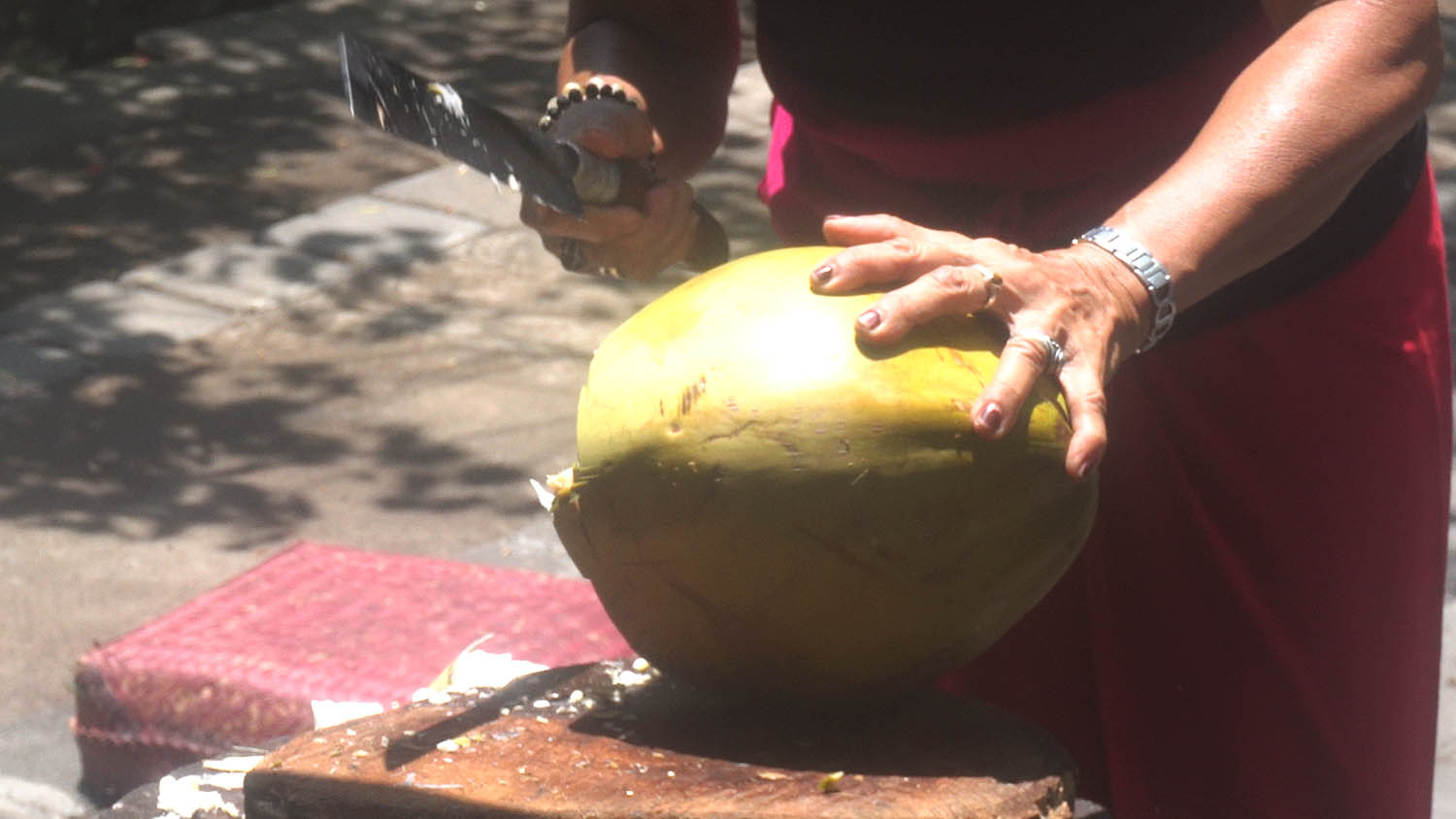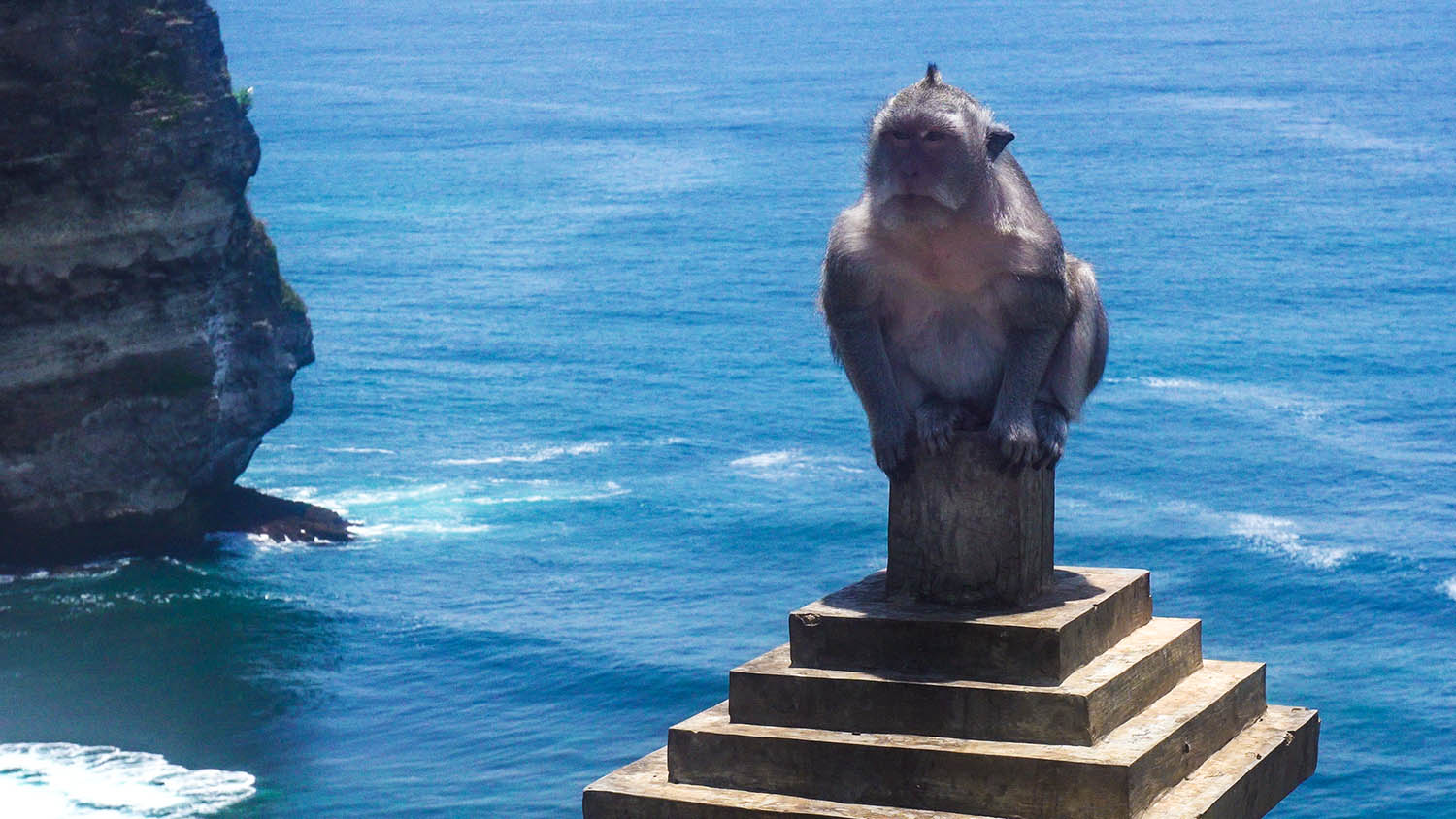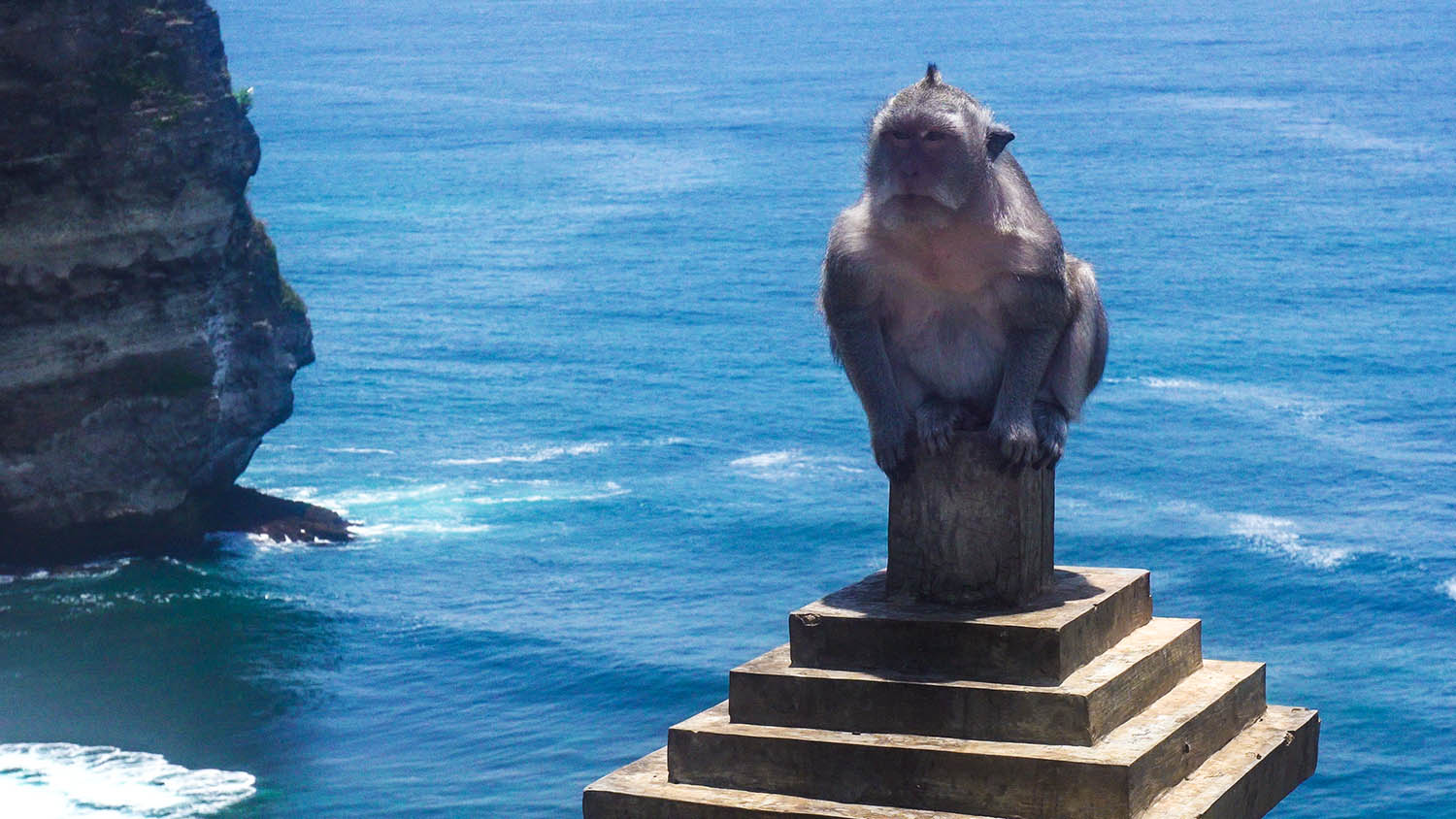 We enjoyed our tour, spotted some monkeys which are notorious for snatching visitor belongings. If you have bananas, you can always trade back. Could be a cheap way to buy raybands, iphone X or a gopro camera that's been snatched from another poor soul! Just trade them for a banana, as food is their currency. This one looked like a gargoyle perched on a pedestal. I think he was the boss!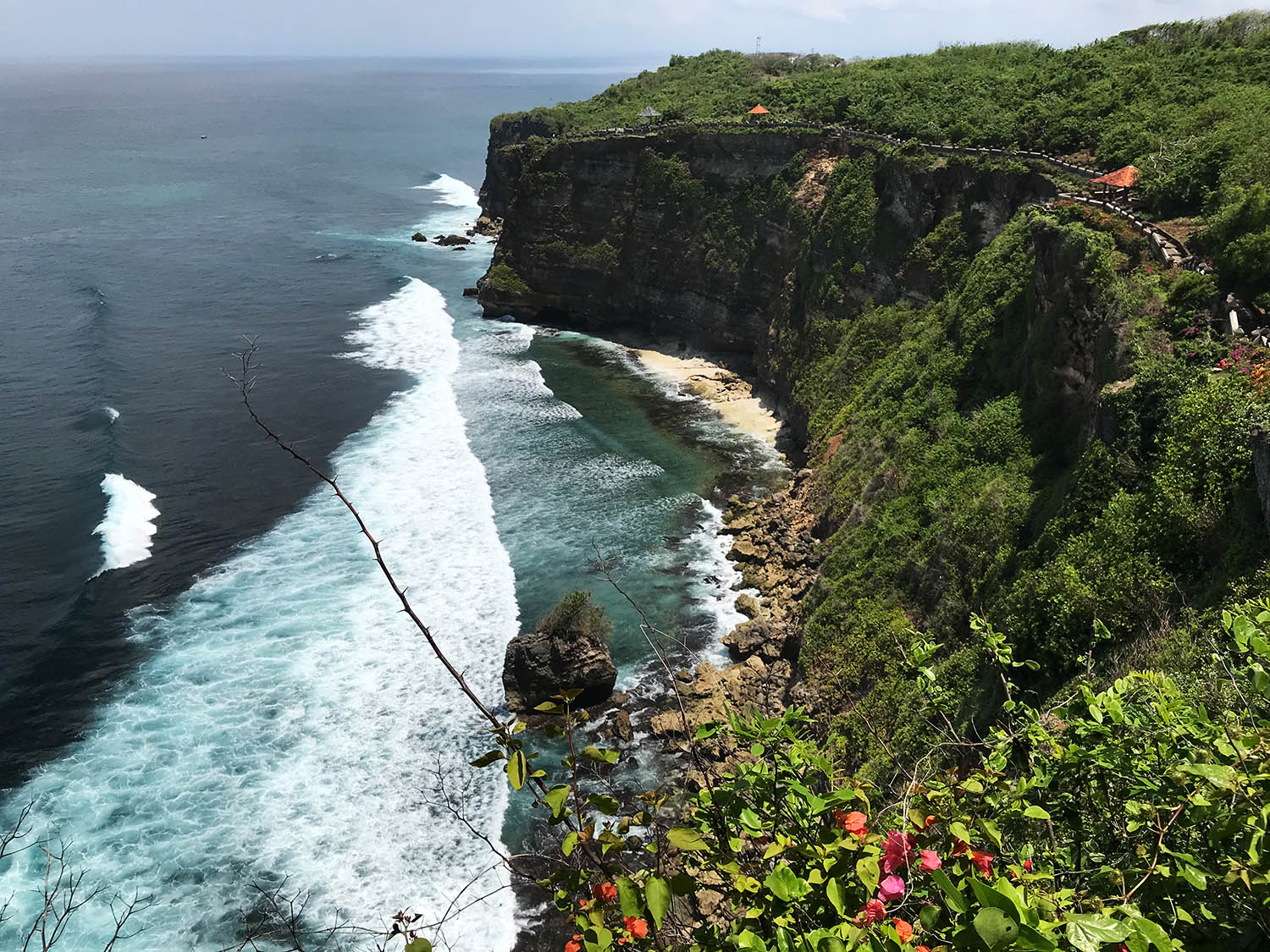 We walked along a long walkway high up on the cliff edge overlooking the ocean. Such a scenic beautiful place.
There was a lot happening that day, they were setting up a stage and fancy carpets for what looked like the arrival of a celebrity, and no it wasn't for me. We walked back to our scooter and to amazement there was a clear line with a gap large enough to drive it out. Sometimes things just sort themselves out.
We had in mind to go to a Spanish restaurant, here we go again, we're in Bali why are we looking for Spanish? It came highly recommended and although I love local street food, I also do like to see outstanding places, so why not. It took us quite some time to find our bearings even with Google maps, as while riding the scooter the phone was in my pocket so I constantly had to stop and check it. Next time I'm bringing a phone holder that I can mount on the scooter. Just for reference, there are no actual handlebars on these scooters, so I couldn't even mount my Gopro hero 6.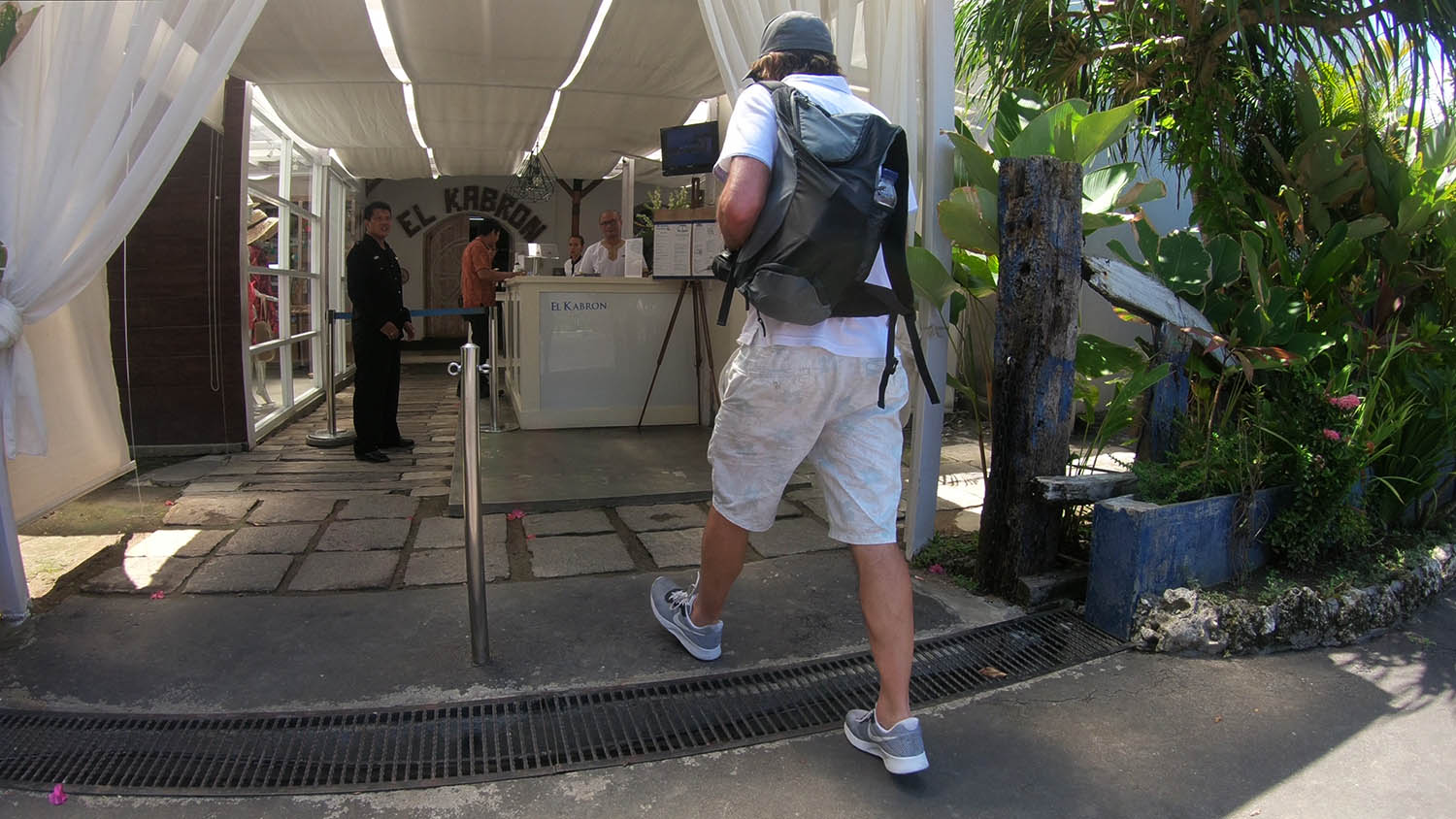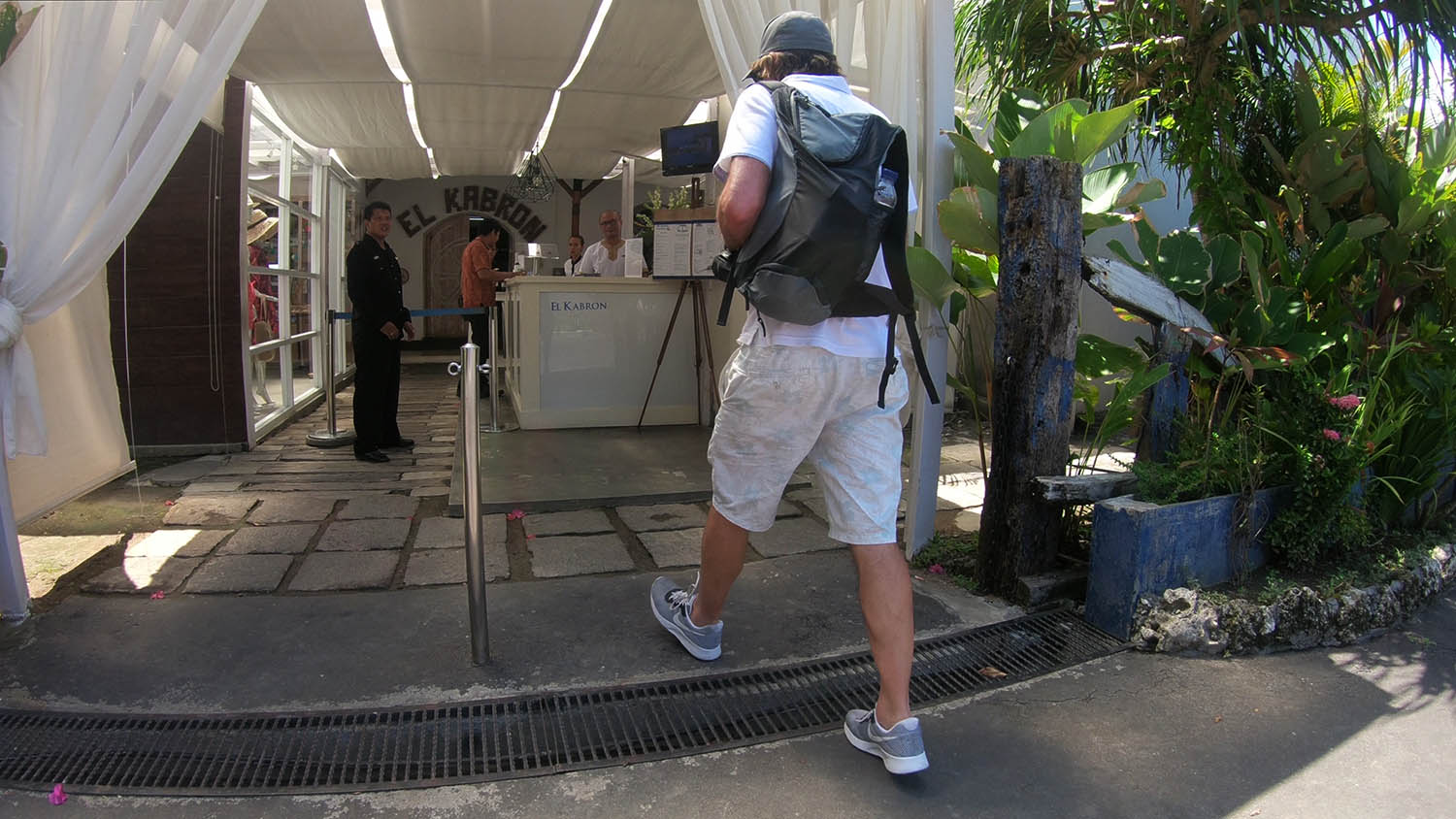 We eventually arrived at this Spanish restaurant called El Kabron, it looked pretty awesome. We walked in and for security reasons, had to submit our bags at the cloak room.  This seems normal now in Bali.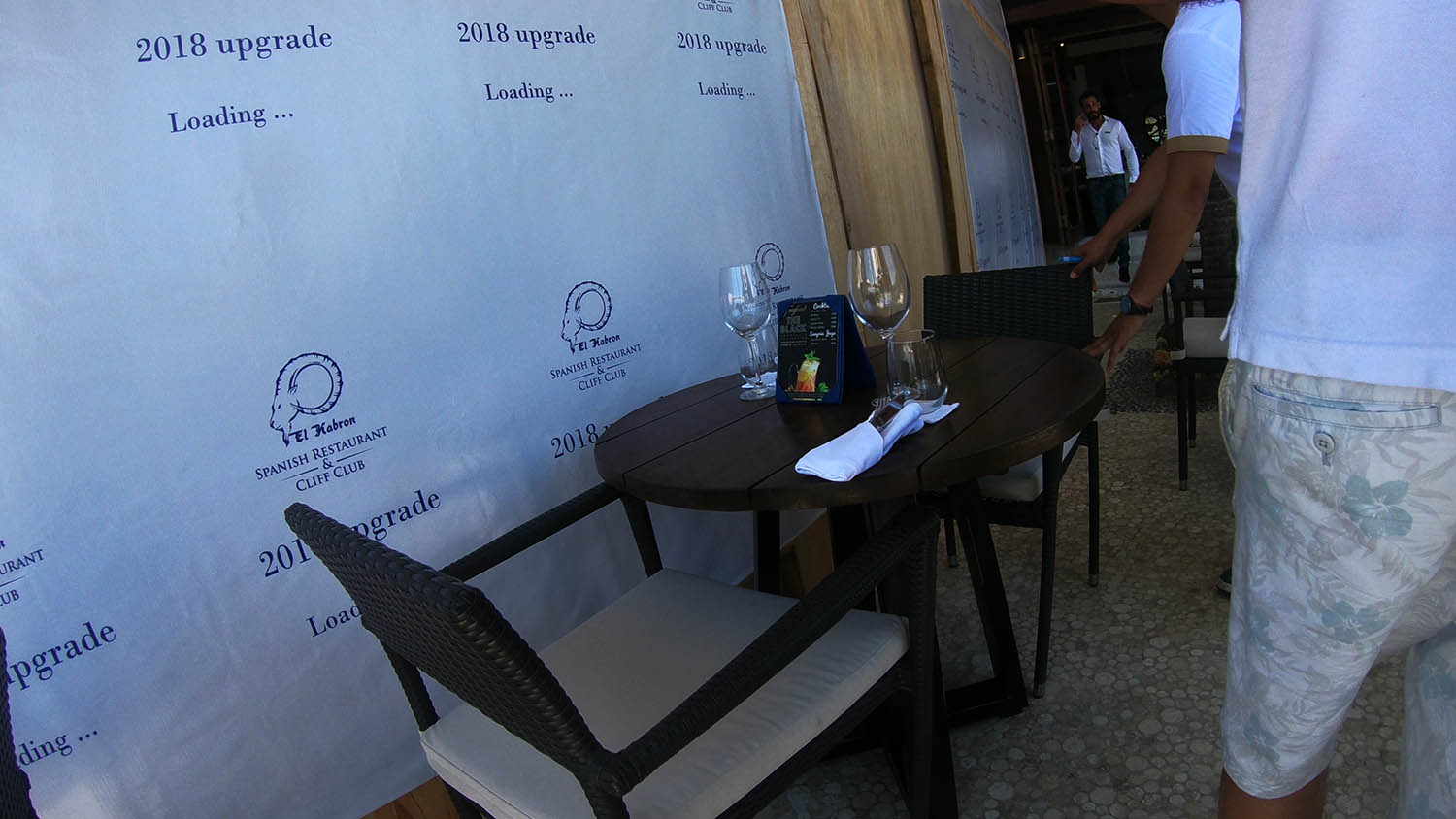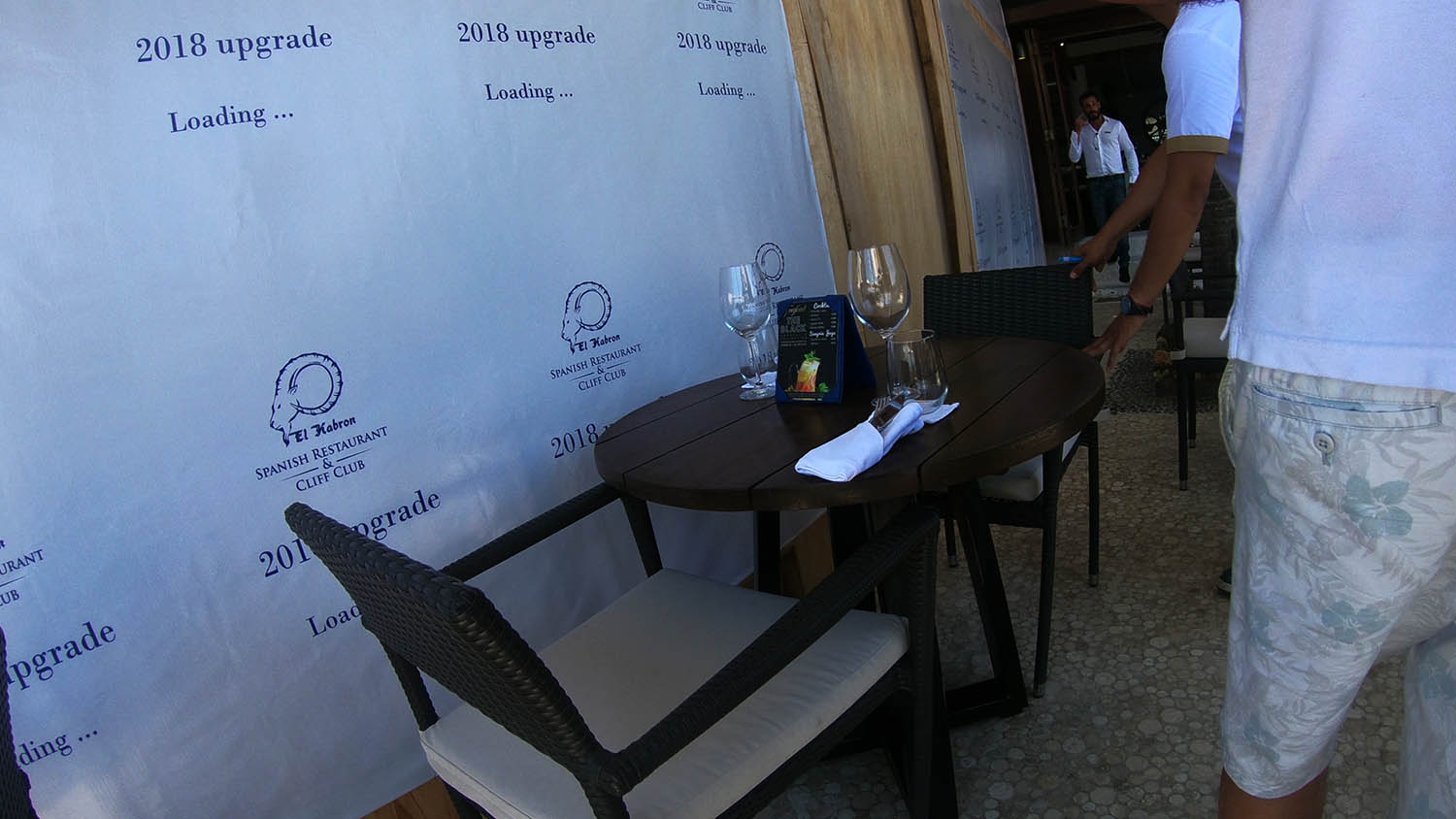 The place looked dope, It even had a big infinity pool with a cocktail area overlooking 180 degree ocean view 50 metres above sea level. Unfortunately, we were seated at a table right next to a construction wall. They were drilling in concrete and hammering, it was constant noise. We asked for a quieter table inside the restaurant and we were accommodated. The waiter brought us some refresher towels, and Bali is a one of those places where actually do appreciate them. Although the table was further away from the renovation wall, the noise was still far from the relaxed atmosphere we were looking for. We therefore decided to leave this beautiful noisy restaurant and find a quieter place. Next time, I'd go during sunset.  You really want to be outside on the lounge for this place, so reserve it first!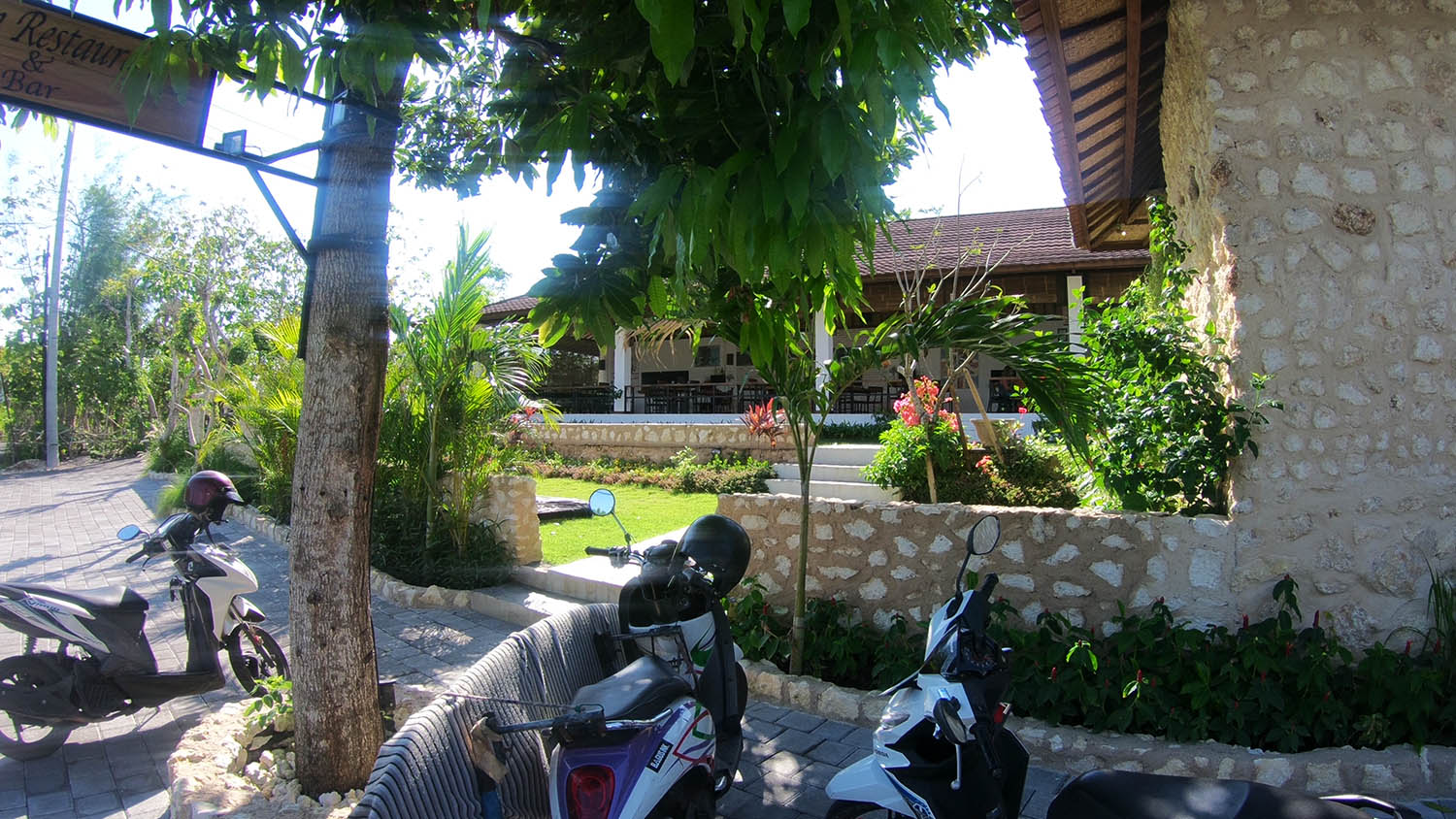 Back on our scooter, we drove past what looked like a nice Italian style restaurant in the Pecatu area. We stopped and went in before my Hangry pains would come into effect, there was no customers there at the time, but lots of free tables and chairs. By then it was approx 1:30pm. Again we ordered a pizza! A pizza with a salad, beer and coffee. Yeah I know, not very adventurous! There were a few customers by the time we left.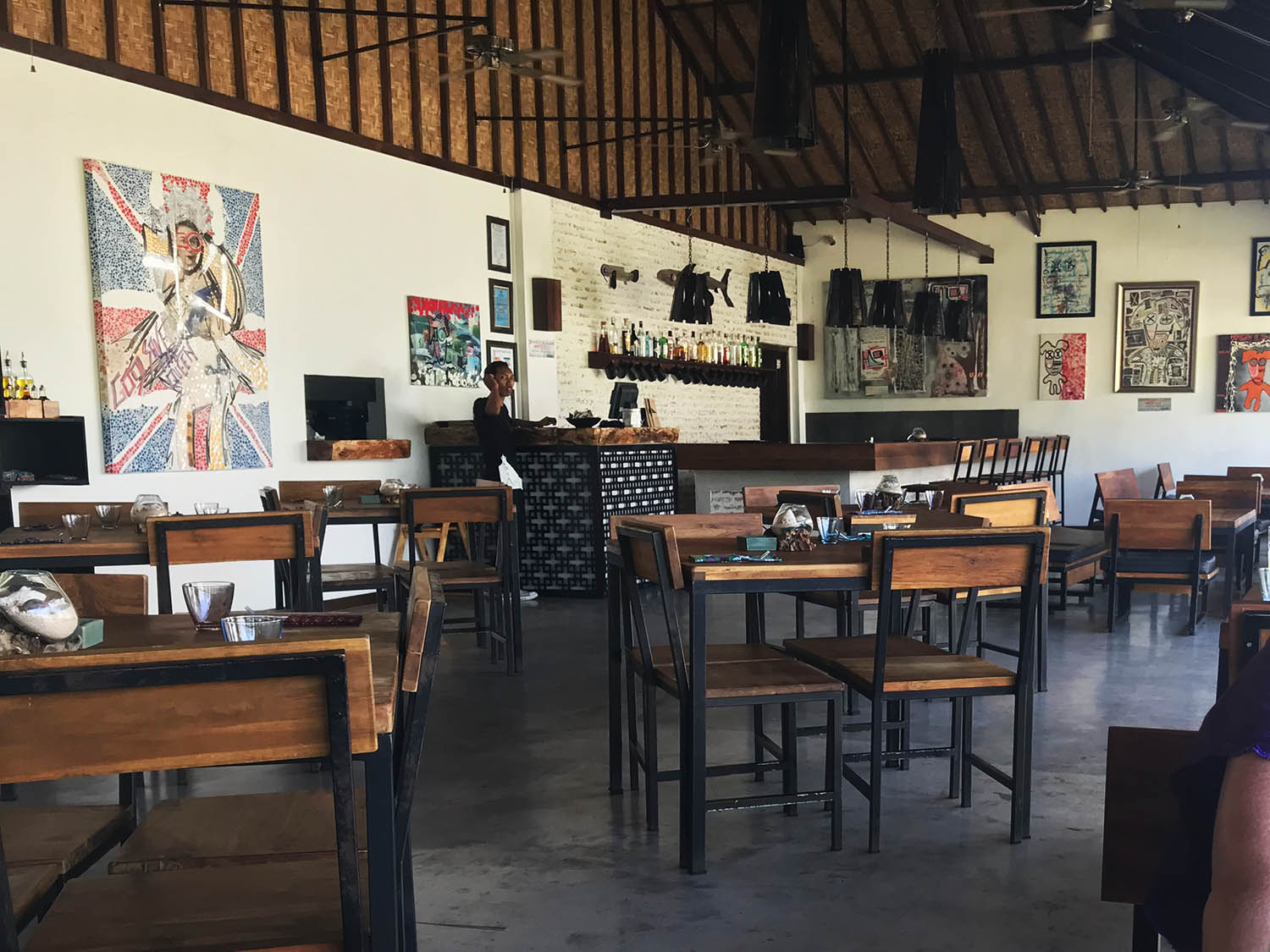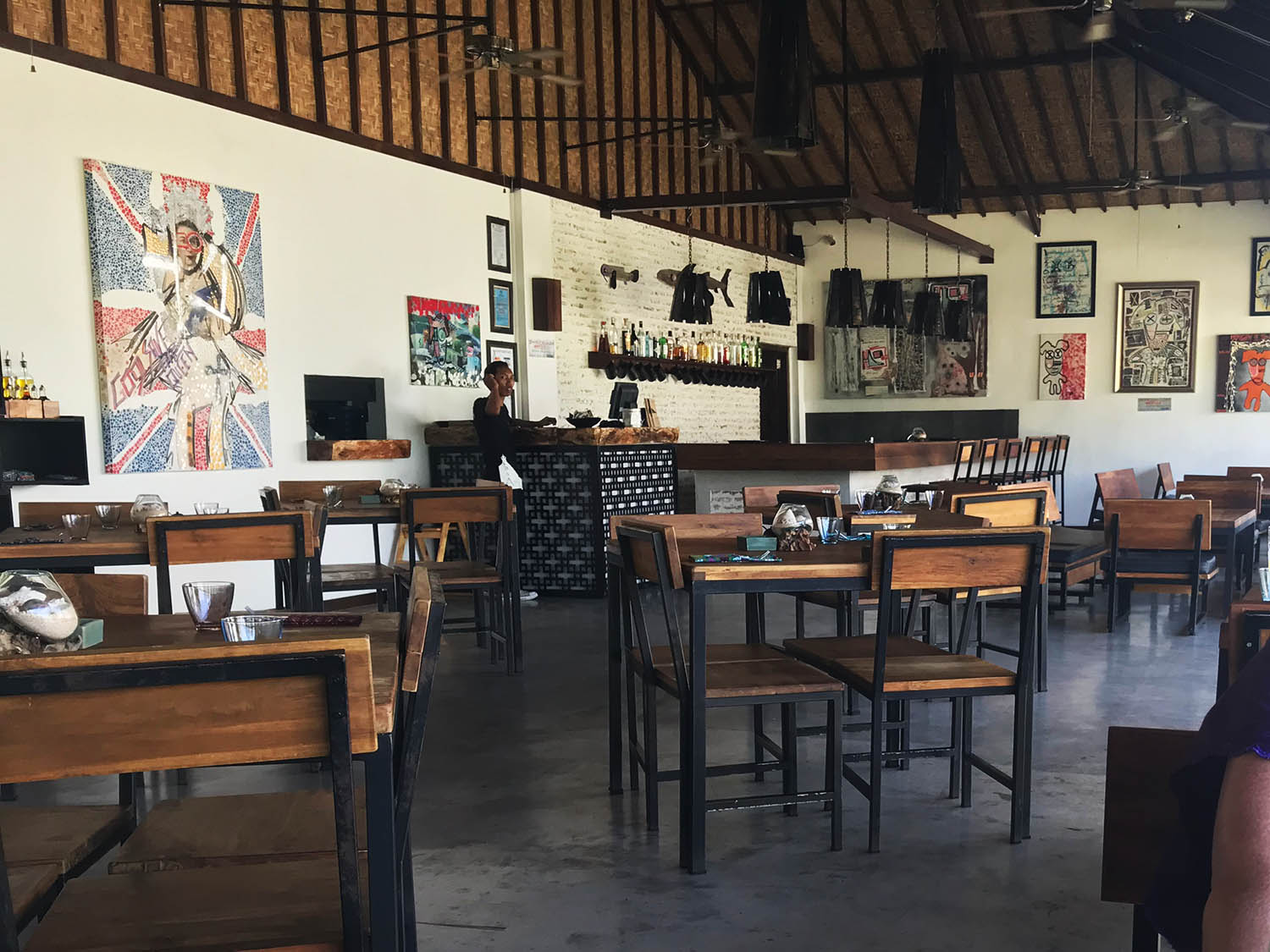 We'd also heard about a place called "The Rock Bar" and that it was a must to visit whilst in Bali,  we decided to go there for dinner. However the restaurant was fully reserved but fortunately the bar had lots of seats for lots of bums. We rode on our trusty Honda scooter and after a many detours, we reached the rock bar entrance, it took us approx 45 minutes.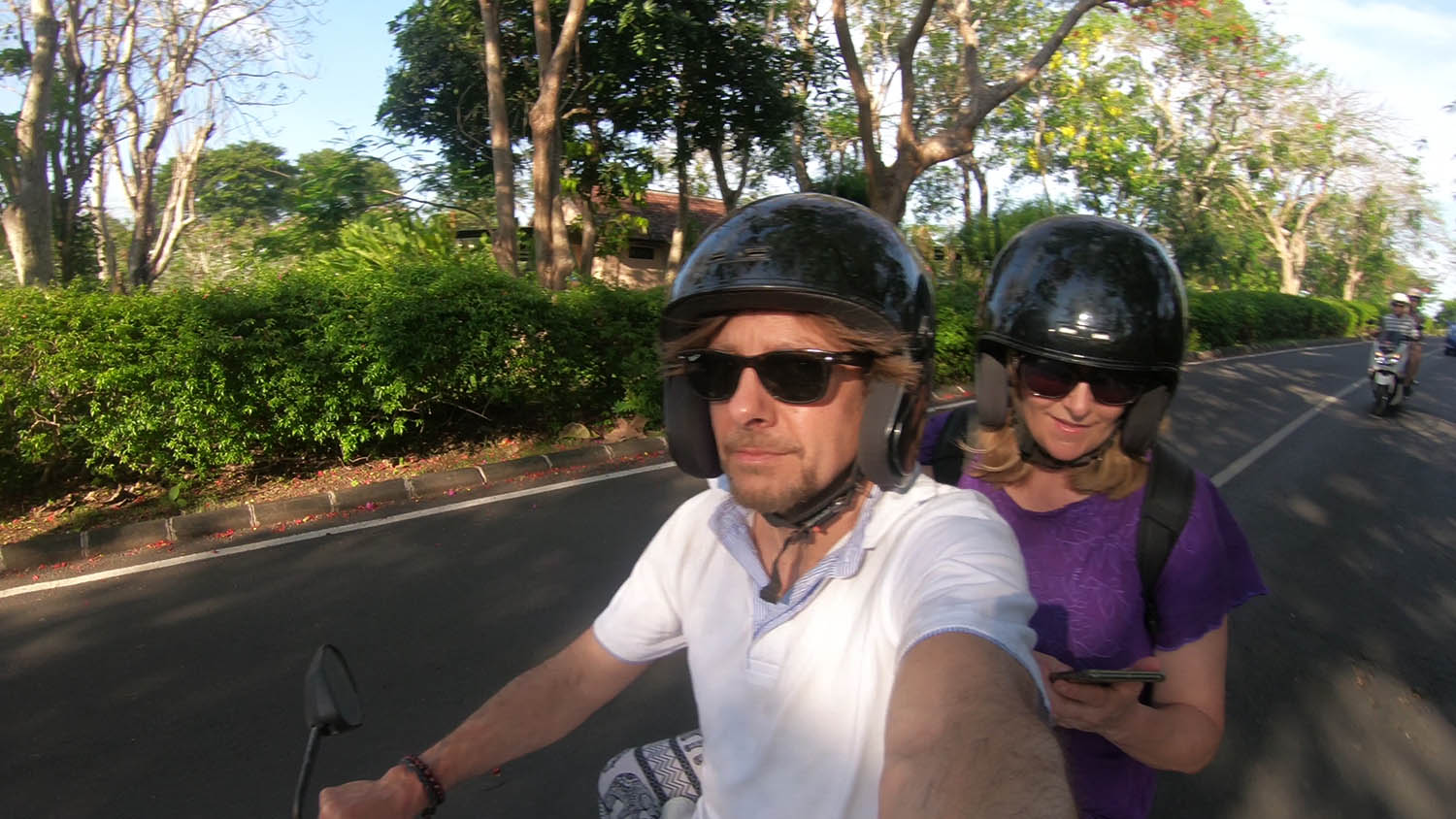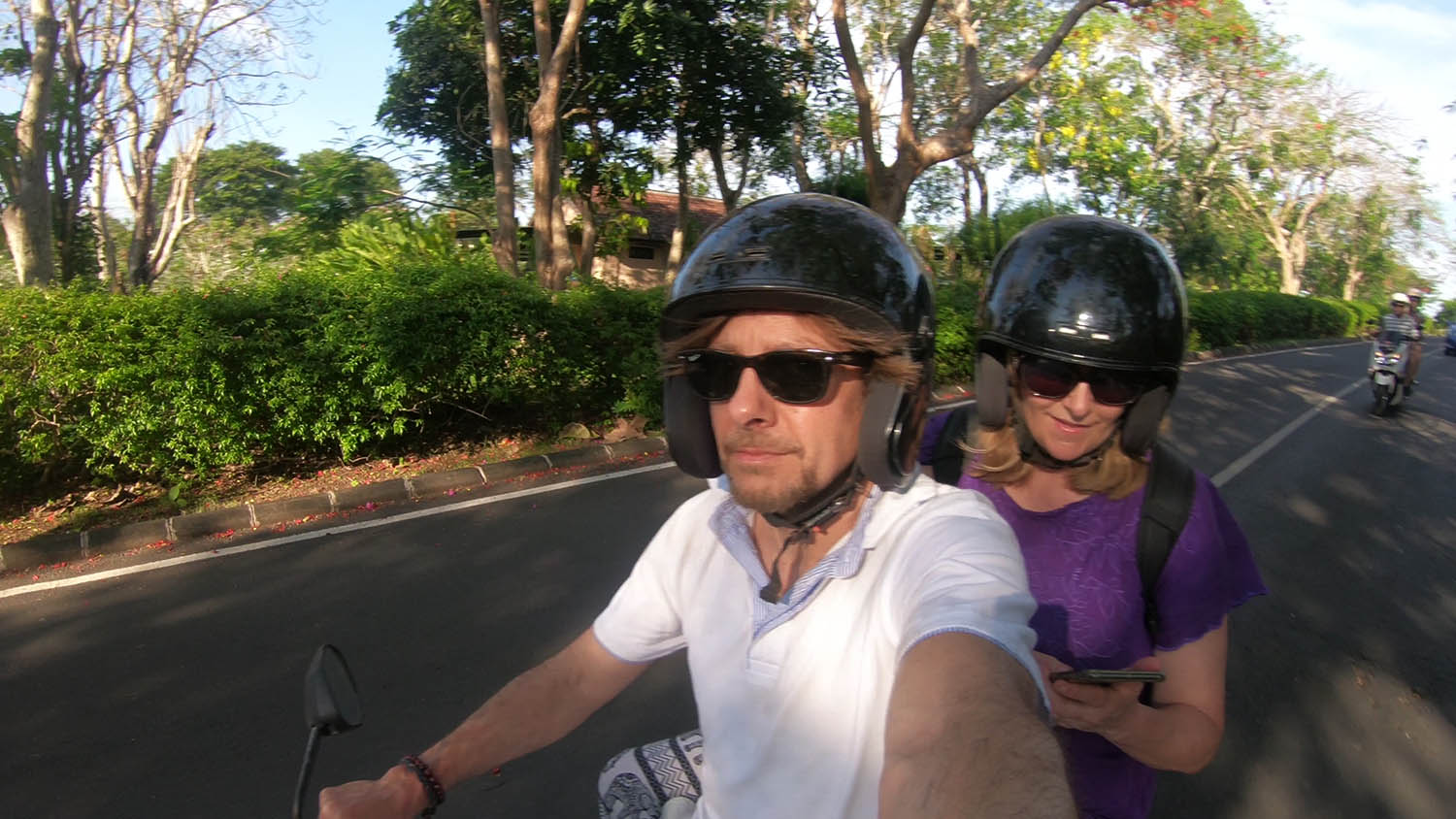 Once you enter the gates, there's a security check and then a long charming tropical driveway to the top. We parked our scooter and entered the premises, again you have to check in any bags but cameras without tripods or selfie sticks were fine.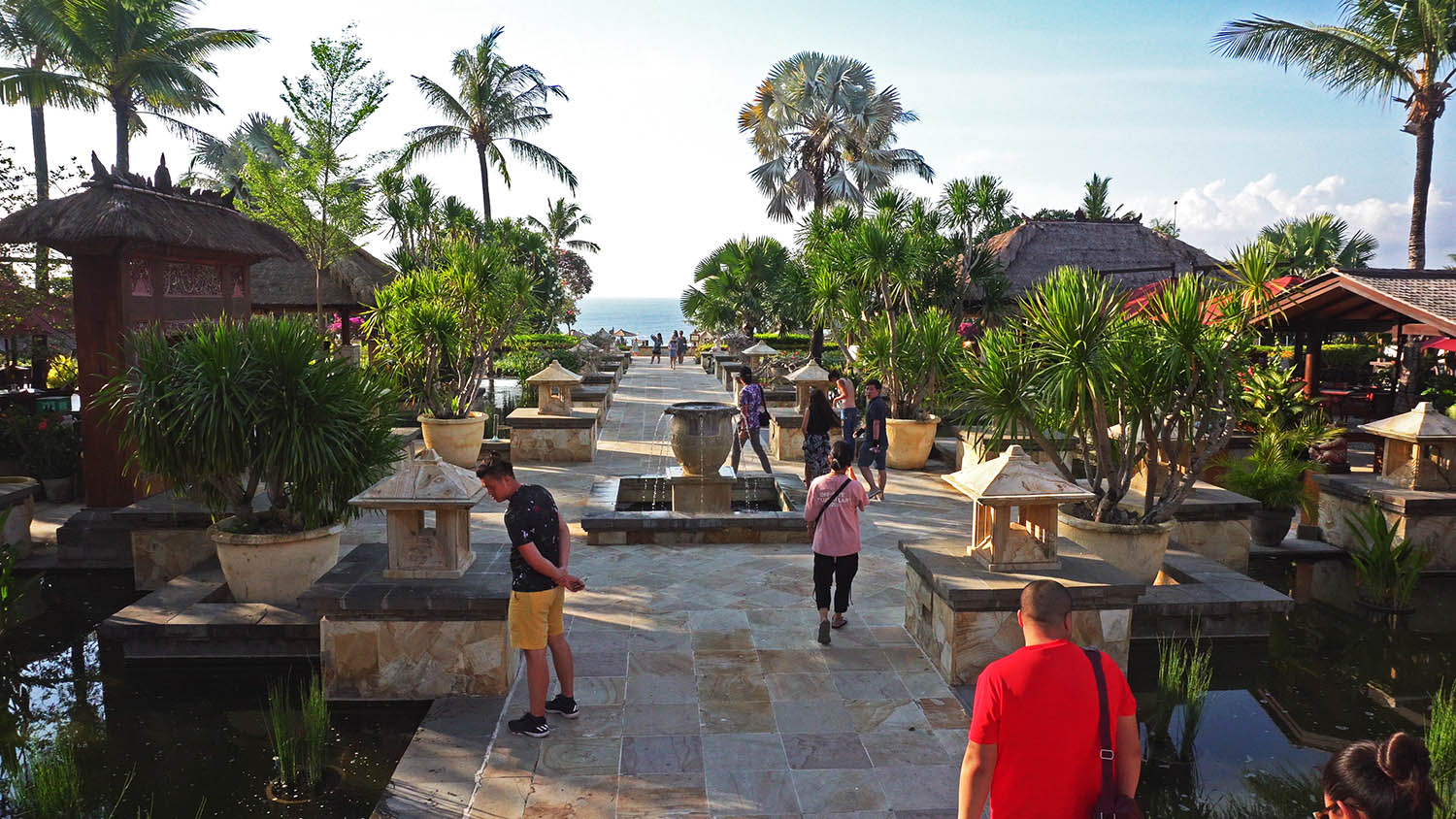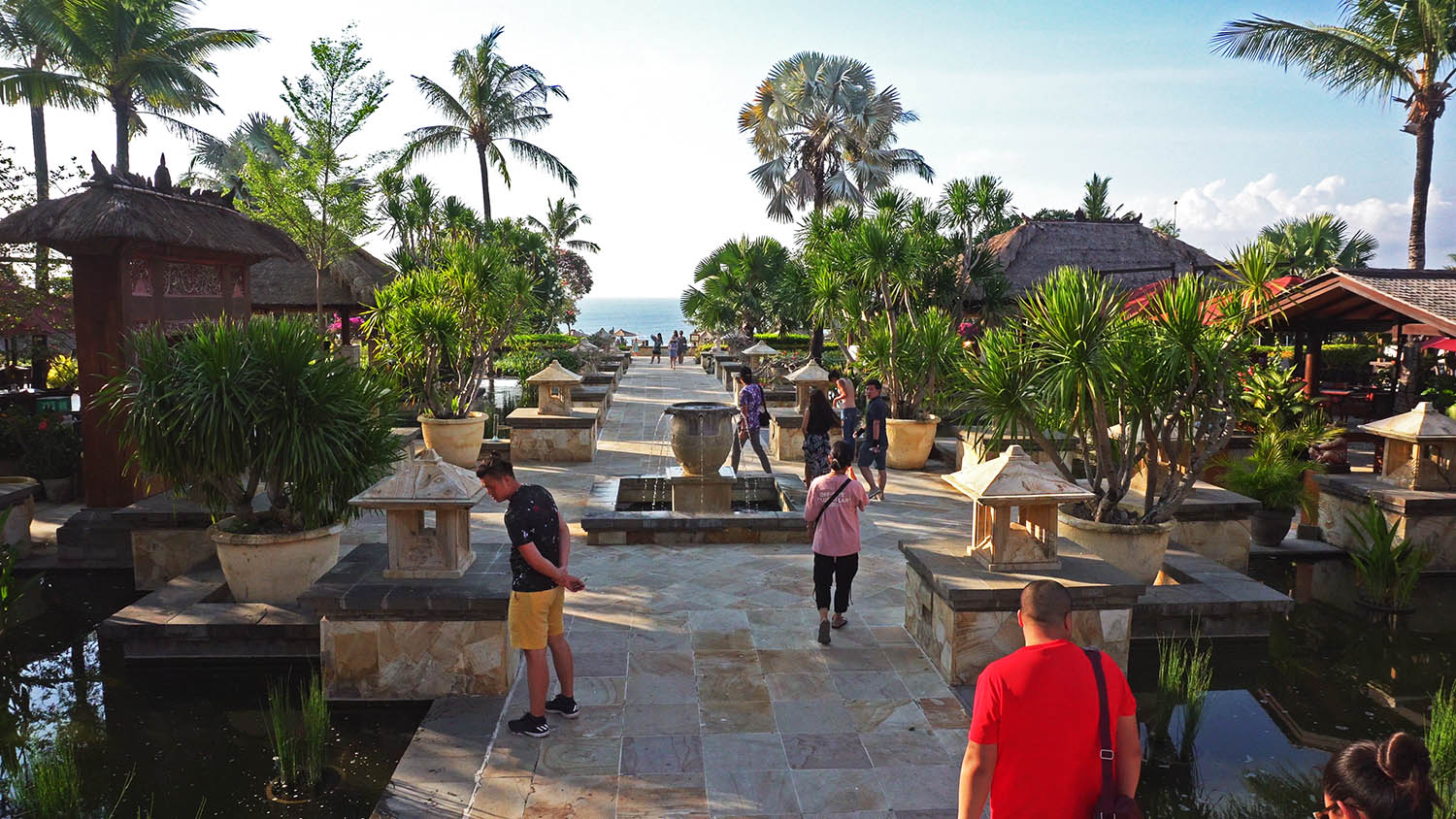 It's part of a big resort called Ayana Resort and Spa, it has plenty of shops, a five start hotel, swimming pool, restaurants etc.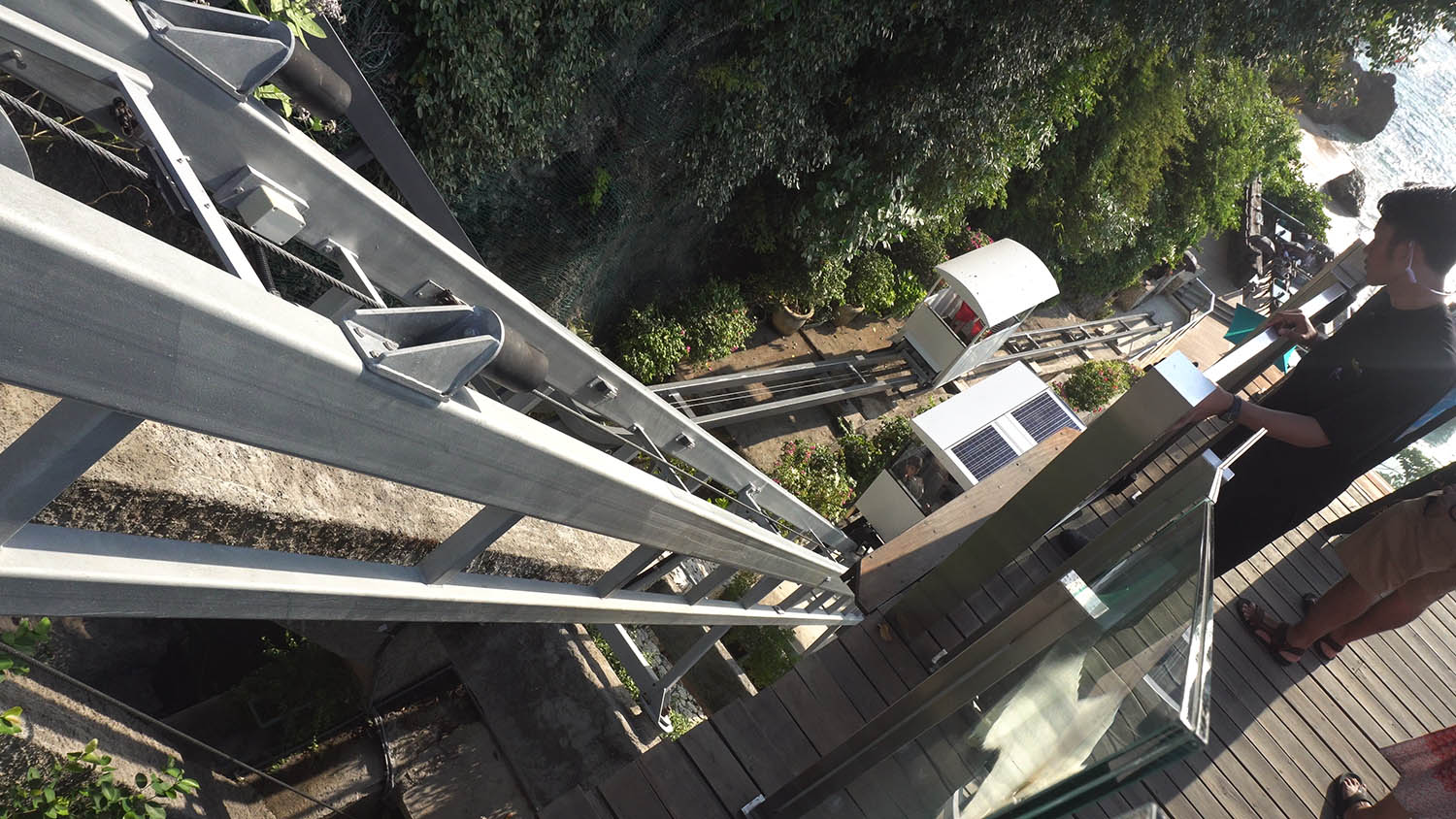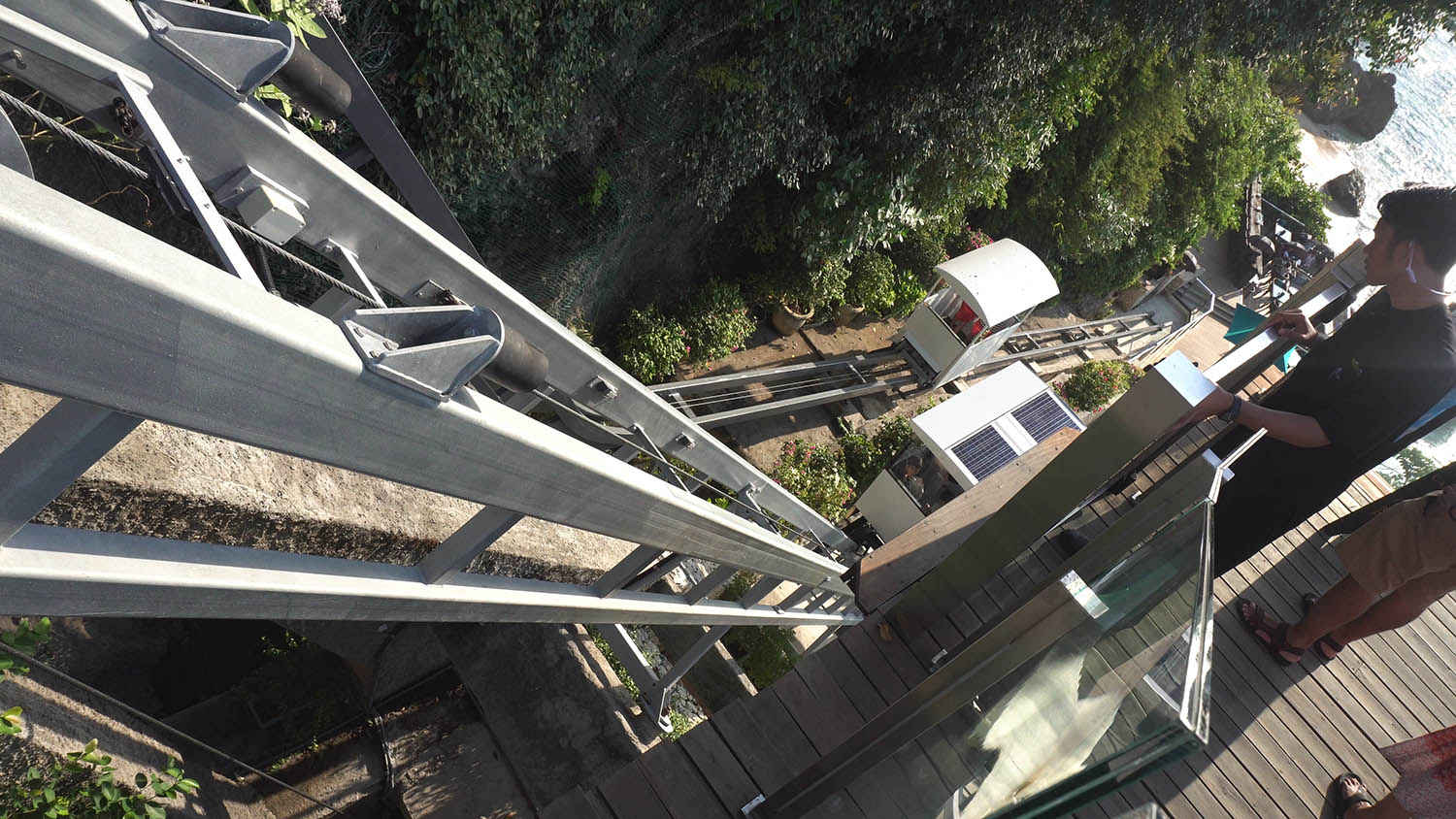 Then you have to take an inclined cable car to the bottom of the rock bar. The bar is perched on a cliff face 14 metres above the Indian Ocean and faces the west for those epic sunsets that Bali is famous for. There is a dress code, so no singlets or boardshorts.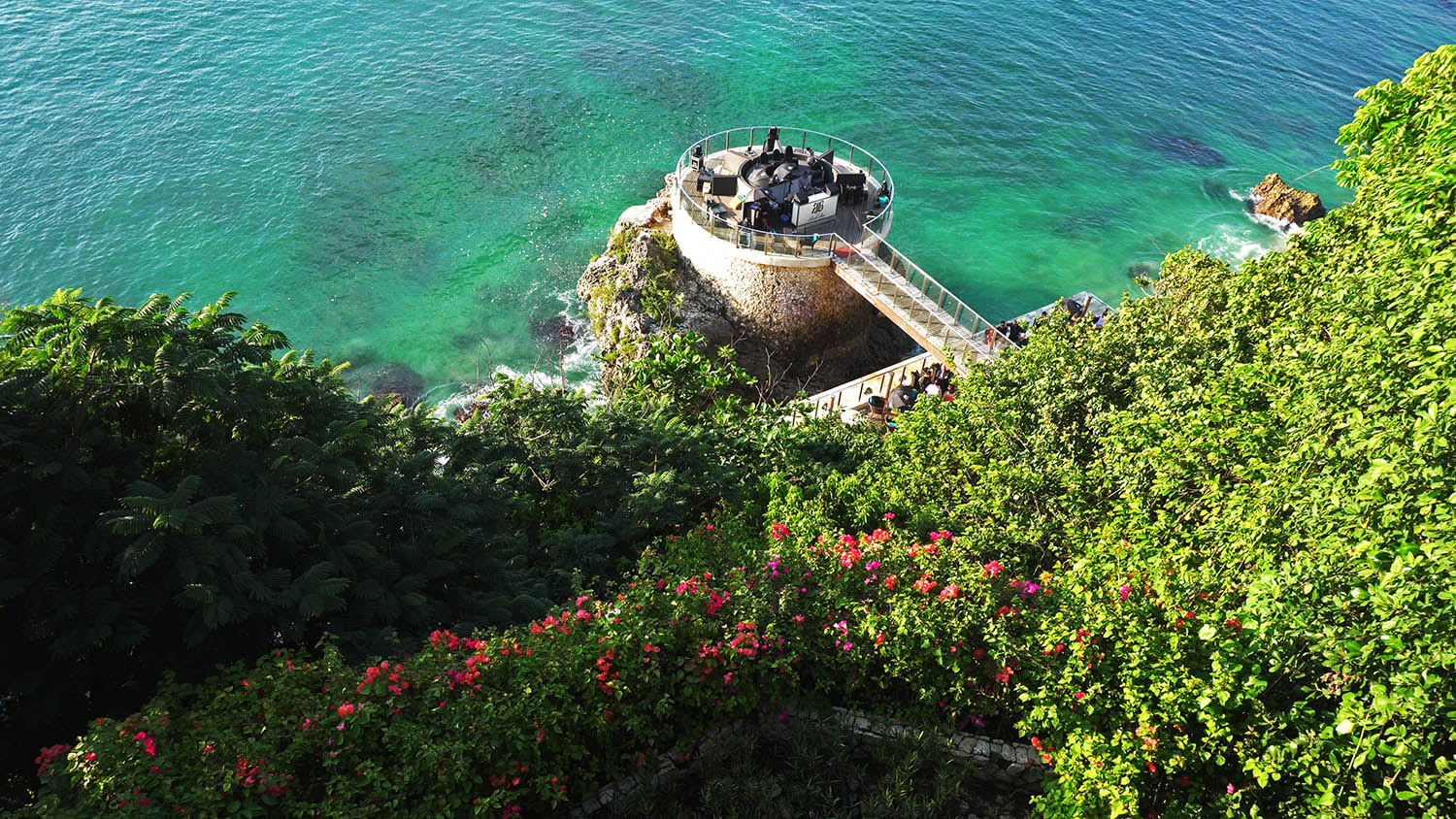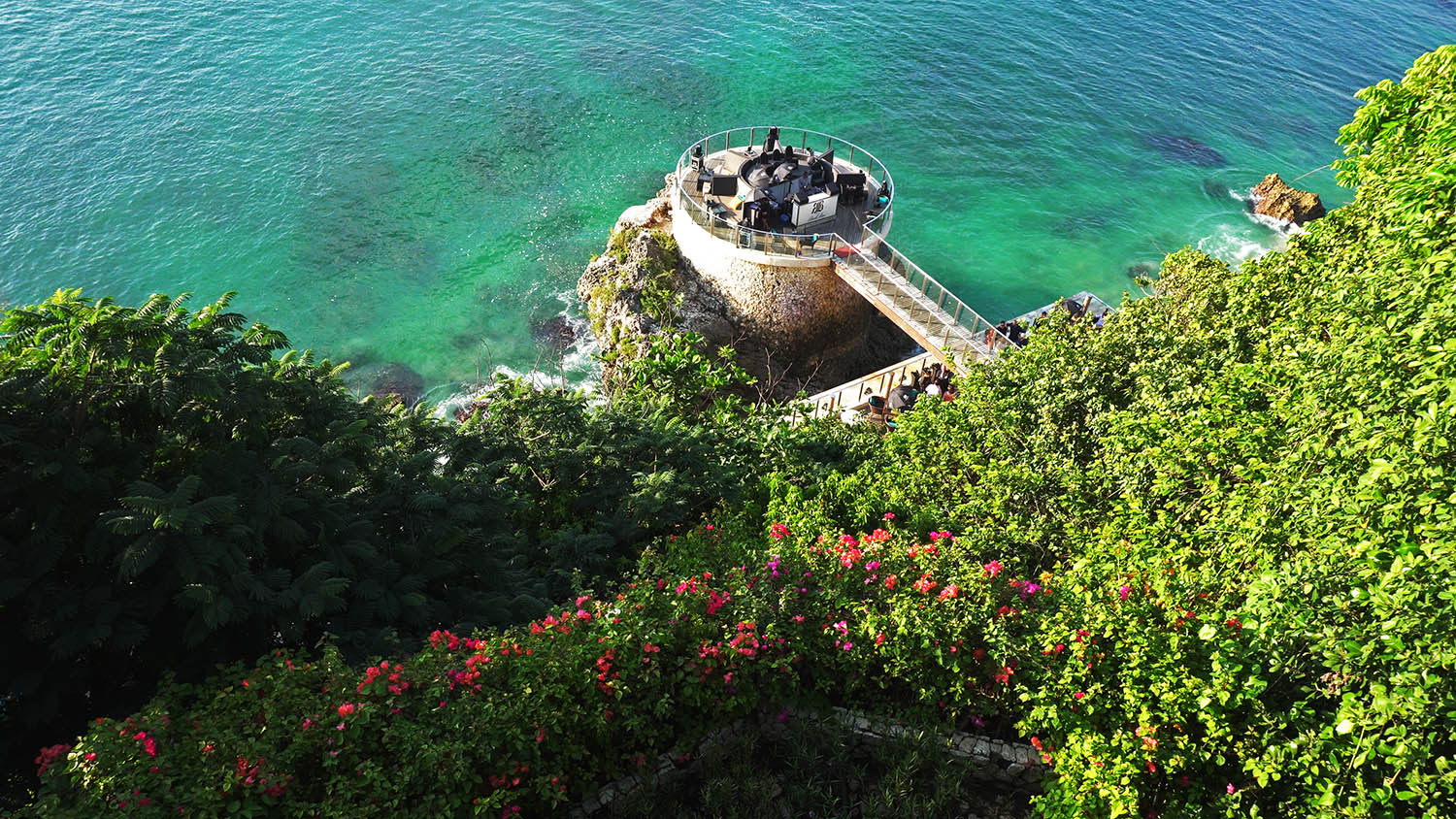 The prices aren't cheap for Bali standards, in fact it was similar to back home in Australia. We were seated at a table that was in full sun, but they do provide you with black umbrellas so you can strategically place them to block out the sun. I think we arrived around 5pm so we wouldn't miss the sunset. In front of us was a row of modern outdoor day beds. They fitted two people and were positioned right on the cliff edge overlooking the water. I thought why can't we have one of those?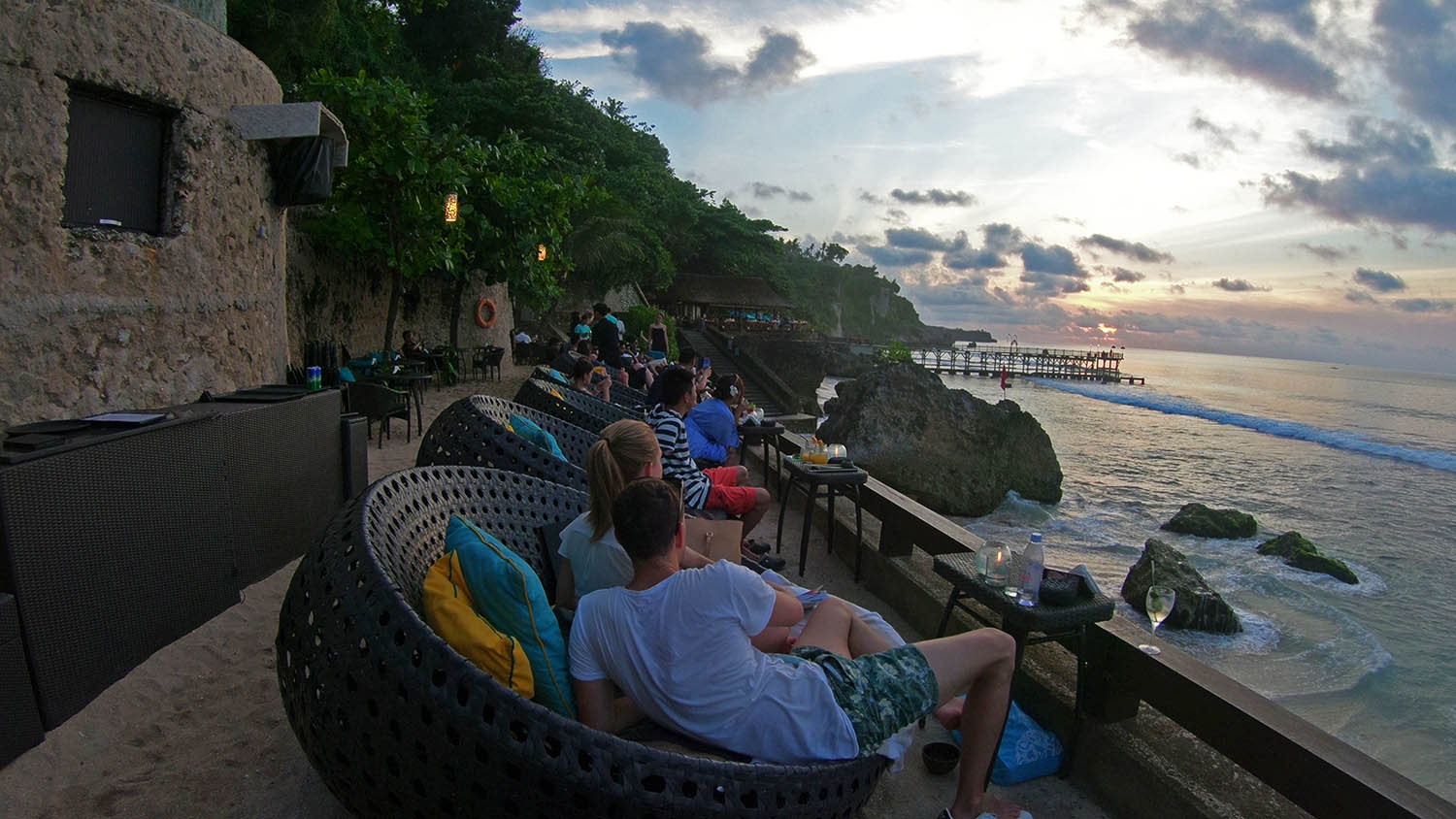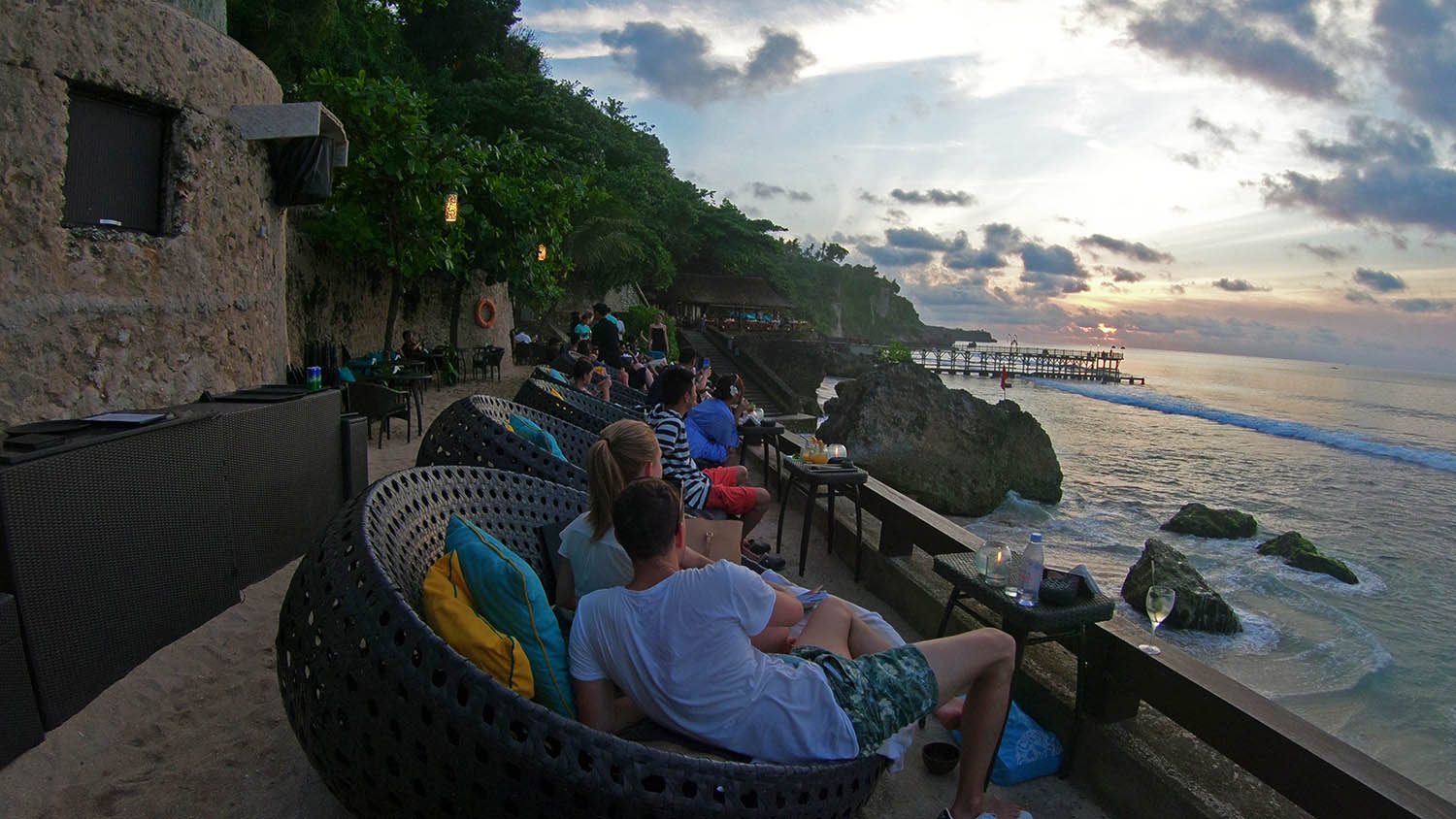 So I asked one of the many servers and they said they were all reserved. Eventually one of the servers said one was available if we wanted it, so I said: "you bet!"  and we were seated, or rather laid in our day bed. Life's good! We ordered some drinks and some tasty finger food from the menu listening to the crashing ocean waves.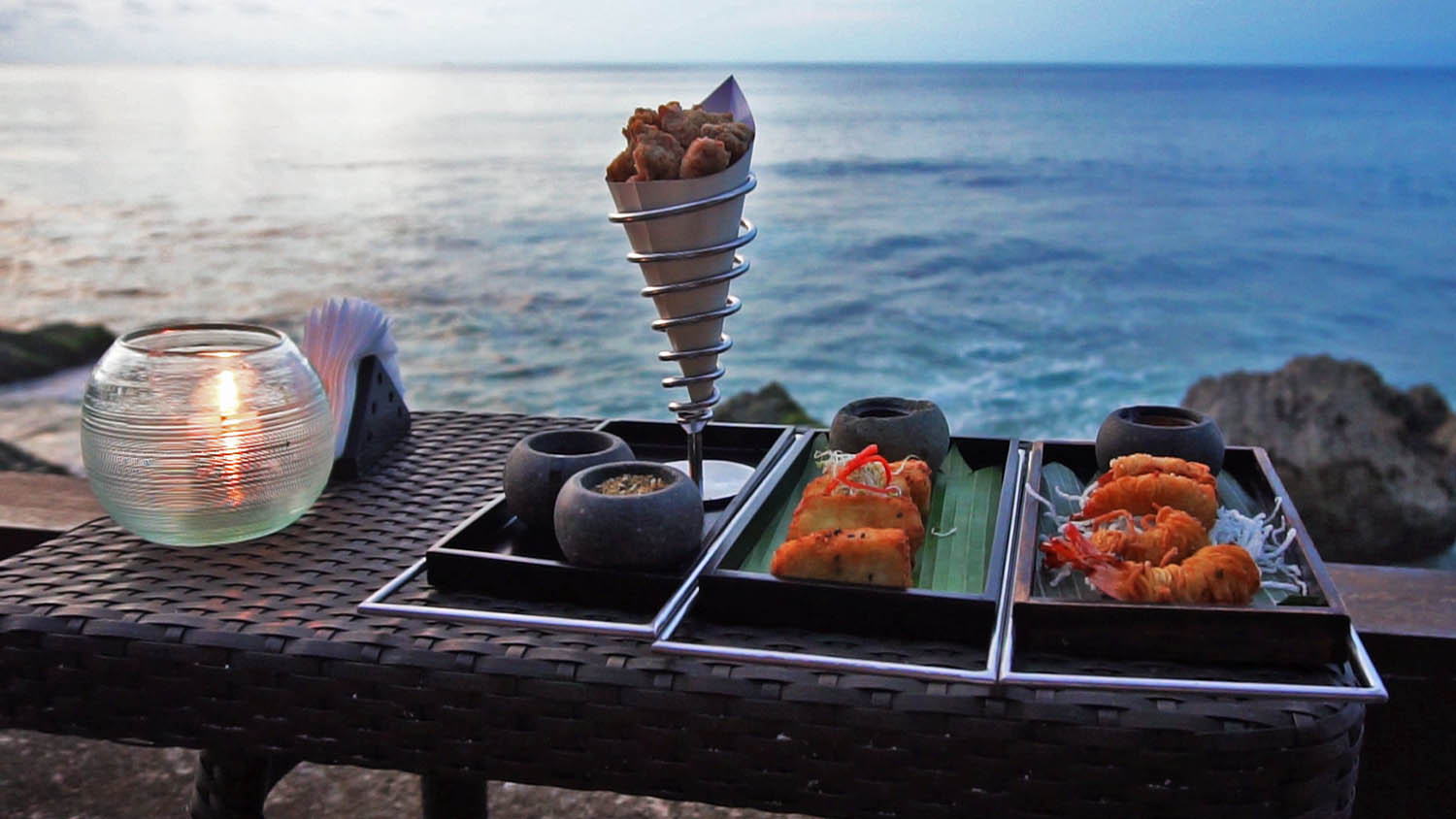 There was a minimum charge for being in the day bed, which equated a couple drinks each and a plate of food, so it's easily achievable without over spending. The sun was finely setting, a million phones came out snapping away selfies for those Instagram shots. It was quite spectacular and then it got dark. The night lights came on and the candles came out, wow, what an atmosphere. The music is upbeat, it is a rock bar after all, so don't expect meditation music but it was incredible.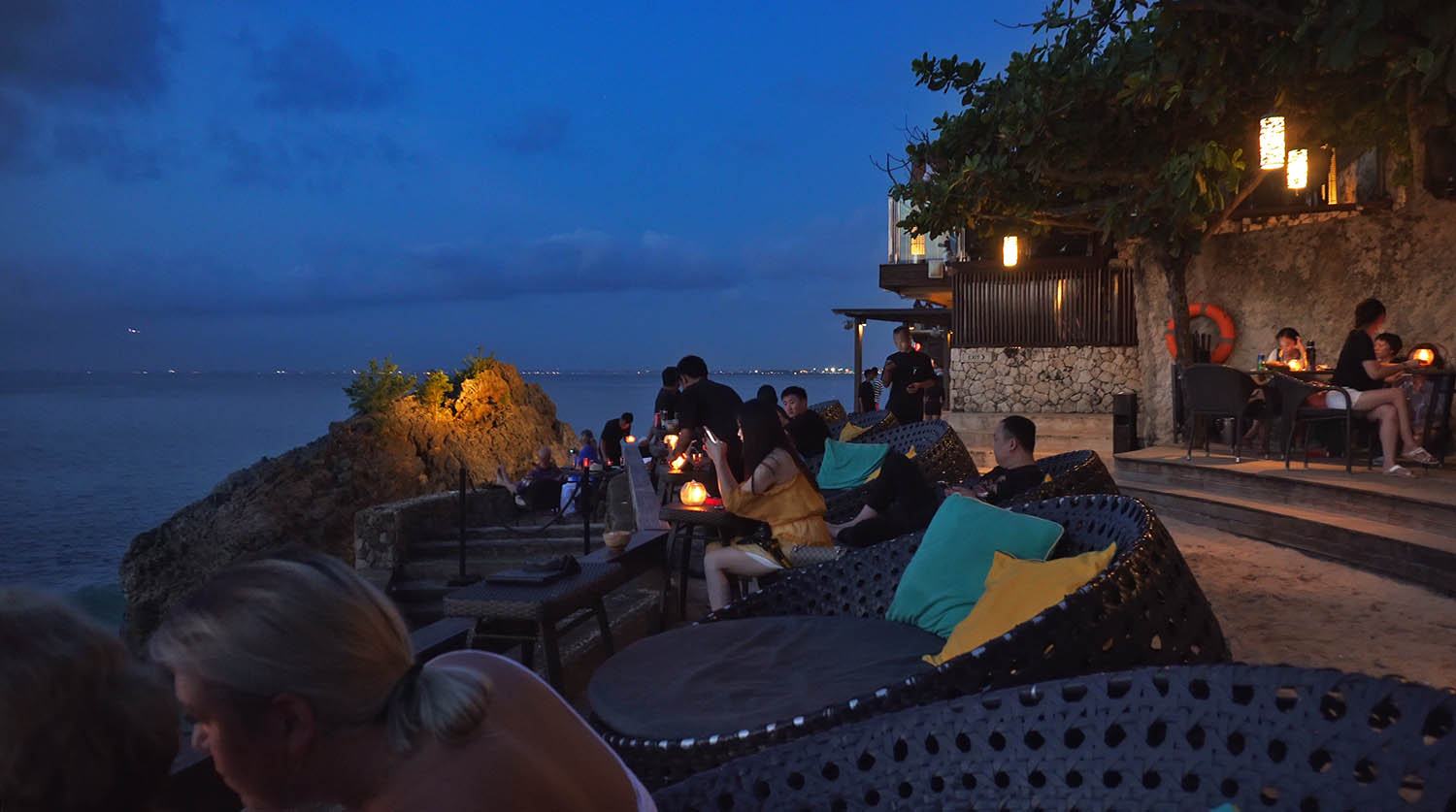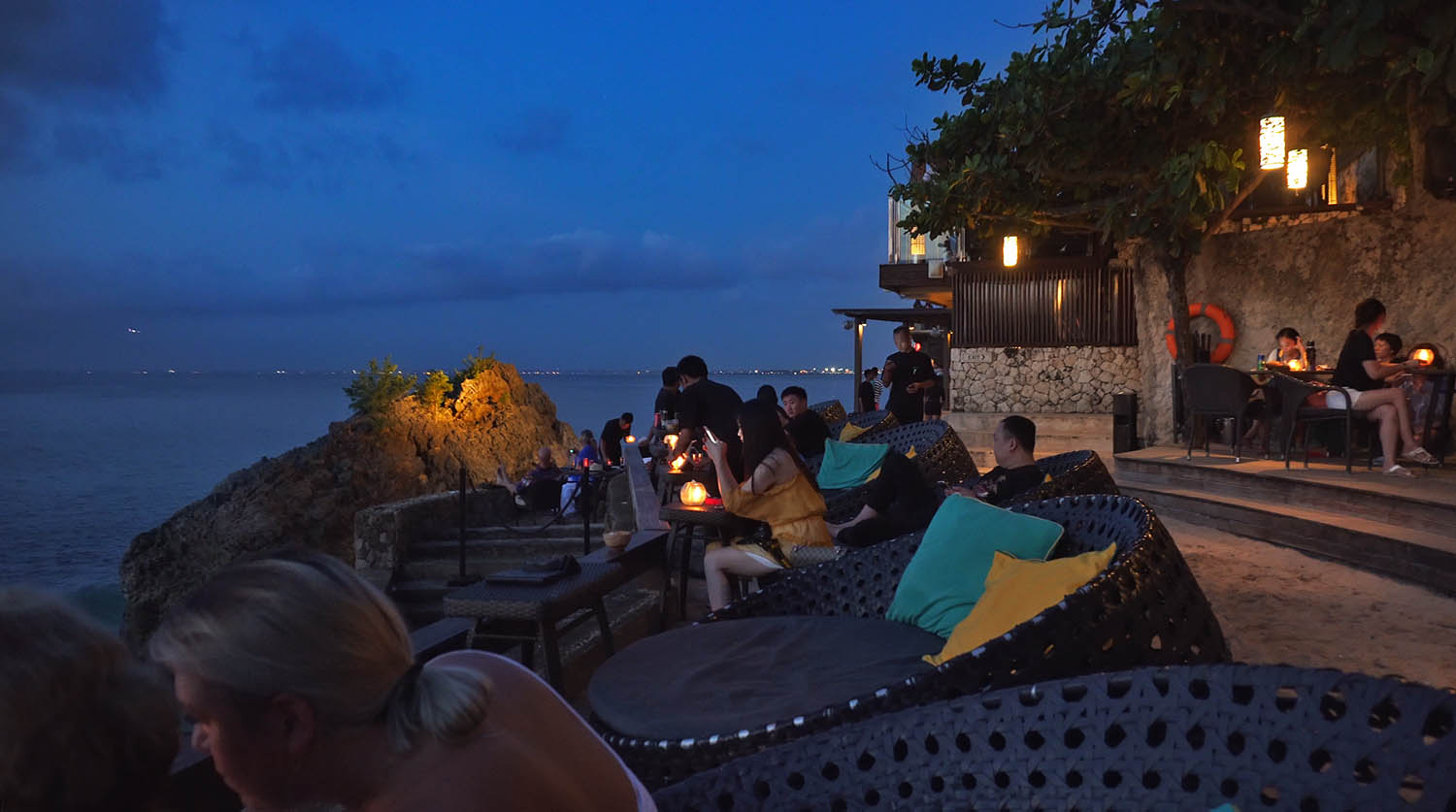 We then went for a walk and couldn't believe the size of this bar that is carved into this cliff edge. There are so many sections, we walked and it just kept going and going, I had no idea it was so big.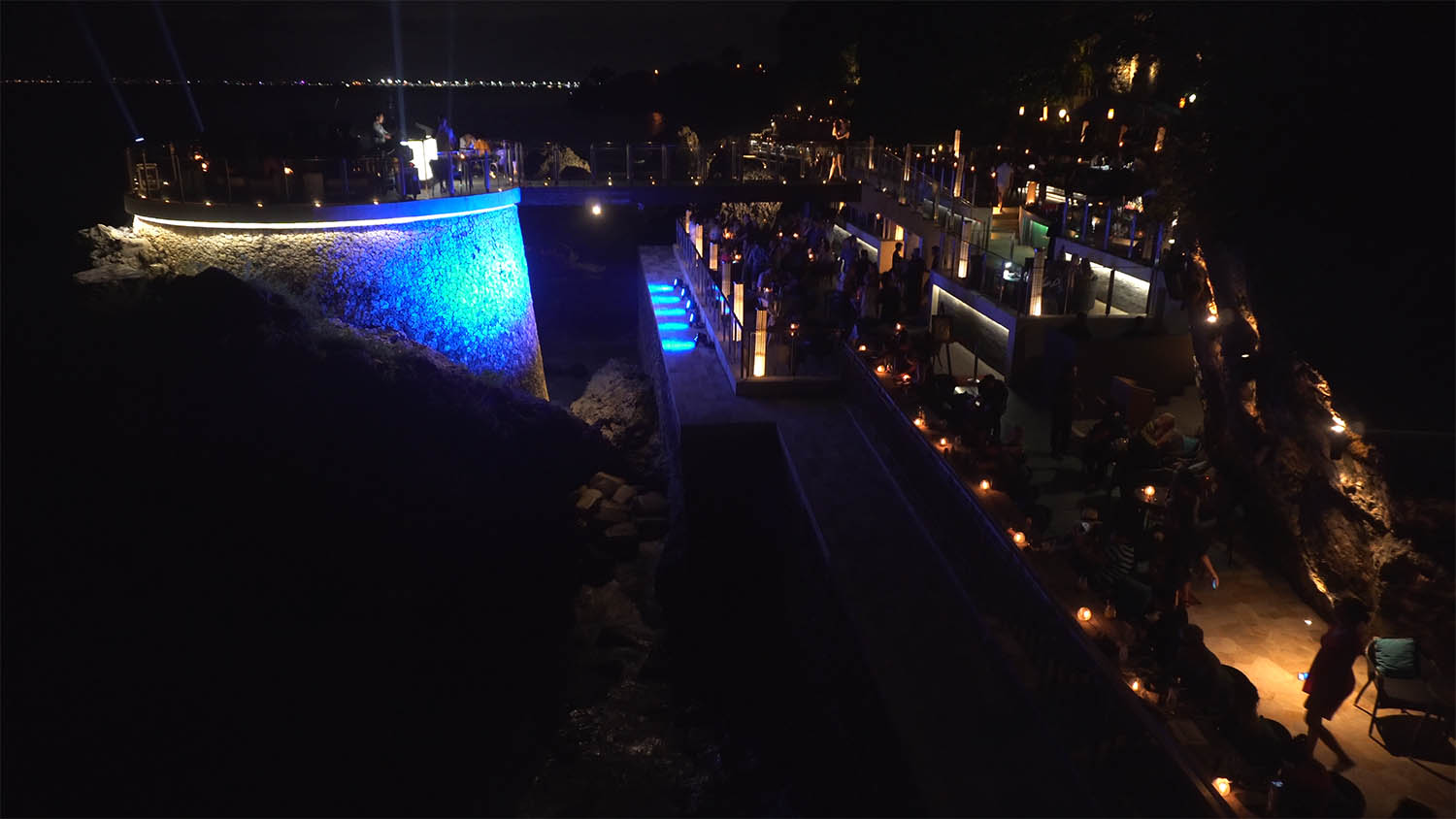 Our night was over so we made way towards the exit. I felt quite dirty from all the dust I had accumulated on the scooter. Plus it was so hot, I would have done anything for a shower. As we walked back towards the carpark, we spotted a swimming pool reserved for the hotel guests. Ok I wasn't a guest, but I needed that swim, so I thought I'd be cheeky. It was night, so who needs bathers, a quick refreshing plunge and I felt a million bucks! We got back on our scooter feeling refreshed and now we had to find our way back to our B&B.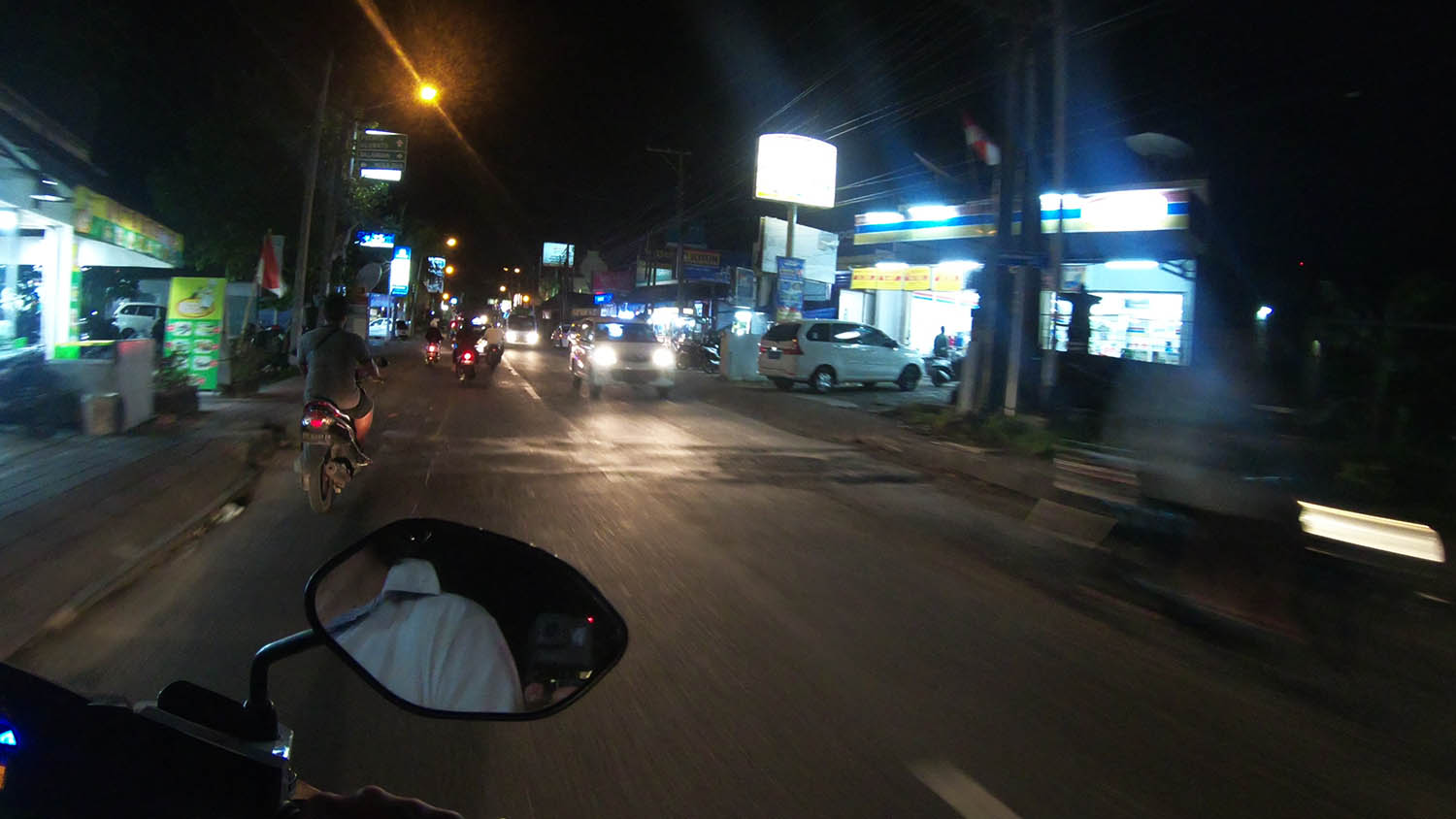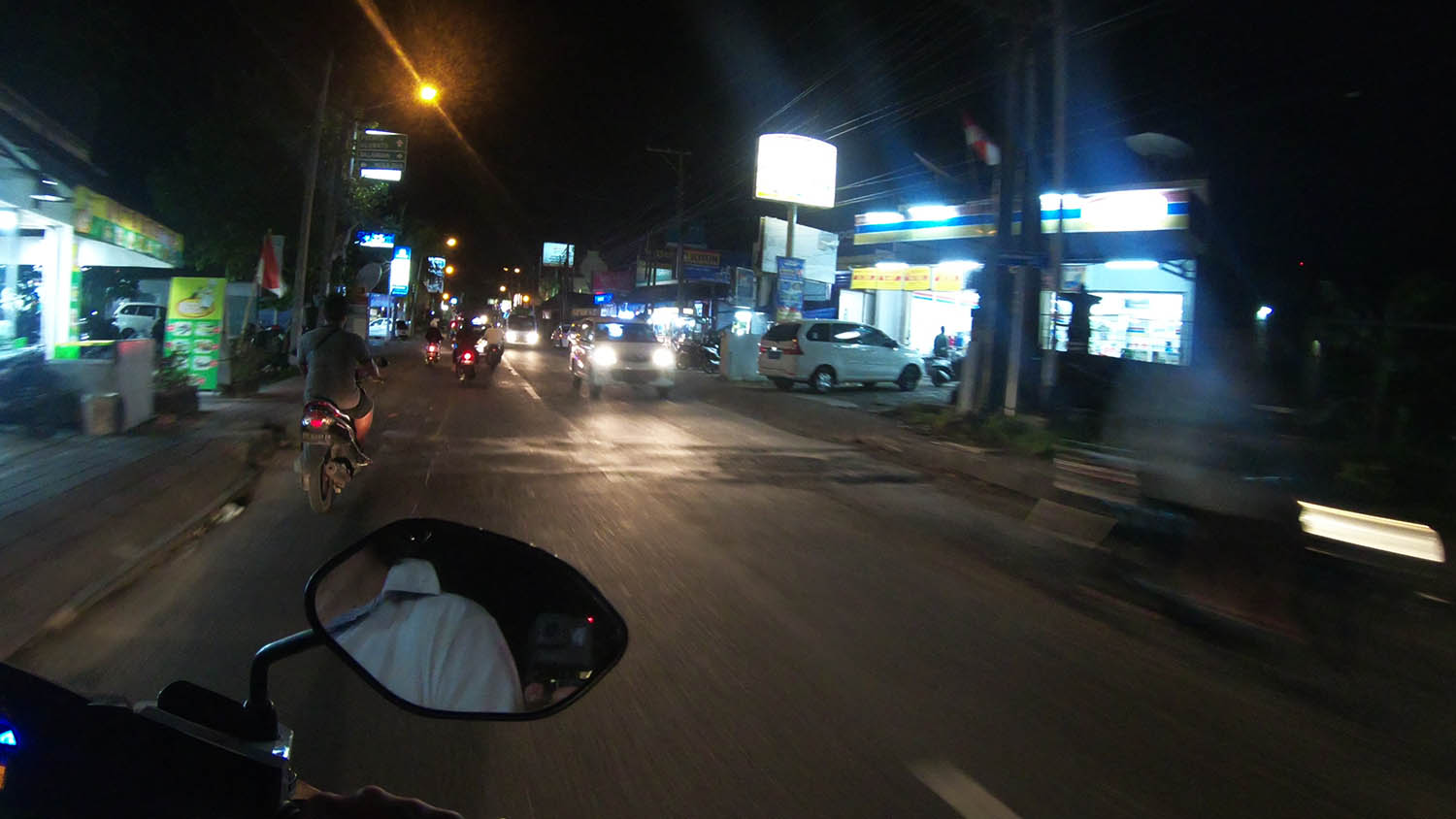 Now this was our first time riding in the night. Bali is crazy during the day, so let's see what the night is like. I looked at my phone and it only had 12% battery life, and we had a 45 minute drive back. I thought if my battery dies, there's simply no way we can find our way back without Google maps.  Why have we become so dependable on technology?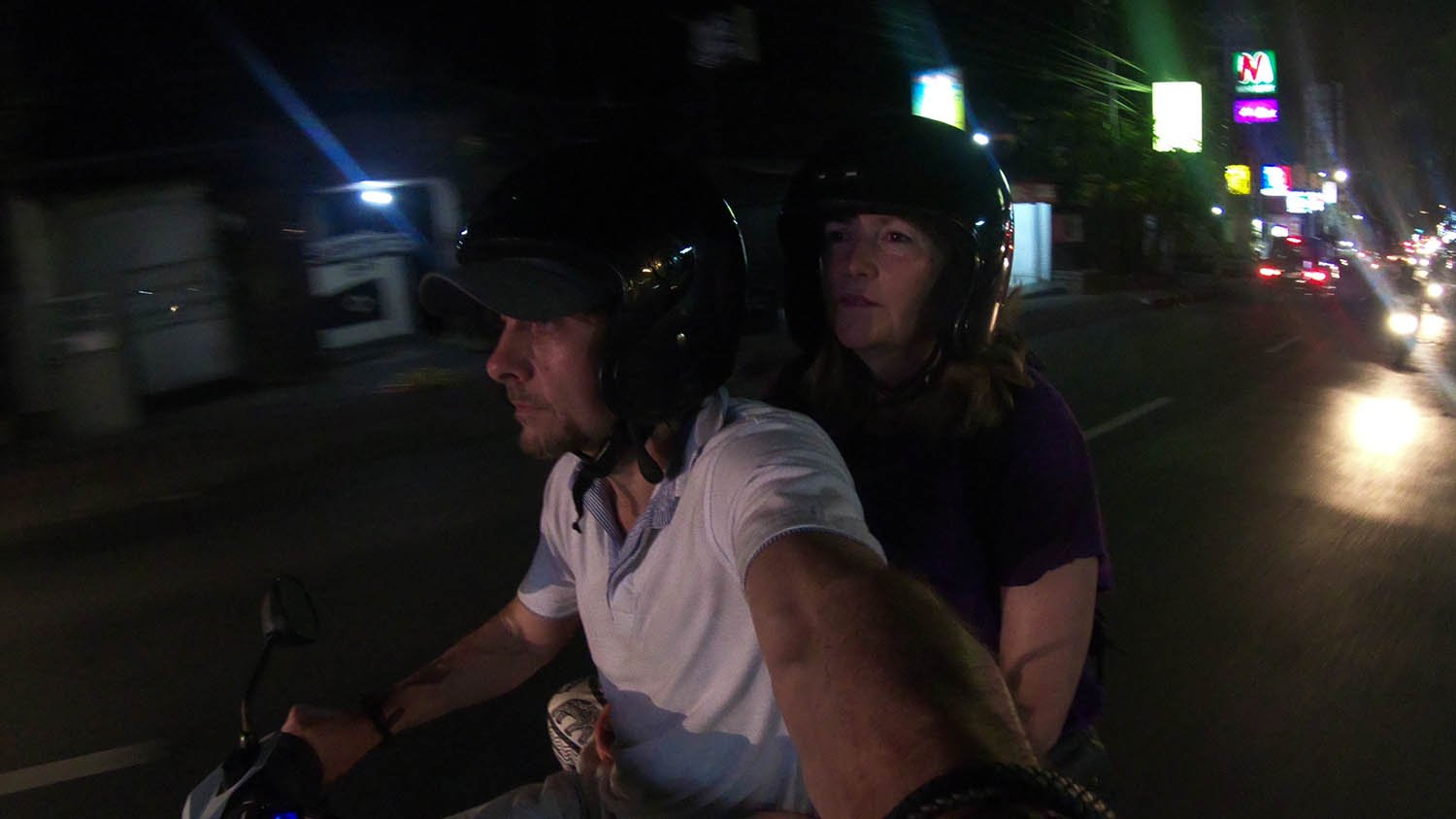 The actual drive was fine, but the stress of loosing Google maps was increasing as the percentage level went down.  I then thought, worst case scenario, we simply hire a taxi and just follow it back, like I said, there's always a solution, so never stress when facing a problem. We got back in time with still plenty of battery power. Thanks iphone 8 plus.
That was our last night, and tomorrow we fly back to Melbourne.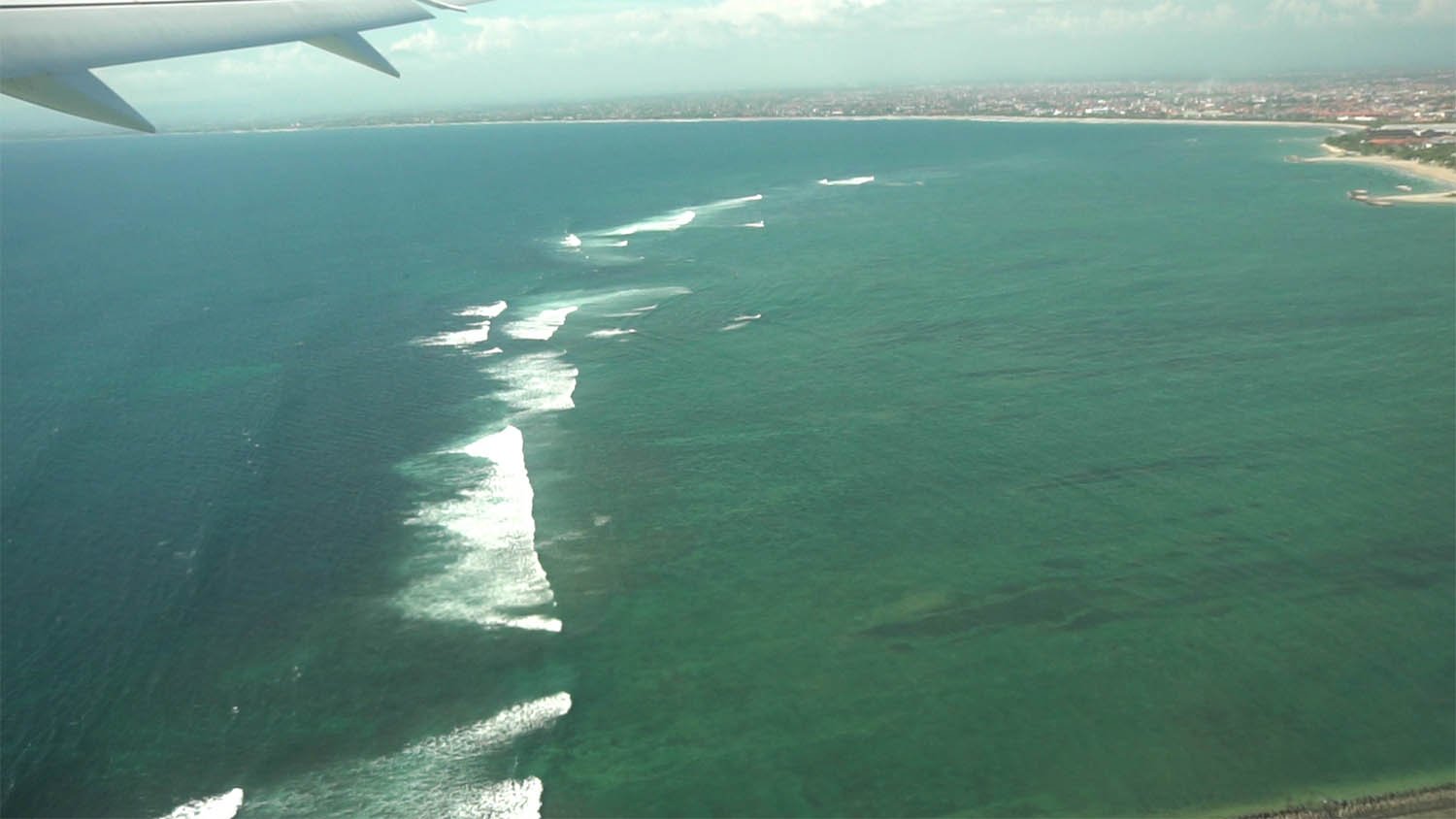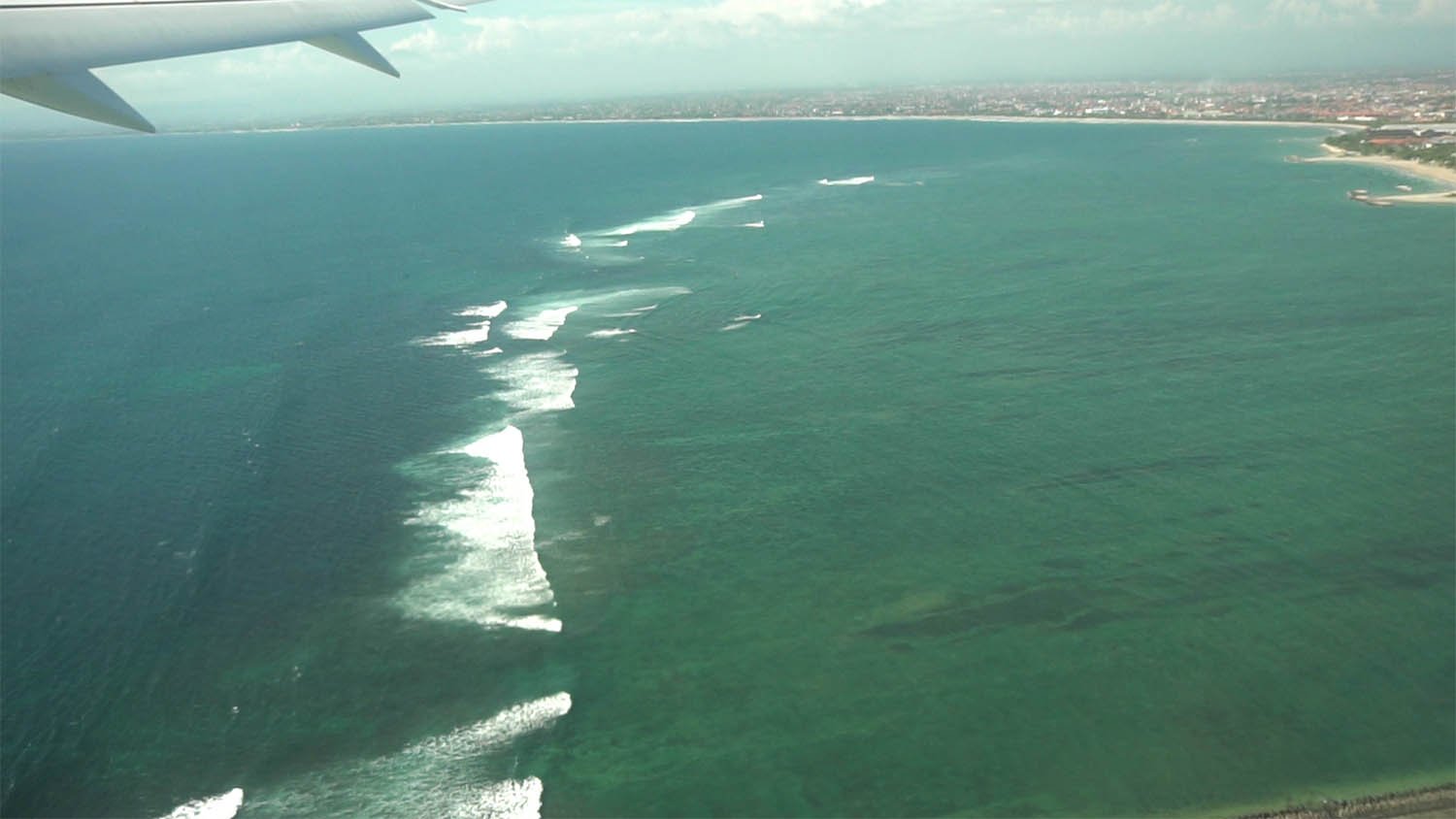 Bali, we shall return very soon!
Watch VLOG 023 and see our hotel Chef cook a Grilled Fish Jimbaran style. Recipe is below.
Check out my VLOG024 and see the food and Villa Zelie for yourself